Above: hundreds join the "Peace in the Park" demonstration organised by Calder High school students, 20th March - More photos and discussion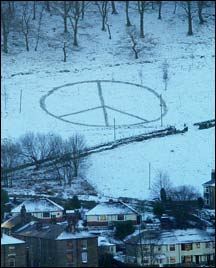 Snow for peace sign appears above Fairfield, Hebden Bridge today, 4 Feb
POEMS BY GLYN HUGHES
The Hebden Bridge Web is very pleased to announce the online publication of 3 new poems by award-winning local writer, Glyn Hughes, together with revisions of two of his existing poems (19th November). To read the poems by Glyn Hughes and other features about our area, go to our Features Section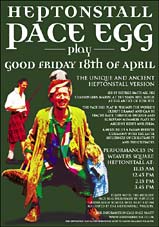 More details and
larger version of poster
MILLTOWN MEMORIES 3
Issue 3 (Spring 2003) now out - samples are available online at the Milltown Memories website where you can also order copies.

The Upper Valley captured on camera: Milltown Memories is a new magazine devoted to the Upper Calder Valley, featuring photos from the Alice Longstaff Collection. (11th March)
Discussion Forum
Calderdale Councillor Michael Taylor argues against war with Iraq.
Other topics on the Discussion Forum include the closing of pubs, traffic consultation, quality of life in HB, trains, tree-felling, traffic problems, war and peace, and the status of Mytholmroyd
Campaign for Digital Access
Hebweb campaign for Digital Access - some excellent informed, discussion this week. To get broadband in HB it is essential that more people "register an interest" for broadband. Click here to register. There is no commitment. 252 local people/businesses have registered so far (29th March).
Hebden Bridge in the media
New section: Now that many newspapers and magazines archive their material online, we have created Hebden Bridge in the media with links to articles relevant to our area, starting with an article in today's Guardian on opposition to the proposed war, and covering the weekly vigil.
THE LEGACY OF ACRE MILL
The transport of thousands of lorryloads of earth and rubble through Hebden Bridge to top the asbestos tip in Pecket Well has been postponed to February. We have produced a feature to recount the story and history of this tragedy - Asbestos: the Legacy of Acre Mill