Spectacular choreography starts off Arts Festival

The 16th Hebden Bridge Arts Festival gets off to an explosive start on Friday, 26th June with the mighty sounds and spectacular choreography of the Dhol Foundation.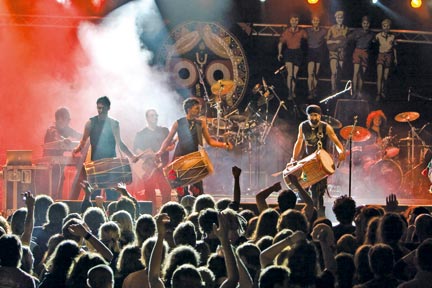 Their show at Hebden Bridge Picture House will feature performers from South Asian dance company Diversity Dance and pupils from Calder High School, Mytholmroyd, in a musical mix of drum and bass, bhangra and hip hop, all led by charismatic drummer Johnny Kalsi. The performance has been supported by Arts Council England and Calderdale MBC and promises a spectacular fusion of choreography and amazing sounds.
On Saturday there will be street entertainment from jugglers Calvos Dos and comedy and mime from Artizani in and around St George's Square, supported by the Community Foundation for Calderdale, from noon to 4pm.
The celebratory mood will continue over the opening weekend of the festival with a performance by Huddersfield poet Simon Armitage and his band the Scaremongers at Hebden Bridge Trades Club on Saturday and a recital of music by Schumann and Liszt by Aisa Ijiri, one of the finest Japanese pianists of her generation, at Heptonstall Church, also on Saturday.
On Sunday duets from the Danube will feature in a recital by David Nelson and Roger Scaife at Heptonstall Church and there will be two performances of 'The Three Musketeers', a show aimed at older children and families, by Alys Torrance and Judith Faultless at the Little Theatre. Alexander Dumas' much-loved story is squeezed into an hour of absurd physical comedy and ridiculous plot twists by two actors who are favourites of the Edinburgh Fringe.
There will be another preview of the Edinburgh Festival in Triona Adams' amusing show 'Nun the Wiser', featuring her experiences in a Benedictine convent, at the Trades Club on Sunday.

Other highlights of the opening week include 'The Virginia Monologues' with Virginia Ironside at the Little Theatre on Monday, mesmerising Canadian folk band Tanglefoot at Hebden Bridge Picture House on Tuesday, BAFTA-nominated comedian Mark Steel at the Picture House on Wednesday and the Northern Jazz Orchestra at the Ted Hughes Theatre, Calder High School, on Thursday.
The Ted Hughes Theatre will also be the setting for the UK premiere of Dreamscape Theatre's 'Full of Sound and Fury' on July 3. The dark comedy explores what happens when a group of highly-talented, highly-strung actors gets together to stage 'Macbeth'. The play is suitable for over-12s and audiences are invited to 'pay what they want' to see the show. The show starts at 8pm and tickets will be allocated on a first come, first served basis.
Festival co-ordinator Rebecca Yorke said: "We have already had two sell-outs for this year's Festival: Poet Laureate Carol Ann Duffy at the Little Theatre on July 7and the musical recital at Walshaw on July 11. Ticket sales are going well and there is a real buzz in the Festival shop."

Programmes and ticket information are now available in the Festival office, Albert Street, Hebden Bridge, on 01422 842684.
The Festival runs from
Friday June 26 to Sunday July 12.
Look over the Festival website or phone 01422 842684 for more information.