Tuesday, April 18, 2006
See pictures from this year's play
See Hebweb Feature on Pace Egg plays. with background, photo galleries and video clips
---
Thursday, April 6, 2006
Thanks to "Doctor" Dave Burnop for the following
Good Friday, 14th April
Weaver's Square. Heptonstall.
Egg Us On Again at this year's performances of the Heptonstall Pace Egg Play.
Our regular audience know the play as well, if not better than the performers and are always willing to help us out should we stumble over a line or two. Those regulars to the play will be familiar with Toss Pot kissing some bonny lasses from the audience and giving them an Easter Egg as a symbol of fertility.
Well it seems to be working! Two of the young ladies who received a kiss and egg from Toss Pot last year have both had new babies in recent months.
Lucy Riches, daughter of our St George Ray Riches and Lucy Potter also of Heptonstall are the proud mothers.
Will their men be standing guard over them this year or will they let the fertility bringing Toss Pot help them develop their families further?
We think Toss Pot may be very popular this year and much cheaper than IVF.
Originally an adult rebirth ceremony for a good new season The Pace Egg Play is perhaps the world's oldest drama and can be traced back through English and European Mummers' plays to ancient Egypt and Syria. A mixture of a pagan rebirth ceremony with the later influences of Christianity and the Crusades. The text of the Pace Egg has been past down orally over the years and was at one time performed by the village boys for coppers or eggs at Easter time.
Heptonstall Pace Egg was revived in 1979, and now has an enthusiastic following.
As a 'combat' version - the most popular variant in the Pennines - it promises to be an action-packed spectacle that shouldn't be missed! To add further excitement to the proceedings, Neil Collins the fire or knife juggler will herald the performance, weather permitting. Performance times are as follows in Weaver's Square:
11.15 am
12.45 pm
2.15 pm
3.45 pm
(Please note: The Midgley Pace Egg performed by pupils of Calder High School will be at 3.30 pm followed by the Heptonstall version.)
The Heptonstall Pace Eggers are:
St George Ray Riches
Bold Slasher Karl Williams
The Doctor David Burnop
Black Prince Andy Carter
King of Egypt Sydney Roper
Hector Stuart Hought
Toss Pot Dean Gash
Friday, March 17, 2006
See St George smite all his challengers, marvel at how those who are slain can rise again and watch the antics of Toss Pot. Pagan rebirth ceremonies meet Christianity and the Crusades.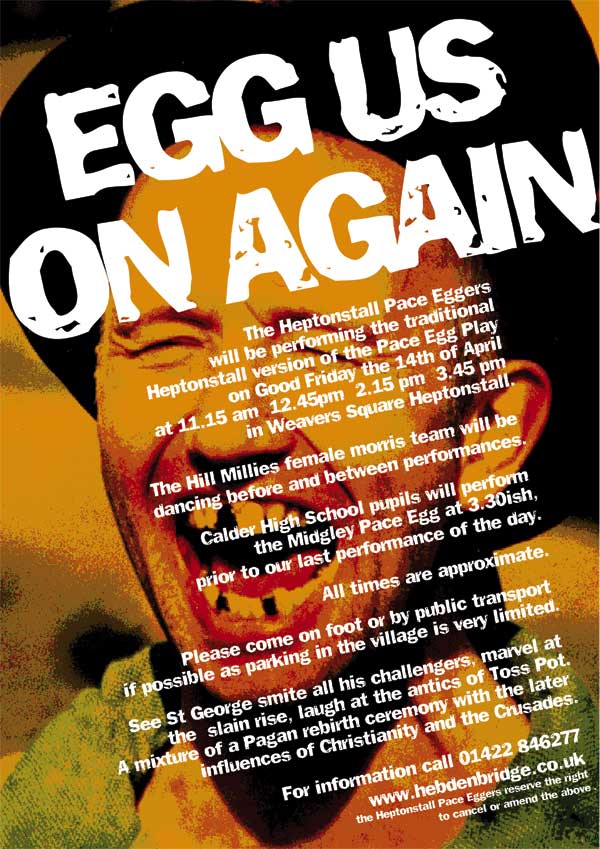 Once again this Easter, the Heptonstall Pace Eggers will be performing their infamous Heptonstall version of the Pace Egg play.
Date: Good Friday, 14th April, 11.15 am, 12.45pm, 2.15pm and 3.45pm.
The Hill Millies female morris team will be dancing in between performances.
Calder High pupils will perform the Midgley Pace Egg at around 3.30pm.
All those attending are strongly encouraged to come on foot or by public transport and there is very limited parking in Heptonstall.
Previous years
---
We try to make sure that the Hebden Bridge Web news is correct, but if you are aware of any errors or omissions, please email us
More news from the Hebden Bridge Web