Added: Monday, June 19, 2006

Friday, 30 June 2006
Venue: Calder High School Theatre
Registration and Refreshments at 7.00pm
Auction starts at 7.30pm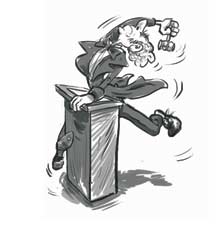 Local auctioneer Ian Peace will be bringing down the hammer on a host of promises for charity next week.
The auction of promises is being staged at Calder High School to raise funds for the school theatre, and there are more than 80 unusual and exotic lots on offer.
They include holiday homes in the USA and Europe, beauty and massage treatments, house sale with no commission, a hot air balloon ride over the Caler Valley and a guided tour of Yemen.
Tickets are now on sale, price £5 which includes wine and snacks, and can be reserved from Christine Welch on 883213. See auction catalogue.
The Parents' Network say, "The evening promises to be great fun and our auctioneer assures us that you don't need to worry about the bidding process - he's been in the business for many years and says he can tell the difference between a bid and an itchy nose!"
"Every penny we raise will be used to help with the refurbishment of the School Theatre. So come along and please bring your cheque book. Perhaps your friends and neighbours would like to bid for something too - many of the things listed would make great presents."

---
We try to make sure that the Hebden Bridge Web news is correct, but if you are aware of any errors or omissions, please email us
If you have comments on Hebweb news please make a contribution to our discussion forum
More news from the Hebden Bridge Web
---