A group exhibition of local artists - Bodyworks 2006 - is to be held from 5th to 14th October at the Arts Festival shop on Albert Street and the private view will be held on Friday 6th October at 7.30pm.
BODYWORKS is a loose association of artists held together by the glue of regular life-drawing sessions held every Thursday evening in Hebden Bridge.
These Thursday evening sessions were originally run and tutored at the Hourglass Studio/Gallery by the artist John Lyons. When John moved from the area in May 2005 the regular attendees of his group decided that they did not want the sessions to stop and took action to continue to run them on a co-operative basis.
This situation continues: the group has attracted more members in the past year and hopes that even more will chose to participate on a regular or ad-hoc basis.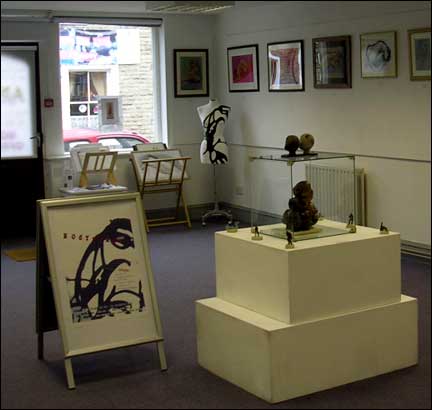 The sessions are now held in the Top Floor Studio at Machpelah Works by agreement with the Machpelah Arts Group: they are untutored sessions with a variety of models and artists of all levels of experience are welcome.
This exhibition includes examples of the work produced by some of those artists both during the life drawing sessions and externally. The criteria for exhibiting was participation in the life-drawing sessions but the choice of work was left entirely to the individual artists - despite this it is interesting to note that many have chosen to show figurative work.
The artists exhibiting in this show are Andrea Ku, Vaughan Leslie, Adrian Lumb, Joyce R Newton, Nuala Poe and Elaine Warwick Simpson.
For more information about the exhibition or the life-drawing sessions contact Elaine on 01422 844028 (Progress Travel) or 07766 713362
---
We try to make sure that the Hebden Bridge Web news is correct, but if you are aware of any errors or omissions, please email us
If you have comments on Hebweb news please make a contribution to our discussion forum
More news from the Hebden Bridge Web
---