Kathy Kelly comes to Yorkshire

"Battlefields Without Borders: Iraqis in Crisis"
Added Thursday, 1 November 2007
Wednesday November 14th 7.30pm at the
Trades Club Hebden Bridge. Food available.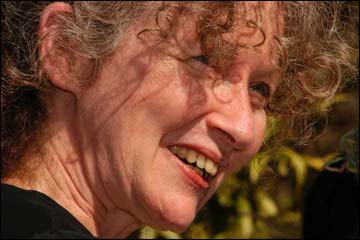 Legendary peace activist Kathy Kelly has visited Iraq 26 times and lived in Baghdad during the 2003 "Shock and Awe" invasion. Kathy was also in Beirut during the Israeli bombing in 2006 and in Qana where 106 Palestinian children were massacred in a missile attach in 1996.

Event organised by:


Calderdale CND
Yorkshire CND
Calderdale Against the War
About Kathy Kelly
Kathy Kelly, 54, of Chicago, IL, is co-coordinator of Voices for Creative Nonviolence. She helped initiate Voices in the Wilderness, a campaign to end the UN/US sanctions against Iraq in 1996. For bringing "medicine and toys" to Iraq in open violation of the UN/US sanctions, she and other campaign members were notified of a proposed $163,000 penalty for the organization, threatened with 12 years in prison, and eventually fined $20,000, a sum which they've refused to pay. Voices in the Wilderness organized 70 delegations to visit Iraq in the period between 1996 and the beginning of the "Operation Shock and Awe" warfare (March 2003). Kelly has been to Iraq twenty four times since January 1996, when the campaign began. In October 2002, she joined Iraq Peace Team members in Baghdad where she and the team maintained a presence throughout the bombardment and invasion. Kelly left Iraq on April 19, 2003 and has returned three times, most recently in May of 2006 when she traveled to northern Iraq.
Along with three other Voices activists, Kathy was in Beirut, Lebanon during the final days of the Israel-Hezbollah war in the summer of 2006. They subsequently reported from southern Lebanon following a ceasefire.
During the first two weeks of the Gulf War, she was part of a peace encampment on the Iraq-Saudi border called the Gulf Peace Team. Following evacuation to Amman, Jordan, (February 4, 1991), team members stayed in the region for the next six months to help coordinate medical relief convoys and study teams.
In 1988 she was sentenced to one year in prison for planting corn on nuclear missile silo sites. Kelly served nine months of the sentence in Lexington KY maximum security prison.
Kathy Kelly in Beirut, Lebanon during the final days of the Israel-Hezbollah war in the summer of 2006.
Kelly has taught in Chicago area community colleges and high schools since 1974. From 1980 – 1986 she taught at St. Ignatius College Prep (Chicago, IL). She is active with the Catholic Worker movement and, as a pacifist and war tax refuser, has refused payment of all Federal income tax for 26 years.
Kelly helped organize and participated in nonviolent direct action teams in Haiti (summer of 1994), Bosnia (August, 1993, December, 1992) and Iraq (Gulf Peace Team, 1991). In April of 2002, she was among the first internationals to visit the Jenin camp, where conventional military forces of the Israeli Defense Force had destroyed over 100 civilian homes, in the Occupied West Bank.
In the spring of 2004, she served three months at Pekin federal prison for crossing the line as part of an ongoing effort to close an army military combat training school at Fort Benning, GA.
She currently helps coordinate the Voices for Creative Nonviolence campaign. Other Lands Have Dreams: from Baghdad to Pekin prison (2005) by Kathy Kelly is available through Counterpunch or Voices for Creative Nonviolence, 1249 West Argyle, Chicago, IL 60640 773-878-3815
"In a Time of Siege," a Peace Productions DVD about Voices in the Wilderness narrated by Studs Terkel is available from the Voices for Creative Nonviolence office, 1249 West Argyle, Chicago, IL 60640, 773-878-3815. The video shows footage of the Iraq Peace Team members in Baghdad on the day that U.S. Marines arrived. It also shows Voices activists living in Basra, Iraq during the summer of 2000 and, at other points, delivering medical supplies.
We try to make sure that the Hebden Bridge Web news is correct, but if you are aware of any errors or omissions, please
If you have comments on Hebweb news please make a contribution to our
© Hebden Bridge Web