COMEDY COUP FOR ARTS FESTIVAL
Monday, 19 November 2007
Festival supporters – new and old – who turned up for the Hebden Bridge Arts Festival open meeting this week were the first to hear of a major coup for the 2008 event.
For the first time in its history, the Festival will mark the launch of the programme and the start of bookings with a regional premiere on May 1.
In Celebrating Linda Smith, fellow professional performers pay tribute to the much-loved comedian, writer and radio broadcaster who died from ovarian cancer in early 2006.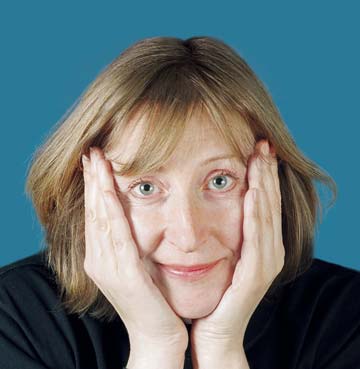 Comedian, broadcaster and writer Linda Smith
This brand new national touring stage production brings Linda's comic genius back to life and was crafted from the adaptation of her biography Driving Miss Smith, written by her partner of 23 years, Warren Lakin. Each performance features words and musical contributions from her friends and a host of special guests.
Aside from a lively narrative, performers will be giving renditions of Linda's fantastically funny material drawn from her professional stage, radio and TV career. The show features carefully selected cuts of Linda's comedy in audio and visual clips from shows such as News Quiz, Just a Minute, I'm Sorry I Haven't a Clue and Have I Got News for You.
A donation of £1 will be made to Ovarian Cancer Action from every ticket sold.
Next year's programme of exhibitions, theatre, music, words and street entertainment is also filling up with a host of big names and new productions.
This time around, the Festival will be celebrating the 2008 Year of Language in words, music and art with special events collected under the theme of Many Voices.
The 2008 Festival will run from Saturday, June 28 to Sunday, July 13.
Information about Hebden Bridge Arts Festival 2008 will be available early next year. In the meantime, if you'd like to be kept in touch with what's planned, e-mail hbfestival@gmail.com or visit www.hebdenbridge.co.uk/festival.
We try to make sure that the Hebden Bridge Web news is correct, but if you are aware of any errors or omissions, please
If you have comments on Hebweb news please make a contribution to our
© Hebden Bridge Web