Friends Of Colden School present
a trio of Classical Concerts
at Land Farm Gardens
Tuesday, 24 April 2007
A Little Spring Music - Saturday 5th May. 7:30pm. An evening of music from Sopranos Due Voci and Friends. Mandy Doyle and Viv Burr will be joined by Baritone John Ramsdin to perform together and solo at Land Farm. Accompanied by Ailie Kerrane, Hazel Bone and Nick Watts.
A Classical Summer Evening - Saturday 9th June. 7:30pm. Once again Due Voci are joined by John Ramsdin to perform some lighter classical and humourous pieces. Accompanied by Ailie Kerrane, Hazel Bone and Nick Watts.
The Sound of Strings on a Summer Evening - Saturday 7th July. 7:30pm. An evening of music performed by violinist Martyn Jackson, Trafford Young String Player of the Year 2006. Accompanied by Emily Smith.
Following the success and high demand for tickets at the 'Classical Summer Evening' recital held at Land Farm in June last year, Friends of Colden School are once again joining with reknown local musicians and performers to present a trio of Classical Concerts in the beautiful Pennine Hillside Garden at Land Farm, Colden.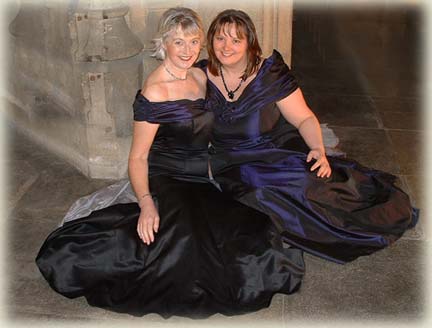 The Concerts are to take place on the 5th May, 9th June and the 7th July. The performances in May and June will feature Sopranos Mandy Doyle and Viv Burr, who sing together as 'Due Voci' and Baritone John Ramsdin, whilst the final performance in July will feature a full programme from the accomplished Viloinist, Martyn Jackson.
Currently studying under Bridget Budge and Patricia Hamilton, Due Voci have been delighting audiences for several years. They have appeared regularly as soloists and duettists at local musical events, including Pennine Spring Music Festival, Mrs Sunderland Music Festival and Holmfirth Music Festival, and are both members of the local chamber choir The Hepton Singers. Specialising in classical duets, their performances are characterised by beautifully blended harmonies.
The duo will be accompanied by Ailie Kerrane and Hazel Bone. Ailie Kerrane has been accompanying DUE VOCI since 2003. Both Ailie and Hazel Bone (Celtic Harp accompanist) are local musicians who, like Mandy and Viv, are members of The Hepton Singers.
Baritone John Ramsdin was born in Halifax. He sang as a boy in school and church, but didn't return to singing until his mid-thirties, and soon joined the Halifax Choral Society. However, within 18 months he had sung his first minor principal role with a Leeds-based opera group in Edouard Lalo's opera, Le Roi D'Ys. John was soon in demand and has since performed regularly with groups on both sides of the Pennines.
In April, John will be at the Carriageworks Theatre, Leeds, to play the comic role of Omar in Weber's Abu Hassan with West Riding Opera. Later this year, his will play the part of Papageno for Chimera Opera's production of Mozart's The Magic Flute in Rochdale.
John will be joined by Nick Watts, an experienced accompanist and repetiteur, both for local choral societies and choirs, as well as for solo singers and instrumentalists.

The Due Voci and Friends concert on May 5th, will include music by composers from very different periods and countries, so the programme has a lot of variety. The composers include Tchaikovsky, Handel and Mozart, and we feel sure that the audience will find much to enjoy. For June 9th, some of this programme will be repeated, but John will also perform some lighter classical and humourous pieces. There should be something to suit all musical tastes!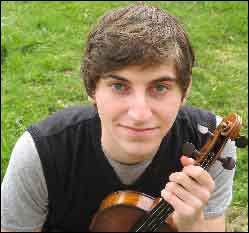 At the age of 19, Martyn Jackson is already an accomplished solo performer, giving numerous recital and concerto performances throughout the UK and Europe. He currently studies with Jan Repko at the Royal College of Music, having previously studied with Deirdre Ward at the Junior Royal Northern College of Music since 2001.On July 7th Martyn will be performing pieces by Brahms, Judith Bingham, Mozart and Mendelssohn to name but a few.
He will be entering the 2007 Kloster Schontal International Violin Competition this summer and the pieces Martyn will perform at his July concert are a preview to the pieces he will be playing for the distinguished Judges at one of the Classical Music World's most prestigious competitions. Being an ex-pupil of Colden School' Martyn is fondly remembered by stafff and parents for his outstanding performances as a solo violinist whilst at the school.

At the age of 10, Martyn appeared in a Channel 4 documentary with the conductor Simon Rattle entitled "Don't Stop the Music". He has participated in master classes with Leland Chen, Michael Davis, David Greed, Katherine Hunka, Nicholas Ward and Wen Zhou Li.
In March 2006, Martyn won both 1st prize and audience prize at the Trafford Young String Player of the Year 2006. He was also a string semi-finalist at the BBC Young Musician of the Year 2006.

This summer he shall take part in the Lake Distrist Summer Music Festival, where he will receive tutelage from Maciej Rakowski and Ani Schnarch. He would like to express his gratitude towards Mr Bell, Mrs Betty Bonner, the Bearder Charity and the Richard Naylor Charity for their kind support.
Martyn plays on a Pietro Grulli Violin c.1980. He will be accompanied by Emily Smith.
After having taken a gap year in which she travelled to Cuba, Emily is currently studying piano at the Royal College of Music with Neil Immelman. Emily is also a second study cellist studying with Alexander Boyarsky, she previously studied piano and cello at the Junior Royal College of Music.

All the concerts will be preceded with a tour around Land Farm Garden, which is amongst the most magnificent privately owned gardens in Britain.
Due to the great demand last year when we unfortunately had to turn people away at the door, the Concerts this year are by ticket only ........so ensure you get yours in plenty of time!

Tickets for each of the performances cost £12.50, or £30.00 for all three concerts. Refreshments of wine & canapes will be served during the interval, when the audience will be free to wander the gardens and breathe in the wonderful floral scents.
Tickets are available from The Bookcase in Hebden Bridge, The Post Office in Heptonsall and May's Aladdins Cave on Edge Lane, Colden.
Alternatively you can call Clare Maguire on 01422 843659.
We try to make sure that the Hebden Bridge Web news is correct, but if you are aware of any errors or omissions, please
If you have comments on Hebweb news please make a contribution to our
from the Hebden Bridge Web