Colden School Annual Duck Race
Added Monday, 21 May 2007
Monday 28th May
New Delight Inn, Jack Bridge, near Hebden Bridge
All activities begin at 1:00pm, with the big race starting at approximately 2:30.
It's May and time once again for the Colden School Annual Duck Race. Held at the New Delight Inn, Jack Bridge on Monday 28th May the Duck Race is a fun afternoon out.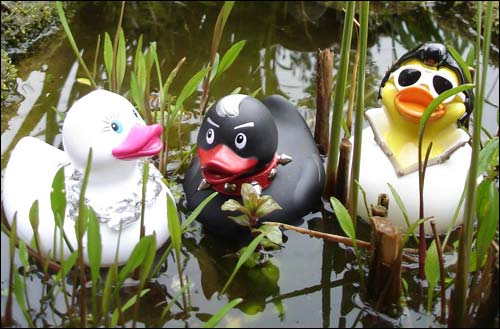 The three celebrity ducks get to know each other
at a Duck Race warm up session
Along with the Race, there are stalls and activities a plenty for all the family, including Pony Rides, Beat the Goalie, face painting and Tombola. For those who missed the Blackshaw Head sale there will be a chance to buy hardy locally grown plants from the Colden Plant Sale, and as always there will be a Cake stall selling a huge variety of tasty treats.
There are also plenty of family prizes to be won at the FOCS and Colden Playgroup Grand Raffle, including days out to Eureka, Magna and the Jorvik Viking Center in York. The winners of the Poster Competition held by Blackshaw Head Slower Speed Campaign will also be announced at the Duck Race.

Amongst the hundreds of hardy Pennine Yellow Ducks taking part in the Duck Race will be three vaguely familiar personalities. This year the Annual Colden School event has challanged some celebrities to swim the course - a special prize given to the first celebreduck to cross the finishing line.
Several celebriducks were a bit chicken and turned down the invitation to dip their toes in the chilly Colden Water. However, we are pleased to announce that the challange has been taken up by three Celedreducks hoping to boost their careers.
Diamante Duckyliscious was last seen on 'Big Brother'. Famous for being famous, Diamante is more at home in a hot tub than a northern river. When asked what she thought of a swim in Colden Water Diamante said "Well I've 'ad a baff in Perrier Water - it's the same fing innit?"

30 years after the death of 'The King of Rock & Roll', Elvis is back on the scene. Discovered working in a chip shop by Andrew Loyd Webber, the duck who claims to be Elvis shot to fame when he won 'Duckgrease is the Word'. Fellow competitors in the Duck Race claim that he is an imposter and that his real name is D.A. Duck - a second rate Elvis impersonator from Barnsley. Elvis, however is adamant that he is The King and that he stands a good chance of beating the other celebreducks. "They ain't nothing but hound dogs - crying all the time" he said as he polished the rhinestones on his wet suit in preparation for the race. Rumours that Elvis will be kick starting a nation wide river tour with a gig at the Newdy are totally unfounded.

The third contender is Dyer Greenweed - an ageing Bad Boy Punk Rocker hoping to cash in on the 80's band revival. Dyer, who was once front man for the notoriuos punk band 'Planta Gentis' has caused much consternation amongst the local community. A spokesman for Colden Water said "Since his arrival Dyer Greenweed has managed upset most of the resident mallards and has even had a set to with the Heron! He has already built up a huge Bill at the Newdy, and if he carries on with his bad behaviour we will have to call a public meeting to discuss further action!".
In his defence, Greenweed said that "My taking part in this Duck Race can only benefit the community. I'm unique! Ornithologists and other nature loving tourists will travel to Colden just to see me and that will bring more money into the area. I can't understand why people are so against me. I'm bound to win the race - that Elvis is just a bit Flash, and as for Diamante......well, I can't see her wanting to wet her feathers with the locals!"
With such big egos competing for a winning place amongst the regular 500, the excitement is building for this year's race.

Why not come along and see just who will be preening their feathers or ducking out gracefully this Bank Holiday Monday?

Duck Race and Raffle tickets are on sale now at May's Aladdins Cave, Edge Lane, Colden or from Clare Maguire on 01422 843659.
We would like to say a big thank you to all the local shops and businesses who have donated prizes to us, including Bronte Boats, Blazing Saddles, Studio Seven, Silly Billy's, Jules Pottery and Flying Saucers.
We try to make sure that the Hebden Bridge Web news is correct, but if you are aware of any errors or omissions, please
If you have comments on Hebweb news please make a contribution to our
from the Hebden Bridge Web