Power in the Landscape exhibition
Water power in our area

From Saturday, 28 July 2007
The Power in the Landscape exhibition launches this weekend at the Alternative Technology Centre, Hebden Bridge.
This project began with a group of people interested in the history of the textile mills and in the remains of the once thriving water powered industry to be found in the landscape. It looks in particular at the Colden valley where many of the water management features can be seen.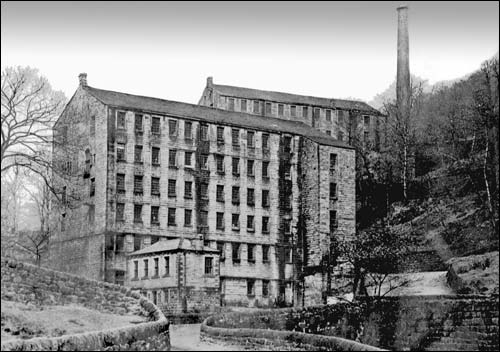 Eaves Mills - built around 1830
The exhibition features old photographs of mills, many of the originals belonging to the Hebden Bridge History Society. A booklet and website accompany the display and includes a history of the mills, maps, plans, photographs and also an audio visual aimed at helping people to imagine some of the sights and sounds that filled the valley when the mills were in full production. This was produced by volunteers at the centre, with a commentary by Ursula Holden Gill, star of Emmerdale Farm. One of the outcomes has also been identifying sites where there is potential for re-installing micro-hydro.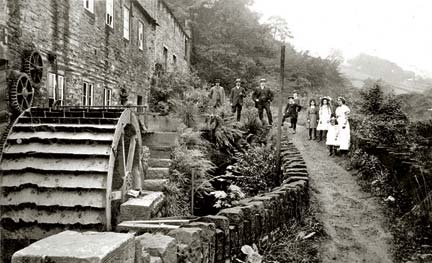 Holme House Bridge Mill, Luddenden
Thanks to the Alice Longstaff Archive for the above photos
Project leader, Justine Wyatt says "One of the most exciting parts of the project has been discovering plans and maps of the old mills showing the water management systems, and comparing these with the evidence on the ground. The owners of a number of mill sites very generously gave us access to their sites to be able to do this."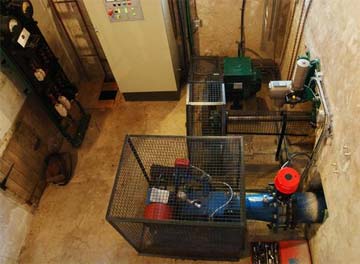 Mike Barrett has taken some photos of water power as it is used now. Above is one of the hydro-electric installation at Gibson Mill.
Listen to the HebWeb interview
with Mike Barrett talking about taking photos for this exhibition.
We try to make sure that the Hebden Bridge Web news is correct, but if you are aware of any errors or omissions, please
If you have comments on Hebweb news please make a contribution to our
© Hebden Bridge Web