Heritage Day in Hebden Bridge
Updated Monday, 8 September 2008
Thanks to the South Pennines Rail Partnership, Diana Monohan and the Civic Trust for the following
On Saturday September 13th, Friends of Hebden Bridge Station, the Calder Civic Trust and Hebden Bridge History Group organising a Heritage Open Day in Hebden Bridge.
In the waiting room on the Hebden Bridge Station platform of the listed station, there will be an exhibition of photographs and artefacts and memories of an ex-station master.
In the listed Hope Chapel, on the A 646 main road in Hebden Bridge, there will be a 30 foot by 8 foot model of Hebden Bridge Station and surrounding area, as it was in the 1950s and 60s, run by six volunteers. Hope Chapel is about a 6 minute walk from the station . Also at Hope Chapel will be another exhibition, of a wedding dress, petticoat and shoes that are 150 years old, and were worn by a local person who helped organise the building of the chapel.
At 1:15 pm a guided historical walk from Hope Baptist Chapel to Wainsgate Chapel, Old Town via the interior of Birchcliffe Chapel on the way up the hill (one way about 2 miles or circular about 4 miles).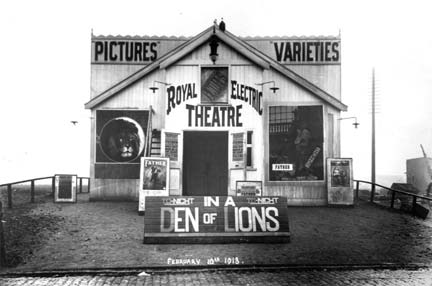 Hebden Bridge Picture House, New Road - there is an exhibition on the history of cinema in Hebden Bridge, a chance to view local films of the area including The Projectionist and The Blood Donor. There is also an opportunity to learn about The Last Coiner at 11am and 12pm (a movie project that local people can be involved in). 10 am to 1 pm.
It is planned that there will be history boards displayed around town in the houses and shops such as the old Ebenezer Chapel (now Heart Gallery).
The Fox and Goose will have their history exhibition and book on sale in the pub. The Council Building with its impressive chamber and 19th century paintings of the area will also be open.
The Innovation Cafe (which is also listed) will be encouraging visitors to see their water wheel and it's history: The former manorial corn mill (1314), was later extended and converted to textile production. It was closed and derelict from 1956. The building was restored and converted to retail and catering business from 1976, with the waterwheel, and goyts restored and in working order from 2000.
Wainsgate Chapel - exhibition on its history. 2 to 4 pm. (Wainsgate is also open on Sunday 1 to 4 pm).
Guided Walk - Hope Chapel to Wainsgate Chapel Guided historical walk meeting @ Hope Baptist Chapel at 1.15 pm to Wainsgate Chapel, Old Town with a short visit to the interior of Birchcliffe Chapel part –way up the hill (one way about 2 miles or circular about 4 miles) 1.15pm - Led by Trevor Smith, Calder Civic Trust.
Hebden Bridge Council Buildings, St George's Square - an opportunity to view the listed chamber and 19th century paintings of the Calder Valley by John Holland 11 am to 1pm
Let the train take the strain, and visit Hebden Bridge by train!
Hebden Bridge Local History, Friends of HB Station and Calder Civic Trust have also been involved in the organising local events for Heritage Day.
---
See also: www.southpenninesrail.co.uk
Previous Hebweb News item
Heritage Open Days website
We try to make sure that the Hebden Bridge Web news is correct,
but if you are aware of any errors or omissions, please
If you have comments on Hebweb news please make
a contribution to our
© Hebden Bridge Web