Mercury Prize nominees Rachel Unthank and Winterset play the Trades
Thursday, 4 December 2008
Mercury Prize nominees Rachel Unthank and the Winterset return to the Trades Club in Hebden Bridge on December 12th for another dazzling display of clog dancing and traditional folk classics.
The Winterset spent the summer on the festival circuit as well as touring North America so lead singer Rachel Unthank and her sister Becky will have horned their clog dancing skills which are a special part of their live show.
The band picked up a Mercury nomination recognising the best albums of 2008 for their critically acclaimed second album The Bairns and have seen their album sales shoot up despite not picking up the top prize.
The four piece from Northumberland played a sell-out gig at the club last year and decided to return because of the enthusiastic reaction to their set of traditional folk songs as well as carefully chosen covers from the likes of Antony and the Johnsons and Robert Wyatt.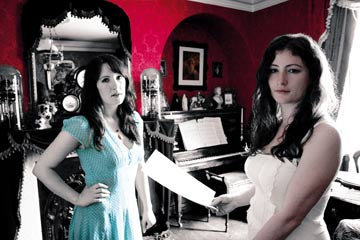 "The Winterset are playing much bigger venues on this tour as their Mercury nomination has brought them a much bigger audience so this is the last chance to see them in an intimate setting like the Trades," says Trades Club Entertainment Manager Dave Boardman.
"They're coming back because they had such a fantastic reception last year for what was an exceptional live show which must rank as one of the best we've had for years.
"They wanted to come back because they love playing a venue with an audience who really gets what they are doing with New Folk with lot of North East traditional stuff thrown in and the Unthanks say our sprung dance floor is perfect for clog dancing!"

Rachel Unthank plays the Trades as part of a folk weekend which includes a rare Calder Valley date from Fairport Convention Dave Pegg on Sunday December 14th. He's on the road with multi-instrumentalist PJ Wright to promote their new album Galileo's Apology. Tickets for the gig priced £10 for non-members and £7 for members are available from the club on 01422 845265.
"Music as tough as it is gentle, as ancient as it is modern, and as coldly desolate as it is achingly intimate. They might not end up being the best-selling British allgirl group of all time, but they're well on their way to being the most charismatic and imaginative" Paul Morley, Observer Music Magazine Top 50 Albums of the
Year (number 17)
We try to make sure that the Hebden Bridge Web news is correct,
but if you are aware of any errors or omissions, please
If you have comments on Hebweb news please make
a contribution to our
© Hebden Bridge Web