Battle of the Bands winners Widgykeff launch debut album

Friday, 19 December 2008
Battle of the Bands winners Widgykeff are launching their debut album at the Trades Club, Hebden Bridge on Monday December 22nd.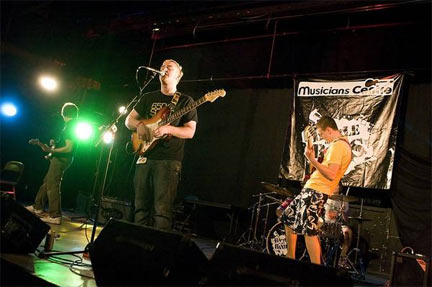 The Trades has backed the band who all hail from the Calder Valley since they formed four years ago and they have played a series of sell-out gigs at the club.

Their reputation as a formidable live act was sealed when they won the Musicians Centre Battle of the Bands title beating off fierce competition from bands in Halifax and Hebden Bridge.

Since then the band have been shut away at Calder Recordings putting the finishing touches to their eleven-track debut album and playing the odd gig at high profile venues including Manchester's Night and Day café.

"The Trades has been a huge supporter of Widgykeff since they got together so it seemed appropriate to launch their splendid debut album at the club which is like a second home to them," Trades Club spokesperson Paul Clarke told the Hebden Bridge Web.

Advance tickets for the gig priced £5 are available from the Musicians Centre, Hebden Bridge or from the Trades Club on 01422845265 or boxoffice@tradesclub.org.

We try to make sure that the Hebden Bridge Web news is correct,
but if you are aware of any errors or omissions, please
If you have comments on Hebweb news please make
a contribution to our
© Hebden Bridge Web