Wildflower meadow,
Calder Holmes Park
Tuesday, 22 April 2008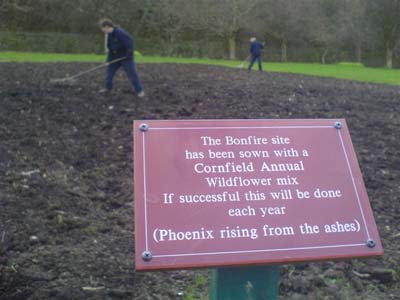 the site of the 'phoenix rising from the flames'
As part of the ongoing improvements in Calder Holmes Park three distinctly different three wildflower meadows have been established.
Site one is the location of the annual Hebden Bridge Bonfire and species have been selected that will flourish in the poor soil conditions created by the annual fire. They will include cornflowers and campions which is described by the notice as the 'phoenix rising from the flames'.
The other two sites are close by and have different seed mixes, one also being planted heavily with wildflower plugs. This site has also been built up with recycled compost made predominately with leaves swept from the roads of Calderdale.
Jason Boom, Environmental Community Warden for Hebden Royd Town Council told the Hebden Bridge Web, 'We're trying this for the first time and letting people know it's not just an area of uncut grass. Information notices have been placed next to the areas of planting explaining the areas. We hope people will enjoy watching them grow and maturing. We expect them to really be coming into their own by August'
---
10th March 2008
Calder Holmes wildflower planting
Come and help create a wild flower meadow in Calder Holmes Park, Hebden Bridge
On Thursday 20th March there is an opportunity to help create a new area of Wildflower Planting in Calder Holmes Park. Planting close to the Bonfire Site there will be wildflower plugs and seeds for all to help create this new area and habitat. Aimed to attract butterflies, bees and many other insects it's also hoped to create a colourful display throughout the summer.
Following on from similar initiatives in other Calderdale Parks it forms a small part in the many improvements to the Park.
'We hope this summer to have a cornflower wildflower meadow for all to enjoy. It would be great for local people to come along and help us create this new environment. All you need to do is turn up in clothes that can get dirty and a willingness to join in - we'll provide the rest' said Jason Boom, Environmental Community Warden for HRTC.
Come along with all the family between 1pm and 3pm behind the skate park and join in.