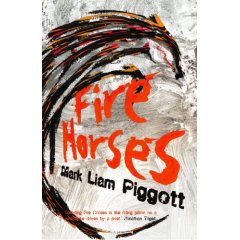 Fire Horses
A new novel by Mark Piggott
Thursday, 5 June 2008

Now living in London, Mark Piggot grew up in Hebden Bridge where he still has family
Writing has caused Mark a lot of pain but he also names it as his saving grace, his last excuse, his way out of whatever mess he was in at the time. It's simply the only thing he's ever wanted to do (apart from play for Man Utd), and he would recommend it. But only a bit. As well as writing novels, Mark writes features for the nationals, including The Telegraph, Guardian, and Independent.
Joe Noone is a degenerate and enthusiastic explorer of the gutter. Fire Horses views England over the last 25 years, from small town to grimy metropolitan underbelly, through the eyes and lens of one deeply troubled individual and his complex relationships with his childhood friend and women in his life.
Laced with dark humour, poetic beauty and angry political asides, Fire Horses is an unflinching lesson in modern history. An epic love story about "ordinary" people, the novel is an examination of the pain-inducing traps we can set for ourselves in life and how and whether we can escape them.
The book charts a contemporary history of England using everyday characters; ordinary lives and loves are told in such a way that they are compelling, interesting and important.
Many of the scenes take place on the same date as pivotal moments in history – although the events aren't always referred to in the text – and each chapter is a title of a relevant song from the modern era, creating a resonant sound track to the novel.
Published by Legend Press on 31st May 2008
---
Previously on the Hebden Bridge Web
Dust storm - in depth article by Mark in the Daily Telegraph of 6th October 2007 about Acre Mill and the asbestos tragedy.
Behind Blue Eyes - also by Mark, reviewed by Elaine Connell
We try to make sure that the Hebden Bridge Web news is correct, but if you are aware of any errors or omissions, please
If you have comments on Hebweb news please make a contribution to our
© Hebden Bridge Web