Raising the Roof on the John Fawcett Centre
Saturday, 10 January 2009

Under the theme of 'Raising the Roof', Hope Baptist Church is holding a concert by local band 'Forever Young' on Saturday 31st January at 7.30pm to celebrate the start of building work on the John Fawcett Centre. The first phase of building work involves replacing a leaking roof and an ancient boiler, which is likely to cost in excess of £60,000.
Creating the John Fawcett Centre is an ambitious project to transform the large chapel and adjacent buildings in the centre of Hebden Bridge into a number of community spaces that will help to meet a variety of local needs, ranging from counselling and child care to arts facilities and affordable housing. An open day held at the end of November attracted dozens of local residents who discovered more about the plans and shared in taster sessions.
Marcus Bull, who took on the role of minister last summer told the Hebden Bridge Web, 'The church has been shaping up plans over the past couple of years - listening to local people and talking with key organisations. We will develop plans and apply for funding with partners to support different parts of this project. This first phase of building is being driven forward by the church itself with support and guidance from the Yorkshire Baptist Association. We are pressing ahead to demonstrate our confidence that this is the right thing to do and our commitment to making it happen.'
Marcus adds: 'The chapel is one of the many listed properties in Hebden Bridge and is historically important. This initial building work aims to safeguard the property with a sound roof and to replace a desperately inefficient boiler with an eco-friendly system. The concert gives people an opportunity to take a look inside the place and to get involved in a project that is at the heart of Hebden Bridge.'
Forever Young features local musicians Martin Parrott, Hal Clarkson and Albie Harrop. The concert will include the songs and music of Tom Paxton, Bob Dylan, Johnny Cash, Ralph McTell and other well known folk singers, as well as compositions by the band members. Donation of £5 towards the John Fawcett Centre, payable at the door.
For more information about the John Fawcett Centre, visit www.hope-baptist.org.uk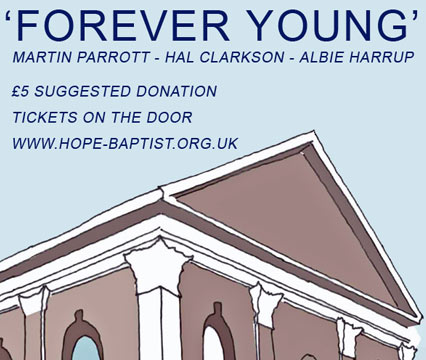 We try to make sure that the Hebden Bridge Web news is correct,
but if you are aware of any errors or omissions, please
If you have comments on Hebweb news please make
a contribution to our
© Hebden Bridge Web