Cider Festival
Monday, 22 June 2009
3rd International Cider Festival,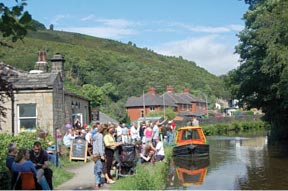 Hebden Bridge will be hosting its 3rd International Cider Festival at the Stubbing Wharf public house, on the weekend of 27th to 28th June, with the special preview night of the ciders on offer, on Friday evening.
The Cider Festival continues to get bigger and better each year, with a growing variety of ciders, combined with two days of music and entertainment.
"It's become an event that's now attracting quite a following," says the Stubbing's Mathew Browne.
This year, Saturday will be the day of choice for the cider enthusiast, whilst Sunday will be a more family-orientated day, when there will be lots of delicious apple juices for the children to drink (and adults too). There will be the Stubbing's own 'magician laureate' who will be up to his old tricks -and some new ones too. This is all combined with traditional music, a hog roast and over 50 of the best craft ciders from Britain to create a full weekend of fun and enjoyment.
Award winners and favourites
"Our ciders will include recent award winners and favourites requested from previous years, plus many others from around the world to enjoy over the weekend," adds Phil Kennedy, who organises the event with the Stubbing Wharf.
"We also have the return of our popular French Cider Bar with some new Breton Ciders as well as our popular draft cider 'Mont St Michele, which is unique to the north of England."
The Stubbing Wharf has been building something of a reputation for its food locally, this year the kitchen will also be open both days so you can enjoy delicious food with your cider as well as the hog roasting outside. The Sunday roasts will also be available as usual on Sunday. Stubbing Wharf Cruises will be running 30-minute scenic and informative canal boat trips on both days.
Altogether there is something for everyone at this third event, which commences with a special preview night on the Friday, a taster for the weekend to come.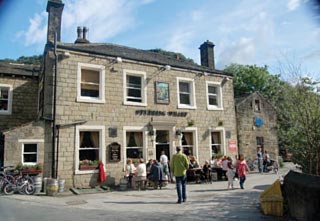 The Stubbing Wharf is located off the A646 on the west side of Hebden Bridge, sandwiched between the River Calder and the Rochdale Canal. If you are in the car, there is our free ample car park. Or if you are on the bus, numbers 590 592 594 stop close by. By train or by foot, The Stubbing Wharf is a short walk along the canal towpath after lock 11.
We try to make sure that the Hebden Bridge Web news is correct,
but if you are aware of any errors or omissions, please
If you have comments on Hebweb news please make
a contribution to our