Picnic for Rusty and Steve
the two popular Calder High School teachers, Leonora Rustamova and Steve Cann, suspended from Calder High School

on Thursday, 16th July, 3.30pm
Pressure was put on Salem Archery Club and Trades Club not to allow the picnic on their grounds or premises. In the end, the very Hebden Bridge summer picnic took place in Calder Holmes park. Eight police and a police van had been drafted into the area as authorities feared Facebook inspired "vandals". Parents, students and former students came along to thank Steve Cann and Leonora Rustamova for all their inspired help over the years. Parents told the Hebden Bridge Web that they felt the reputation of Calder High School had been seriously undermined by the affair.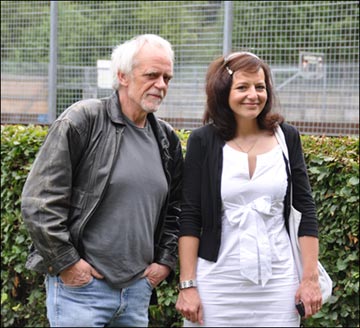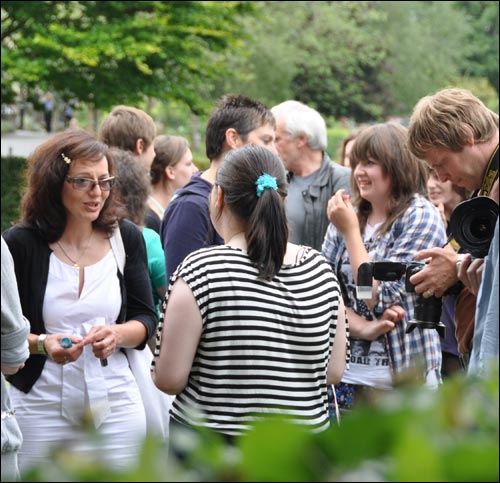 Miss Rusty greets former students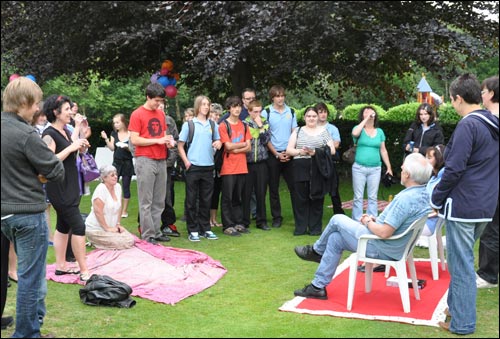 Getting ready for the presentation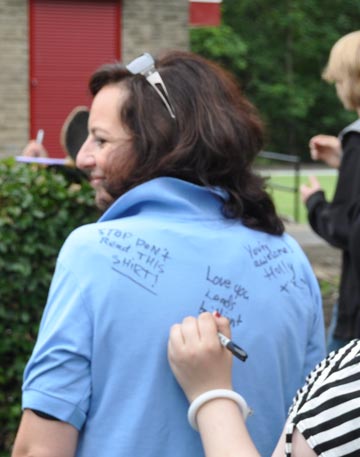 "STOP! Don't Read This Shirt" is one of the messages written
on to a newly acquired Calder High T shirt.
See also: Yorkshire Post: Former pupils greet sacked teacher Miss Rusty at picnic
---
Added Monday, 6 July 2009
Picnic for Rusty and Steve at the Trades Club, Hebden Bridge on Thursday 16th July 3.15pm

A few of us parents of CHS students have arranged a picnic so that students and parents (past and present) can come and see Rusty and Steve and thank them for all their hard work and care as teachers, counsellors and friends during their time at Calder High.
It will also be an opportunity for best wishes for the future to be passed on, to and by, everyone.

We'd like to make them a book each of photos and messages so please would you email any messages, memories or pics that you'd like them to have to pippa236@btinternet.com.

Some food will be provided, bring something if you can.

See you there
Hetha, Pippa, Diana & Lesley
---
See also
Yorkshire Post: Former pupils greet sacked teacher Miss Rusty at picnic
Hebweb Forum: Miss Rusty revisited
Hebweb News: Miss Rusty tells her story for the first time
Hebweb News: SUSPENDED: Leonora Rustamova and Steve Cann - two popular Calder High School teachers
Hebweb Forum: Teachers suspended from Calder High
We try to make sure that the Hebden Bridge Web news is correct,
but if you are aware of any errors or omissions, please
If you have comments on Hebweb news please make
a contribution to our