Colden Valley's "Enchanted Forest"
Thursday, 9 July 2009
A Sculpture Trail created by the children of Hebden Royd C.E Primary School.
Open from Saturday July 4th throughout the Summer.


If you go down to the woods today……….

As part of the Hebden Bridge Fringe Festival, the children of Hebden Royd C.E Primary School have created a Sculpture Trail within Colden Clough Local Nature Reserve.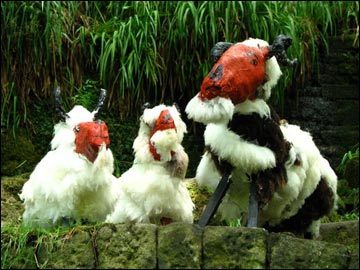 The Three Billy Goats Gruff
The Sculptures are arranged around what was once the site of Lumb Mill – one of many mills along the length of the Colden Valley.
Already a magical place, it is easy to imagine fairies and fantasy creatures living quietly in this hidden valley. It is the charm and beauty of Colden Clough that has inspired the children to create their own version of 'The Enchanted Forest', giving them the opportunity to be as imaginative as only a child's mind can be!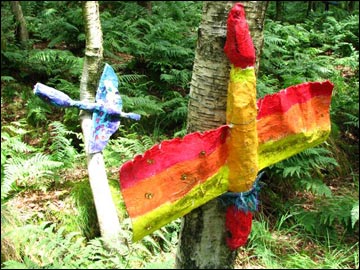 Fantastical Fying Creatures!
Not only is the Clough a beautiful spot within walking distance from the school, but also the perfect place to learn about both the history and nature of the environment in which they live….. and an ideal spot to exhibit artwork created during the summer term!
Within these woods you will find familiar characters from your childhood, fantastical flying creatures created by young imaginative minds and sculptures based on close examination of some of natures smaller creatures. All of them closely guarded by 'The Watchers in the Woods'.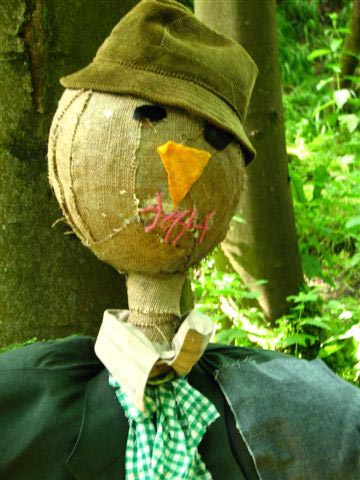 Scarecrow walks the Yellow Brick Road with Dorothy & the Tin Man!
The trail is free and is open for everyone to enjoy until the School term starts again in September.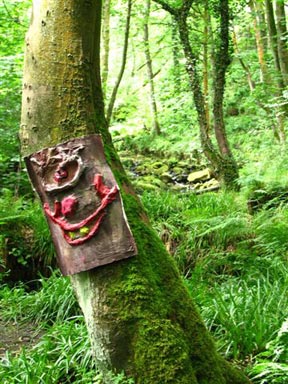 A watcher in the Woods!
Maps are available from the Tourist Information Centre and the Arts Festival Office, but should visitors happen upon the Enchanted Forest by chance, information and maps are onsite to guide them safely back to the real world. We hope you are inspired by the Children's creativity and that you have an enchanting experience along the trail. We ask only that you respect the children's hard work and leave the sculptures as you find them…. and if you have enjoyed it please let the Children of Hebden Royd know!
We try to make sure that the Hebden Bridge Web news is correct,
but if you are aware of any errors or omissions, please
If you have comments on Hebweb news please make
a contribution to our