Alice Mahon joins local Labour left activists at public debate in Hebden Bridge
Thursday, 17 September 2009
Public meeting
Can Labour Survive?
Hole In The Wall
Thursday 24, September, 7.30 pm
Members of the Labour Party in Hebden Bridge have organised a public debate on their prospects at the General Election.
Former Halifax MP Alice Mahon will be the key speaker at Can Labour Survive? - a meeting to be held on Thursday September 24 at the Hole In The Wall pub.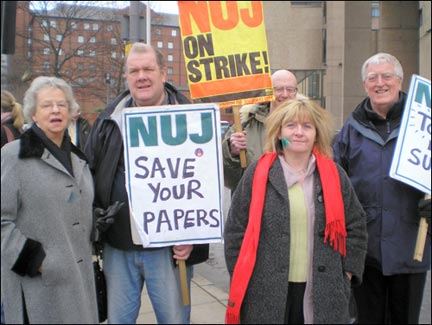 Alice Mahon, Susan Press and others on the picket line
Other participants will include Janet Oosthuysen, Calder Valley's original PPC, who was not endorsed by the NEC despite overwhelming support in the local constituency, and ex Mayor Susan Press, who stood against Steph Booth in the second Parliamentary selection – also a focus of controversy.
The meeting comes two days before the start of the Labour Party Conference in Brighton and organisers hope it will give people the chance to air their views on what Labour should be doing to win back support.
Town councillor Susan Press, who will chair the meeting, told the Hebden Bridge Web:" Time and again our local Branch Labour Party has made clear its support for policies like scrapping Trident, the renationalisation of the railways, and the abandonment of expensive and unnecessary ID cards. At the time of the Iraq War, we joined our MP Chris McCafferty in opposing the unnecessary and illegal conflict which has cost so many thousands of lives."
"Our views are shared by thousands in the Party yet the Government refuses to listen and continues apparently sleepwalking towards the disaster of a Tory Government.
"At a local level, the NEC's decision not to back Janet has caused many people to leave the Party and others to question the point of remaining.
"The fact is that Labour is facing electoral disaster unless the Government accepts it needs to change direction and engage with its core values again. There are still many hard-working, decent MPs who will need our help to be re-elected. No-one wants a Tory Government but at the moment it looks inevitable The meeting will discuss what we can do to stop that"
Thursday's meeting is open to all and will start at 7.30pm.
---
We try to make sure that the Hebden Bridge Web news is correct, but if you are aware of any errors or omissions, please
If you have comments on Hebweb news please make a contribution to our