Planting the seeds for
next year's Big Green Weekend
Tuesday, 29 September 2009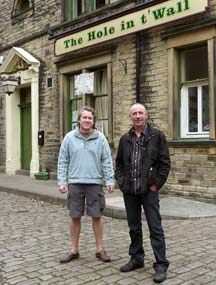 The first planning meeting for the 2010 Big Green Weekend will take place at 3pm this Friday, 2nd October, at the Hole in T'Wall pub, next to the Packhorse Bridge in Hebden Bridge.

Anyone with any suggestions or ideas for the event is very welcome to attend. Those people who would like their views considered but are unable to come to the meeting can email them via the Big Green Weekend website.

Organiser Jason Elliott said "We expect that next year's event will build on the tremendous success of the last two years and be even bigger, with a wider number of community groups, businesses and individuals involved.

The weekend's core theme of sustainability is nothing to do with being a tree-hugging hippy and everything to do with the ability to run our lives and meet our needs without compromising the ability of future generations to do the same. Considering Hebden Bridge's ability to continuously produce innovation and the proven local commitment to look after our natural surroundings, the Big Green Weekend is the perfect opportunity to showcase this," he told the Hebden Bridge Web.

Recently refurbished to high environmental standards and one of the main hubs of previous Big Green Weekends, the Hole in T'Wall will be hosting all of the planning meetings and is looking forward to a packed programme of events during the bank holiday weekend at the end of May. Owner, Justin Pringle, said, "First and foremost, this is a community-wide event which bring together people for the best possible reason; safeguarding our joint future. Considering that we will also be celebrating 500 years of our community, we are especially pleased to be in the thick of things once again and are already planning a number of exciting things for next year."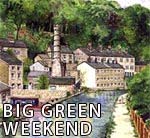 The 2010 event has received a further boost recently with the addition of Kerbside champion, Paul Brannigan, to the team. Jason Elliott added, "We are delighted with Paul's decision to help with the establishment of a not-for-profit organisation to the run the Big Green Weekend and other smaller projects throughout the year. His knowledge of the workings of the Third Sector, together with his unwavering commitment, not only to recycling and environmental sustainability, but also to social justice and inclusion, make him the perfect person to have on board for this type of project."
See also:
Previous coverage on the Hebweb of the Big Green Weekend
We try to make sure that the Hebden Bridge Web news is correct, but if you are aware of any errors or omissions, please
If you have comments on Hebweb news please make a contribution to our