Hebden Bridge Picture House to screen The Soloist as part of Calderdale's Black History Month
Saturday, 10 October 2009
Black History Month celebrates the achievements and highlights the hidden history of the black community.
Calderdale is celebrating Black History Month with a host of events, plus a chance to win free tickets to see stand-up comic Stephen K Amos at the Victoria Theatre and The Soloist at Hebden Bridge Picture House. The event has been marked across the UK every October for over 30 years, each year growing from strength to strength.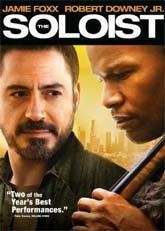 Hebden Bridge Picture House is showing The Soloist: the life story of Nathaniel Ayers, a former cello prodigy whose schizophrenia landed him on the streets after two years of schooling at Juilliard. The film will be screened from Friday 23 to Sunday 25 October, and on Thursday 29 October.
"Columnist Steve Lopez is at a dead end. The newspaper business is in an uproar, his marriage to a fellow journalist has fallen apart and he can't entirely remember what he loved about his job in the first place. Then, one day, while walking through Los Angeles' Skid Row, he sees the mysterious bedraggled figure Nathaniel Ayers, pouring his soul into a two-stringed violin." (Lovefilm)
To mark this year's Black History Month, Bankfield Museum are putting on a display of fantastic African textiles, including kente, adire and stunning West African masquerade costume. Halifax Central Library have highlighted a book collection covering black history, culture, biography, politics and fiction. The library also has relevant titles on DVD and CD with most titles carrying a "Black History" sticker for easy identification.
The School Improvement Service has set up a display in the entrance hall at Heath Training and Development Centre, Halifax. Staff from schools are invited to view the display, which includes posters, books, website links and information about the origins of Black History Month, the reasons for celebrating Black and Asian history and contributions of both groups to world history.
The Victoria Theatre welcomes comedian Stephen K Amos for his third stand-up comedy tour of the UK which aims to be full of more fun, warmth, bonhomie, and love than ever before. Stephen is appearing on Wednesday 28 October at 8pm.
To celebrate Black History Month, Calderdale Council is offering a chance to win a pair of FREE tickets to see Stephen K Amos (suitable for ages 16-plus) at the Victoria Theatre and for the runner up, a pair of tickets to see The Soloist (Cert.12a) at Hebden Bridge Picture House. To be in with a chance of winning, simply answer the following question:
Who is Todmorden's famous son who appeared alongside Max Bygraves in the TV programme Singalonga Max?
You must be aged 16 or over to enter. Email your answer along with your name, address and phone number, to equalities@calderdale.gov.uk, or post it to Black History Month Competition, Equality Team, Calderdale Council, 3rd Floor, Northgate House, Northgate, Halifax, HX1 1UN by 5pm on Friday 16 October. Winners will be chosen at random.
Councillor Ian Cooper, the Council's Cabinet member for Safer and Stronger Communities, said:
"I'm very pleased that celebrations for Black History Month are in full swing again this year. All of our communities contribute to making Calderdale a vibrant and fascinating place to live."
We try to make sure that the Hebden Bridge Web news is correct, but if you are aware of any errors or omissions, please
If you have comments on Hebweb news please make a contribution to our