A film made for £45 - Colin at the Picture House

Director Marc Price will offer 'zombie workshop' after film.
Tuesday, 27 October 2009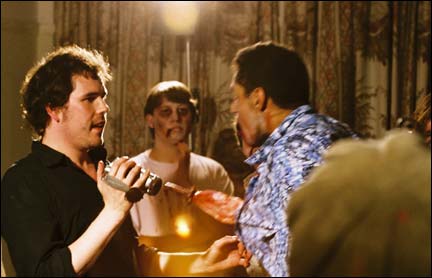 One of the success stories of the year, zombie movie Colin was written, directed, edited, shot and produced by Marc Price on a budget of just £45! The film has since wowed critics at Cannes film festival, garnered great critical praise, and has now received a distribution deal for nationwide release. In an exclusive for the Picture House, Marc has kindly agreed to take time out of his busy schedule to attend the first screening at the cinema.
Not only will Marc introduce the film and discuss how he made it afterwards, but will also be offering a 'zombie workshop'; showing people how to create zombies of their own using some leftover make-up equipment that's been sitting under his sink!
Colin is a testament to the art of the low-budget collaborative process, and is a must for all budding film-makers and film fans alike.
Monday 2nd November at 7:45pm

We try to make sure that the Hebden Bridge Web news is correct,
but if you are aware of any errors or omissions, please
If you have comments on Hebweb news
please make a contribution to our