Cape Asbestos - Lest We Forget

A planning appeal has gone in by the owner of land across the road from the old Cape Asbestos factory in Wadsworth/Old Town
Wednesday, 28 October 2009
Academic Researcher, Jason Addy from Manchester Metropolitan University will present excerpts from 2 groundbreaking investigations into Hebden Bridge's asbestos legacy - World in Action and Yorkshire Television's Alice Fight For Life.
Wednesday 4th November
7.30pm- 9pm
White Lion pub
Hebden Bridge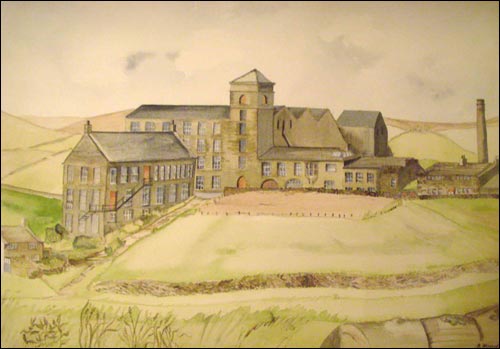 An old painting of Acre Mill by Mrs B Wood
Why? A planning appeal has gone in by the owner of land across the road from the old Cape Asbestos factory in Wadsworth/Old Town. There is now to be a planning Inquiry that could overturn the refusal by Calderdale Council to build a house in the hillside of the old Cape Car park. Submissions from those who objected previously must be in by mid November.
Local people recall the site being dumped on by Cape in the 1960s to raise the level for the car park. We are very concerned that any activity on this site could disturb asbestos.
The purpose of the meeting on November 4th is to raise awareness about the legacy of asbestos from Acre Mill. You would be surprised at the number of newcomers who do not know and the number of older residents who don't think people are interested in their memories of Cape.
---
See also:
Hebweb Feature on Acre Mill
Forum thread and Planning Watch for details of how to make your representations
Hebweb News: Alarm grows over plans which may disturb Acre Mill's deadly asbestos (March 2009)
We try to make sure that the Hebden Bridge Web news is correct,
but if you are aware of any errors or omissions, please
If you have comments on Hebweb news
please make a contribution to our