Low-energy lighting:
LED Fantastic!
A Guardian article earlier this year suggested that if everyone in Britain swapped to LEDs we could do without 8 power stations.
Monday, 14 December 2009
Low-energy lighting is essential for a low-carbon lifestyle. LEDs (light-emitting diodes) use many times less power than traditional light-bulbs and less power than compact fluorescents (aka 'low-energy bulbs') too. LEDs also last longer than compact fluorescents and contain no mercury.
LED technology has come a long way in recent years - a whole range of colours and intensities, including a golden-hued 'warm white', are now available.
Replacing halogen bulbs with LEDs can be a simple way to significantly reduce power usage and electricity bills. LEDs can also be used creatively in artworks, festive lighting and costumes; they can be powered by AA batteries (rechargeable) or 12-volt supplies (ie car or leisure batteries) as well as 240-volt (either directly or through transformers).
Interested? Inspired?
LED Workshops will be held at the Nutclough Studio (in the old Nutclough Tavern/Zion Housing Co-op) on Sunday 20th December.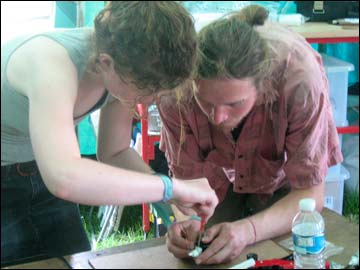 Learn how to wire and solder low-energy LEDs into customised designs: make yourself some fairy-lights; a torch or spotlight; design some glowing decor for your home, your hat or your boat; or just come to learn more and see what's available.
Workshop attendance costs £3 plus participants pay for the LEDs and parts used (£2- £12). Feel free to bring costumes and artworks to adorn... or come empty-handed and see what you can make from scratch. No experience necessary; children are welcome but must be accompanied by an adult.
See www.ledfantastic.com for more info or to book a place at a Workshop.
Thanks to Emma Fordham and Dave Brooks for this news item
We try to make sure that the Hebden Bridge Web news is correct,
but if you are aware of any errors or omissions, please
If you have comments on Hebweb news please
make a contribution to our