A CALL FOR CYCLING IDEAS
from the Sustainable Transport Group
Monday, 2 March 2009
Cyclists of all varieties are invited to a meeting at the Hole in t'Wall, Hebden Bridge on Tuesday 10th March at 7.30pm to consider what can be done to promote cycling, whether for fitness, for fun or as a cheap and pollution-free means of getting about.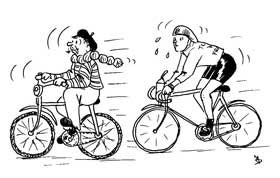 Calderdale Council wants to promote cycling as a key element of sustainable tourism and for the well-being of the local economy and the environment. Council officers will be present at the meeting to hear the views and ideas of cyclists on how to develop and improve facilities and opportunities for riders of all types and for businesses wanting to tap into this growing market.
Whatever your preferred mode of cycling - mountain-biking, gentle trips along the cycleway or a busy commute on the A646 – if you have thoughts on how your cycling experience could be better, and how others might be encouraged to take to two wheels, please come along.
Anyone who cannot get to the meeting but wishes to make a contribution or join the mailing list for future discussions, please contact myra.james@3-c.coop or tel. 01422 845131.
We try to make sure that the Hebden Bridge Web news is correct,
but if you are aware of any errors or omissions, please
If you have comments on Hebweb news please make
a contribution to our
© Hebden Bridge Web