St Patrick's Day Shenanigans at The Trades
Monday, 9 March 2009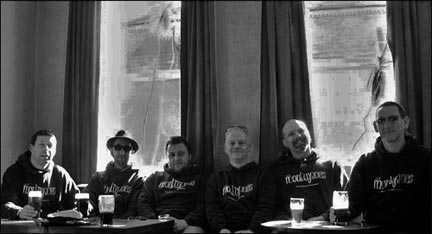 The Mouldy Joes are promising the usual shenanigans and party tunes as they help the local Irish community celebrate St Patrick's night on Saturday.

The band headlined last year's St Pat's night at the club with a truly epic set of jigs, reels and good old rock and roll classics and this year they are aiming to set a new record for the longest gig ever seen at the Trades.

The Mouldy Joes are inviting the local Irish community and anyone interested in good craic to dust off their dancing shoes and come down to help celebrate Ireland's patron saint in style.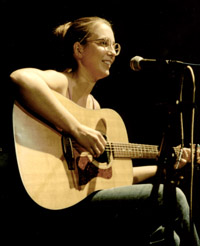 It's a busy weekend at the club as double BBC folk Awards nominee Kirsty McGee brings her scrapbook of influences from across the Atlantic and delicate tunes to the Trades club on Thursday.

Kirsty is appearing as part of local music legend Steve Tilson's Roots nights and her beguiling mix of Americana and home-grown folk are winning her a growing number of loyal fans as well as celebrity endorsements from the likes of Boo Hewedine and Karine Polwart.

Her beautifully crafted songs have won national daytime radio plays and she is seen as one of the key figures in the huge British new folk revival thanks to huge critical acclaim for her daring Kansas Sessions album.

Kirsty is coming to Trades backed by Mat Martin and they are promising an edgy 'vaudebilly' show combining traditional American music and instruments with a 1920s style of cabaret.

Breaking away from the roots theme the hugely popular club night La Puta is celebrating Friday the Thirteenth with depraved tunes and monster grooves from the unholy threesome, Madame Muffin, Johnny Boy and the Ketchup Queen.

La Puta will hoping that the curse of Friday the Thirteenth doesn't strike Hebden's very own hip-hop genius and guest DJ Kidanevil who is still basking in the success of his brilliant second album, Back off Man, I'm a Scientist.

The La Puta team are determined to make sure the event is blessed with good luck so anyone turning up wearing splatter, slashed clothes or gore will get a quid off at the door.

"St Pat's is always one of one of busiest nights as the local Irish community and their friends turn out in force and they told us last year's Mouldy Joe set was sheer magic so if have a bit of Irish in you then you'd be daft to miss the best celebration along the valley," says Trades Club Spokesperson Paul Clarke.

"But we're particularly pleased to welcome highly rated folk artist Kirsty McGee and local hip-hop start Kidaneveil, who are from the opposite ends of the music spectrum, but are both top acts in their field who rarely play such an intimate venue."
Tickets for Kirsty McGee, (12th March, £9), La Puta (13th, £7.50) and the Mouldy Joes (14th, £7.50) are available from the Trades Club on 01422845265 or boxoffice@tradesclub.org.

---
Listen on the web

We try to make sure that the Hebden Bridge Web news is correct,
but if you are aware of any errors or omissions, please
If you have comments on Hebweb news please make
a contribution to our
© Hebden Bridge Web