Australia's Emily Barker plays the Trades
Monday, 16 March 2009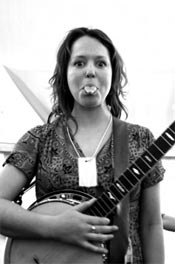 John Peel favourite Emily Barker plays the Trades as new club night launches
One of John Peel's favourite artists Emily Barker will be bringing her folk songs with an Australian twist to the Trades Club in Thursday 19th March.
Emily hails from Bridgetown in Western Australia but made her breakthrough in the UK at the Cambridge Folk Festival, which led to the legendary Radio One DJ playing her bittersweet songs on his shows.
Since then she has been making a name for herself as one of the best singer-songwriters on the folk circuit both here and down under picking up the prestigious Country Song of the Year and Regional Song of the Year at the annual West Australian Music Awards.
Fans of dour TV detective Wallander will recognise Emily's haunting song Nostalgia that featured as the title and end credits music for the hit BBC One show.
Emily will be playing new songs from her second album, Despite the Snow, and is backed by the Red Clay Halo band on this tour.
On Saturday the Mental Elf collective will be celebrating the Equinox with help from two of the best bands on the underground circuit, Mas Y Mas and Big Hand.
Mas Y Mas have built an international reputation with their upbeat message of unity sensuality and fiesta fusing Latino, Flamenco and Afro-Cuban influences. Scottish skasters Big Hand offer a more exuberant Zorbic ska show packed full of energy and this year should see them transcend their cult underground status.
As if that wasn't enough Mental Elf are joined by Technodolly who is the only female DJ with her own fashion label and hungry punters can also check out a delightful range of cakes, flapjacks and brews at the donation café.
To round off a packed weekend the Trades is launching a new club on Saturday dubbed Funk Ugly which is aimed at over 21s only who want to kick off the Equinox dancing to some deep soulful funky house.
DJ s from Simply Vinyl and Live the Dream plus a surprise special guest will be in the booth spinning their funkiest tunes to an attitude free crowd.
"Emily Barker, Mas y Mas and Big Hand all come to us with fiercesome reputations as live acts and Tenchodolly is a great booking for Mental Elf which remains one of our most popular and imaginative club nights," says Trades Club Spokesperson Paul Clarke.
"The Trades hasn't traditionally supported house music so we're really excited by our new night Funk Ugly, aimed at an attitude free older crowd who love classic funky tunes from back in the day."
* Tickets for the Emily Barker (£7.50), Mental Elf (£10) and Funk Ugly (£7) are available from at 01422 845265 or boxoffice@tradesclub.info.
We try to make sure that the Hebden Bridge Web news is correct,
but if you are aware of any errors or omissions, please
If you have comments on Hebweb news please make
a contribution to our
© Hebden Bridge Web