WALK@WORK

Update: Monday, 15 June 2009
Photos from the walk of 12th June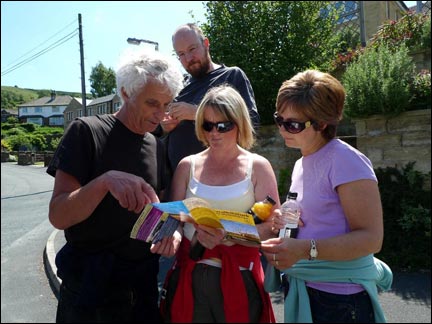 ---
Update: Wednesday, 3 June 2009
Lunchtime Walk: Friday 12 June, 12.30 am
Start: entrance to Orchard Business Park (opposite Mytholmroyd Library). The Mayor of Hebden Royd will start off the walkers.
See website for more info
---
Mytholmroyd Walkers Action launch leaflet of 6 short walks which could easily be done in the lunch hour
Friday, 8 May 2009
Yesterday evening, Mytholmroyd Walkers Action launched their latest initiative: Walk@Work at the Erringden Room in the new Town Square, Mytholmroyd. Speakers were Pam Warhurst of Natural England, Chris Bingham of Aspire Technology and historian Jill Liddington who spoke on behalf of Mytholmroyd Walkers Action. Excellent refreshments were provided by Mumtaz Ventures.
Left to right: Pam Warhurst, Mick Chatham, Jill Liddington, Rose Wheeler, Jean Williams (MWA treasurer) and Chris Bingham.
Pam Warhurst spoke of the wonderful enjoyment to be had from walking in our hills and valleys.
"Instead of continually taking pills, the country could save money if people took control of their health and got out, active and into the countryside."
"But", she emphasised, "we don't walk because it is worthy but because it is fun. We have an amazing asset in the countryside around Mytholmroyd, Hebden Bridge and Todmorden. It would be fabulous if more people could enjoy it with us."
Ms Warhurst went on to commend the national Walkers are Welcome organisation which grew out of the Hebden Bridge and Mytholmroyd Walkers Action groups.
Chris Bingham, director of Aspire Technology selling software to IT
companies and based at Dean Hey Country Business Park told those present that he supported the Walk@Work initiative and he hoped otherlocal business owners would be encouraged to support the initiative. As an employer, he took the health of his workers very seriously, although it pained him to have to say that for a number of them the only exercise they got was from the desk to the kitchen or to nip outside for a smoke.
Chris Bingham reported that his firm had visitors from all over the th UK and the world. Not one of them failed to comment on the stunning countryside we have round here. By road, we just see a fraction of the beauty of the area.
Walking meetings: One initiative Aspire had now started, when the weather was approriate, was to have small meetings not in a meeting room but walking in the nearby countryside.
Finally, he said that he spent much of his life in the commercial world and was in awe of groups such as the Mytholmroyd Walkers Action group where people did such great things for no financial reward.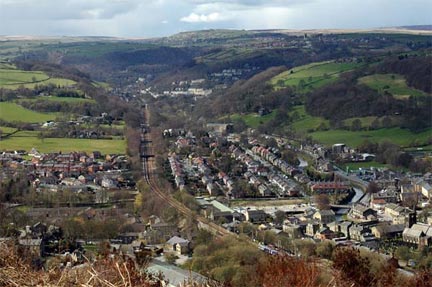 Jill Liddington said that "Initially we'd organized waymarked routes up to Churn Milk Joan and up Scout Rock. But now we wanted to focus on 'access to walking' - for everyone working in Mytholmroyd. No one knew exactly how many people were employed locally, but our guesstimate is over 2,000. We decided on 6 short lunchtime routes, and over the winter worked closely with the Calderdale Rights of Way team on improvements to make these 6 walks accessible and safe. Mick Chatham and his Countryside volunteers have put up new stiles and done drainage work so that these 6 lovely routes can now be enjoyed by everyone."
The launch was chaired by Rose Wheeler, MWA chair, and delicious curries were donated by Bill Kimberling, Commerical Director of Mumtaz Ventures, one of Mytholomroyd's newest and most innovative businesses.
We now have no excuse to stay in a stuffy workplaces at lunchtime.
More information
Download the Walk@Work leaflet

We try to make sure that the Hebden Bridge Web news is correct,
but if you are aware of any errors or omissions, please
If you have comments on Hebweb news please make
a contribution to our