BIG GREEN WEEKEND 2009
Update: Monday, 18 May 2009
OPENING CEREMONY: Saturday 23rd May, Bridge Gate with Chris McCafferty MP, John Beacroft-Mitchell, Junior Band, street theatre and more.
Update: Wednesday, 13 May 2009
QUESTION TIME WITH PARLIAMENTARY CANDIDATES
As part of the forthcoming Big Green Weekend in Hebden Bridge next weekend, there will be a debate between all of the parliamentary candidates from the main parties about green issues, or matters relating to sustainability.

As it will be conducted in the same format as Question Time, the Big Green Weekend organisers are asking Hebweb readers for questions for the panel to be submitted in advance. It is vitally important that the questions keep to the subject though.
The debate will be chaired at the Methodist Hall by the Rev Tony Buglass and the panel will comprise
Steph Booth (Labour),
Craig Whittaker (Conservatives),
Hilary Myers (Liberal)
Kate Sweeny (Green Party)
and be held from 11am on Saturday May 23rd.

All question should be sent, together with contact details, info@biggreenweekend.org.uk by Tuesday 19th May.
---
Monday, 11 May 2009
The Big Green Weekend 2009 will swing into action with Calderdale MP Chris McCafferty officially opening proceedings on Hebden Bridge's celebration of all things green.
Be there at 10.30am on Saturday 23rd May, at the Green Market, located at Bridge Gate car park, for music by the world famous Hebden Bridge Junior Band, playing a mix of traditional and contemporary compositions, amazing street theatre and the chance to look round a great range of stalls offering the best in locally sourced, sustainable and eco-friendly goodies.
Over the course of the Spring bank holiday weekend The Big Weekend will host a diverse range of events to highlight green issues, and celebrate the vibrancy of Hebden Bridges environmentally friendly businesses. From fashion to film, technology to music, debate to performance there is something for everyone, so make sure you come along!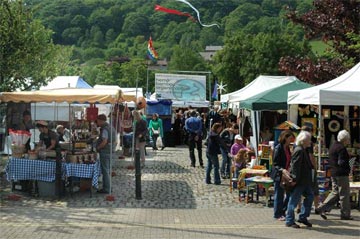 Tie Amnesty for Big Green Weekend
Now is your chance to chuck out those old ties that are lying unloved at the back of your wardrobe and help save the planet in the process. A local ethical fashion project is collecting unwanted ties to give them new lease of life as recycled party-gear for the Hebden Bridge Big Green Weekend fashion show. If you have any ties you don't want – no matter how garish – phone Tansy Dyer on tel: 01706 819161 to arrange collection.
See also:
Big Green Weekend website
Hebweb News: This year's Big Green Weekend will be bigger and better than ever!
Hebweb News: Big Green Weekend 2008
We try to make sure that the Hebden Bridge Web news is correct,
but if you are aware of any errors or omissions, please
If you have comments on Hebweb news please make
a contribution to our