Small Ads
£10 for 4 weeks | £25 for 3 months | ADD YOUR AD | Add photo option | FAQs | HebWeb home page
HebWeb small ads
WANTED: BOAT, VAN OR CARAVAN to live in. I'm looking for low cost housing options in or around Hebden Bridge. I've lived on a boat for 3 years, I'm practical and self contained, clean and tidy. Thanks, Dave. 07815 775 352 (16 Nov)
WANTED: SOMEWHERE TO LIVE IN CENTRE of Hebden Bridge. Single lady looking to rent or buy. Current property sold and I'm all boxed up and ready to move. Done the usual Rightmove/ Zoopla search but nothing suitable. Anything considered. 07932 211350 or email (16 Nov)
3' SINGLE BED WITH MATTRESS EXTRA LONG Wooden single bed with pocket sprung mattress (medium firmness). Long continental size without footboard - ideal for tall teenager! Very good, clean condition.  £90. Please email Don (15 Nov)

FARMHOUSE COTTAGE TO RENT Situated in this semi rural location above Hebden Bridge surrounded by countryside and open views is this beautifully restored farmhouse cottage with small garden and off road parking. The renovation has retained many of the original features whilst giving it a contemporary finish throughout. 3 Double bedrooms, 2 Bathrooms, 2 Reception rooms, Large Kitchen Diner. Available Nov 2017. £1200pcm. Mobile 07920 001064 (14 Nov)
HOUSE WANTED TO BUY Mytholmroyd/Hebden area- cash buyer. Minimum two beds. Contact Jean 01422 881429 (13 Nov)
JOHN LEWIS DOUBLE BED FRAME FOR SALE
Beautiful oak finish John Lewis Dara double bed frame for sale, bought in September and hardly used. Cost £499 new, will accept £250 ono. Dimensions: L218.7xW144.4xH105cm. Buyer collects but could possibly deliver. Tel: 07766 641103. (11 Nov)
HEBDEN BRIDGE CENTRE 2 BED FLAT WITH ROOF TERRACE Fantastic, spacious, unfurnished flat over 2 floors in the centre of Hebden Bridge. 2 double bedrooms and private roof terrace from open plan living space. £675 pcm. Available 28th Nov. Tel 07851 424876 (7 Nov)
WALLPAPER STRIPPING Do you hate stripping wallpaper? I love it! Prices from £50 per room. All equipment provided. Fast and reliable service. Please contact by email. (5 Nov)
INTEGRATIVE THERAPY Have you got something that is holding you back from enjoying your life to the max? I use a whole range of therapy/coaching tools to facilitate change that can help you move forward.
Take that first step and come for a free consultation. You are welcome to come and talk things over and see if I can help. Text Jane on 07866 656779 (3 Nov)
CITROEN C2 FOR SALE
2008 Citroen C2 1.1i Cachet (black). 61hp, 60,000 miles. First registered 23.6.08. Acquired vehicle Oct 2014 with 40,000 miles on clock. Great little car - our daughter used this car for last 3 years (cheap insurance). Now away at University, so surplus to requirement. MOT until April 2018 with service history. £1,550.00. Tel: 07768 171899 / 01422 881776 (2 Nov)
FULL TIME ADMINISTRATOR REQUIRED:
Looking for confident articulate person with a strong admin background, and computer literate, to join busy, fun, office environment. Willing to turn their hand to whatever is required. Immediate start available. Please email your CV (31 Oct)
MAN & VAN - flexible, responsive, conscientious, competitively priced removals and transportation. Please contact me on: 07890 878 690 (29 Oct)
EVENING SEWING WORKSHOPS: Sewing workshops, Tuesday eves 7.00-9.00 at Word of Mouth, Hebden Bridge, November 7-28. Work on a project that of your choice. For more info and workshop fee info contact Helen Brewster 07513 359164. (27 Oct)
NATIONAL MARCH AND RALLY Justice Now: Make it right for Palestine.Halifax Friends of Palestine are running a coach from Hebden Bridge to London on 4th November. Seats are £20, or £10 for unwaged. For tickets and further details email Angus, or phone 07825 346 224. (25 Oct)
BREWERY ASSISTANT We're a rapidly expanding kombucha brewery in Hebden Bridge looking for a bright, motivated trainee. A very varied role! From brewing to cleaning & record keeping. If you're looking for a long term career, have min English/ Maths GCSE C or above, committed, honest & reliable, proactive, articulate & strong. Pref driving & forklift licence. For full details please email Joanna (24 Oct)
AFFORDABLE THERAPY We are experienced MBACP registered therapists providing long and short-term therapy for adults and young people in the local area. We have a sliding scale and welcome those on low wages. See website (20 Oct)
SOFA BED FOR SALE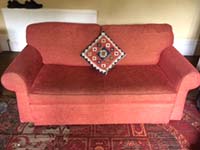 Deep red comfortable sofa bed, surplus to requirements. £65 proceeds go to charity. Buyer collects. Cushion not included. Contact Kalifa on: 07926 134981 (16 Oct)
TO RENT, LATE OCTOBER Thanks again for sending many very nice prospective tenants my way. I'm very pleased to say the house is now let again so would you mind taking down the ad?
Message received 15 Oct: Very good service, result achieved in only 4 days.
TOP SOIL AND WOOD CHIP MULCH for sale. £1 for 40l bag or we can deliver builders bag. Also lengths of Timber 4800x70x70 at £7.50/ length. Collect from Station Yard Hebden Bridge. Tel 07881 583245 (11 Oct)
SPANISH/RUSSIAN/ENGLISH TUTOR Experienced teacher offers classes to any age (children from 4 to adults): English (TEFL or native), Spanish (to advanced) and Russian (to intermediate). Individual tuition or small groups. Email or call 07745 809415. (6 Oct)
UNIT TO LET: Roadside 2000 sqft modern commercial unit available to let. Main roadside frontage. Excellent access. The building has Roller shutters, secure yard and 3 phase electricity. Call Chris 07860 618475. (4 Oct)
LOVELY DOUBLE ROOM IN FAMILY HOME
From 9th October. Just 15min walk up from the centre of Hebden. Stunning views, great garden to relax in. The room has double bed and some shelves. We are a vegan/ veggie household. Please email (3 Oct)
3 BED SEMI DETACHED 23 Westfield Oldtown Nicely presented home with large garden and parking. Close to school, shop and bus route. Gas central heating with log burner in the lounge. £600/month plus bond. Tel 07881 583245 (3 Oct)
LABOURER WANTED in Hebden Bridge on an ad hoc basis for small jobs (filling skips etc). Must be a good grafter. £8 p/h. Please call Matt 07964 910714 (2 Oct)
NISSAN ELGRAND E51 HIGHWAY STAR 2004:
8 Seater, Automatic, LPG Autogas, 3.5Ltr petrol engine, Switchable 4WD, Reversing camera, 98k miles, 12 months MOT, Alpine MP3 Bluetooth Stereo, DVD player, Tow bar, Immobiliser, new front wishbone suspension arms. £7,000. Call 07799 626704 (29 Sept)
NARROW BOAT FOR SALE 35FT Fully refurbished inside and out including engine 4 birth new gas water heater, hull survey safety certificate till December 2020 mooring available in Hebden if required. £32,000. Mobile 07837 068139 (27 Sept)
SOFA BED
Ikea Sofa bed Hagalund 2 seater. Camel coloured cover As new condition. Removable cover Ideal as a guest bed or studio flat. 120.00. Buyer to collect. Mobile 07754 886919. (25 Sept)
MAZDA DEMIO
2001. 73000 miles. Auto. MOT September 2018. Runs well. Easy drive. Neat, tidy car. £750 ono Urgent sale. Tel 01422 882896 (23 Sept)
CALDERDALE SELF STORAGE.COM We provide dry, clean and very secure heated storage from £5 per week. Open 7 days a week, 24 hour access with parking. We also offer 20ft storage containers from £25 per week. Please contact our reception for any further details 01422 846037 (20 Sept)
EVENING BUDDHIST TALK WITH BRAD WARNER: Sunday October 1st 2017, 19:15-21:30hrs. "Dharma and modern day living". There will be Question and Answer so please bring questions. No need to book. Suggested donation £10 Venue:Hebden Bridge Hostel (18 Sept)
DOG WALKING & PET SERVICE: Regular walks or one offs. Dog sitting, cat feeding, looking after your small animals whilst you are away. DBS Checked, Level 1 Animal Care. Email or visit page (18 Sept)
HOUSE FOR SALE
2/3 Bedroom terraced Grade 2 listed house for sale at Wood End, Keighley Road, Hebden Bridge. No chain. O.I.R.O £157,500. For details email. (18 Sept)
DEVICES - HAVING TROUBLE?
If you, like my parents, need help with with your devices, then look no further.
I can help. References/ recommendations on request. Two hour sessions: £20. Contact Alex on 07710 996684 or email (14 Sept)
WANTED: ENCLOSED FIELD TO RUN DOG IN Looking for an enclosed field to run my beautiful lurcher in while I teach her recall. Todmorden area or close by. No livestock and good fence/wall essential. Please call 07582 862917. Many thanks. (8 Sept)
SPACIOUS TERRACE HOUSE TO RENT 2/3 bedroom unfurnished terraced house to rent in Hebden Bridge. 2 large bedrooms plus room with views. Garden. Newly decorated/ carpeted. Some beams, wood floors. 5 mins station. £580pcm bond/refs. No dogs. Please email (5 Sept)
DOUBLE ROOM, LUDDENDENFOOT
Large, sunny, double room to let in my spacious house. Share kitchen / dining room with wood-burner. Sitting area outside, and views across the valley. Looking for a tidy, mature working person. 07946 357022 (4 Sept)
DEAN TREE SURGERY Tree removal. Site clearance. Tree thinning. Crown lifting. Canopy reduction. Hedge Trimming and much more. Call now for a free Quotation. 07958 36582 (1 Sept)
ACCOMMODATION NEEDED for working man and his 2 year old son who he has weekends only. Two bed flat. Or appropriate house share. Reference and deposit available. Todmorden or Hebden Bridge. Than you. Please contact Ethan on 07716 980125 (1 Sept)
LANDLINES AND WATERMARKS BIG WEEKEND Join us at The Piece Hall for a weekend of fun. On 29th, 30th Sep and 1st Oct at 7pm see Calderland, A People's Opera- a musical journey through the Calder Valley's watery past, present and future. On 30th Sep and 1st Oct The People's Fair - A family-friendly festival, marketplace and street party in the courtyard from 11-5pm.  See website for further details (1 Sept)
WANTED: 3-4 BED HOUSE TO RENT: We're a family of four looking to rent a 3-4 bedroom house in Hebden/Todmorden area. Ideally we'd love to have some land to grow our own food. Please email or ring 07704 277439 (31 Aug)
HAWAIIAN LOMI LOMI MASSAGE
A sacred, powerful and transformational bodywork from the islands of Hawaii. 60 min session £45, 90 min session £65 in Hebden Bridge with Sacred Lotus Therapies. Gift vouchers available. See Website. Gillian Ward 07811 392590 (30 Aug)
3 SEATER SOFA BED
High quality 3 Seater sofa bed, grey fabric material in a sold wooden frame. Measuring 6ft 10 long and 3ft deep. £130 Can be viewed. Call 07988 885724 (27 Aug)
MONTHLY NATURE MENTORING An opportunity for young people to spend one day a month being mentored by experienced leaders. Exploring, playing and learning woodland skills. Starting on Sunday 15th October then every 2nd Sunday of the month throughout the year. 10am-4pm.  £125 for first 5 sessions. 7-11 year olds. Venue: Beautiful woodlands near Hebden Bridge. Contact us for more info:  Email or 07979 297296 (26 Aug)
ARTISTS STUDIO OR OFFICE
Large spacious attic room to let in Todmorden centre. £150pcm suitable for a variety of uses, artist's studio, office, therapy or even storage! Contact via email or phone 07912 627483 (25 Aug)
WANTED 3 BED HOUSE WITH OUTSIDE SPACE Couple with young family looking for 3 bed rental (with some outdoor space) from early/mid October. Non-smokers, excellent refs, straight-dealing people. Please email (23 Aug)
3 BED HOUSE TO RENT: House now let
JUNAMOON BEDS, FURNITURE & SOFT FURNISHINGS
Let Junamoon put the love back in your home. House visits available to help you create a unique room-set. Handmade Beds, Headboards, Mattresses, Sofas, Chairs, Bedside Cabinets, Curtain, Cushions. You choose the fabric and we make it! We cater for all budgets. We also reupholster! Pop in to discuss your needs: 19a Crown St, Hebden Bridge. Call on 01422 847830 or email. See website (17 Aug)
AEG FRIDGE FREEZER FREE TO GOOD HOME AEG fridge-freezer, frost-free, in excellent condition, door seals perfect, etc. Surplus to requirements now due to house move. H1.87, W60cm, D60cm. Silver-grey finish. Tel. 07547 542314. Collection only. (18 Aug)
HOUSE FOR RENT IN HEBDEN BRIDGE: "The house is now let so another thanks to Hebweb."
CARING CHILDCARE/ADULTCARE Mature lady, qualified, experienced, background in family support, looking for part-time work, caring for children or older person. Excellent refs, D.B.S. check. Driver with car. Please call Gail on 07717 148648. (25 July)
DOUBLE ROOM TO LET IN COSY COTTAGE: the room is now rented
Some successful ads
COUNTRY COTTAGE WITH GREAT VIEWS Our ad can now be removed as we have found a new tenant, through the Hebweb ad. Our new tenant seems to be really in tune with our environment, so we are really pleased. 
A LEVEL BIOLOGY TUTOR WANTED - "The HebWeb is brilliant. Found tutor within 3 days."

VW LUPO FOR SALE Car now sold - many thanks to all who enquired
WANTED P A / CARER I have had loads of responses to my ad re PA/Carer and I have appointed to this post.
FIAT VAN now sold
LOVELY ONE BEDROOM FLAT WITH ROOF TERRACE "Had loads of interest and it's been let"
HEBDEN BRIDGE, 2 BED UNFURNISHED HOUSE FOR RENT I had a great response and the house is now rented
HOUSE TO LET IN HEBDEN BRIDGE - We've had a very good response and the house has been let,
TWO BED TERRACED COTTAGE FOR SALE House was sold within a week of placing the advert, Thank You
HOUSE TO LET IN OLD TOWN House to let Old Town has been taken now. Thank you. Another successful letting via Hebweb
3 BED COTTAGE TO LET - "the cottage is now let. We had a lot of interest and it let very quickly. A very good site on which to advertise!"

PERIOD COTTAGE TO RENT IN HEBDEN BRIDGE: We have let the cottage now and so you can take the advert off the site. We had a fantastic response - thank you.
3 BED HOUSE TO LET: We had and excellent response and have now found a tenant.
WANTED: HOUSE/FLAT TO RENT Can you please remove my ad. I've found a property thanks to your page. Thank you
HOUSE FOR RENT: Many thanks. My ad was successful. Very effective way to rent a house
CENTRAL 1 BED COTTAGE TO LET: We have now found a tenant after an excellent number of responses to the ad.
CREATIVE SOCIAL MEDIA PERSON PART TIMEWe recently placed an ad with you, the response has been incredible & the quality of applicants
outstanding, the position has now been filled
HEBDEN BRIDGE, 2 BED UNFURNISHED HOUSE FOR RENT Now rented
HOUSE TO LET IN HEBDEN BRIDGE. We have had a very good response and I am pleased to say the property is now occupied.
More responses from successful ads.
Older Ad headings
EXPERIENCED COOK
2 BED TO LET CENTRAL HEBDEN
MANY ITEMS FOR SALE
VW BEETLE FOR SALE
ONE BEDROOM HOUSE FOR RENT
JOB: FINANCE MANAGER
CARE ASSISTANT
PLUMBING AND MAINTENANCE
BROMPTON BIKE S-TYPE FOR SALE,
MAN AND VAN SERVICE
BELLING ELECTRIC COOKER
STUDIO CLEAR OUT
2 BED HOUSE FOR RENT
WORKSPACE NEEDED
SOUTH FACING UNDERDWELING FOR SALE
ADMIN SUPPORT
HOUSESWAP MONTREAL 2017?
HANDYMAN WANTED
COTTAGE IN ANDALUCIA
CHI KUNG (GROUP CLASSES)
HOLIDAY FRENCH CLASS
WOODLAND HOUSE FOR SALE - HEBDEN
FAMILY FOREST SCHOOL SUMMER 2016
DOUBLE ROOM FOR RENT:
EXPERIENCED BAKER REQUIRED
CHILDCARE WORK WANTED:
PLUMBING
ACCOMMODATION NEEDED
2-BED HOUSE TO RENT IN CENTRAL HEBDEN
BENCH IN JEWELLERS WORKSHOP AVAILABLE FOR RENT
RING LOST IN HEBDEN
WANTED: 2 OR 3 BED HOUSE TO RENT
BEAUTIFUL WEST AFRICAN DJEMBE
PIANO LESSONS GRADES 1 - 8
DRYSTONE GARDEN
ACCOMMODATION WANTED FOR SPANISH STUDENT
OFFICE/STUDIO SPACE WANTED FOR RENT:
3 BED RIVERSIDE TERRACED HOUSE FOR SALE
CRAFT BEER TASTING EVENING
5 A SIDE FOOTBALL - FRIENDLY, FUN. MYTHOLMROYD
COLOUR EXPERIENCE EXHIBITION
LOOKING TO RENT IN MYTHOLMROYD: APARTMENT OR ROOM
LOOKING TO RENT: 3/4 BED HOUSE REQUIRED
3 BED HOUSE WANTED, TO RENT:
QUALIFIED, MOBILE DOG GROOMER
HOLIDAY COTTAGE IN CENTRAL PORTUGAL

HebWeb small ads
LOOKING FOR A HOME IN HEBDEN BRIDGE OR TODMORDEN Working couple with young daughter looking for a new home to rent - preferably 2 bed and preferably in Hebden but we also love Tod! Currently living in Hebden so available for viewings! Telephone 07704 290918 (16 Nov)
END OF LIFE DOULA/ SOUL MIDWIFERY SERVICE I'm currently training as end of life doula/soul midwife. If you or your loved one may benefit from this, please get in touch. Tender, loving care and support for those crossing the sacred threshold. Debbie 07815 094103 (15 Nov)
0NE BEDROOM FLAT Self contained one bedroom flat to let in Hebden Bridge. £395 pcm. Phone 07982 902424 (14 Nov)

COPYWRITING/EDITING/PROOFING Writing and editing services by a professional journalist who regularly has work published in national magazines. £20 an hour.  Contact Carolyn (13 Nov)
AMBULANCE CAMPERVAN CONVERSION
2008 VW crafter ambulance. Campervan conversion. Fully fitted with lights, diesel heater, sink, fixed bed, loads of storage, gas cooker, 2 new leisure batteries. 2.5 litre turbo, diesel, 6 gears, 205968 miles, MOT August 2018 can be viewed in Ripponden £6000 O.N.O. Contact Laurence 074321 06868 or email. Great van. Has taken me all over but selling as moving abroad (10 Nov)
ONE BED FLAT CENTRAL HEBDEN BRIDGE Lovely, one large double bedroom unfurnished flat with roof terrace accessed from open plan living space. £450 pcm. Available from 6th Dec. Tel 07851 424876 (7 Nov)
HOUSE FOR RENT Short term rental. Available 20th December. Unity Street, cosy, through terrace. 2/3 beds. Excellent condition and economical heating. Very Convenient for town centre. £495.p.month. Plus bond. Phone:07761 066549 (6 Nov)
2 BED HOUSE TO LET TODMORDEN: 2 bed house to let in central Todmorden (on Halifax Road) 2 double rooms. £400 pcm plus deposit. GCH. Available now. please contact Jez on 07776 278811 (4 Nov)
JUNAMOON HOUSE VISITS
Need a room makeover? Then let Junamoon help you. Whether its a new bed, mattress or sofa, chairs or chaise longue. We have so many fabrics to choose from. Call into the shop or book a House Visit. Junamoon also make bedding and soft furnishings from curtains, cushions, window seat cushions to duvet covets, bed runners and throws. See website, 01422 847830 or email (2 Nov)
FREE CARDBOARD VEGETABLE BOXES We're currently running a small organic veg bag scheme out of Hebden and have around 10 strong, good quality cardboard veg boxes per week which we can't find a good use for; so they're being broken down and recycled. They're sturdy things, useful for transporting. If anyone would like some, please get in touch. (1 Nov)
BORDER COLLIE STUD DOG WANTED We want to mate our Blue Merle. We are looking for a Black and white long haired smallish Border Collie. Dog is ready now so if interested phone 07897 591721. (30 Oct)
GARDENER AVAILABLE Reliable, experienced gardener available for autumn maintenance jobs, e.g hedge trimming, digging and weeding, bulb and shrub planting, leaf clearance, mulching etc.  Please text or phone Lou on: 07716 774492  (27 Oct)
CAMPER VAN CONVERSIONS Got a van you want to kit out? Need help with a project? High quality camper van work with solutions for all scales and budgets. Insulation, ply lining & carpeting, cabinetry, seats & beds, installations. 07939 285053 (26 Oct)
WARM FAMILY LOOKING FOR A WARM HOME Warm, friendly family of three seeking a warm and cosy home to set ourselves up in as we make the transition to Hebden Bridge. Please email Jamie if you have something available. (24 Oct)
PA REQUIRED FOR LITTLE BOY WITH DOWN SYNDROME We're looking for an energetic and enthusiastic individual, with a flair for being imaginative, to care for our 8 year old son 3 hours a week in term time and 6 hours a week in the holidays. Please email (24 Oct)
FEEL THE NEED FOR CHANGE BUT DON'T KNOW HOW? Struggling with relationship issues, self esteem, anxiety, depression, addictions? Systemic Constellation work is a highly experiential process which enables us to know ourselves more deeply and gain insights which help us move forward in our lives. One day confidential workshop: Sunday 26th November, Hebden Bridge. For Enquiries or Booking 07977 118331 or email or Facebook (23 Oct)
TRIATHLON COMPETITORS WANTED
We are looking for people to take part in Home-Start Calderdale's indoor triathlon at Todmorden Leisure Centre on 3rd December. Run 10km, cycle 20km and swim 750m in the leisure centre gym and pool. Individuals or teams welcome. Free entry when you raise sponsorship funds for Home-Start Calderdale. Email for more details and to book a place. (17 Oct)
TO LET Hebden Bridge, 3 bed terrace, gas central heating, gas stove to lounge, nicely presented, carpets and curtains, 50yards from bus stop. Sorry, no garden. £570/month. Bond and references required. Tel 07768 171899. (16 Oct)
HOUSEMATE WANTED! - ATTIC ROOM
Beautiful cottage in Todmorden. Lovely and Open-minded Housemate wanted! (preferably female) to live with me and my handsome cat Aubrey. £345pcm (inc bills) Room Available from 17th Oct! text/ whatsapp 07729 277929 or email (13 Oct)
SOLID OAK DINING TABLE, CHAIRS, DESK
Furniture for sale (due to down-size): extendable solid oak dining table (£160), quality old desk (£75) and 4 x dining chairs (£15 each). Email or text 07734 859210 if interested.  More pics and info available here (4 Oct)
FULL TIME BAR STAFF REQUIRED to cover both The Cross Inn and The White Lion in Heptonstall. Previous experience required. Minimum hours 30 per week. Friendly team. Hourly rate £7.50. Email if you are interested. (3 Oct)
FABRIC TRAVEL CRATE FOR A MEDIUM DOG
Croft Classic travel crate. 30insx21inx23in, (77cmx52cmx60cm) In excellent condition. Strong tubular frame with attractive soft fabric sides and roll up window shades. Collapses and has carry bag with shoulder strap. £45 ono. Contact via email (3 Oct)
SEAT ALTEA XL STYLANCE Now sold
VAUXHALL VIVARO 2012
Vauxhall vivaro 2012, low miles at 88k,service history, 2..0 diesel, very clean and tidy, mot until may 2018. Bargain £4900 ono. Please email or ring 07393 475260 (29 Sept)
FULL TIME LEGAL SECRETARY WANTED for busy general practice covering conveyancing, family and private client work.  Legal experience preferred, secretarial experience required.  Submit CV  by email or by post to 8 Wragley House Valley Road HX7 7BN. (28 Sept)
HOME REQUIRED FOR LOVELY FEMALE ARTIST/WRITER and small friendly dog. Hebden, Walsden, Todmorden, Mytholmroyd or Sowerby considered. 2-3 bedrooms, unfurnished, GCH + DG + wood burner/open fire; Bath + shower essential. Private garden/terrace/outdoor space + parking for 2-3 vehicles. Quiet, elevated, 'sunny aspect' preferred. Up to 700 pcm for minimum 6 months private rental. Contact 07983 736761. Thanks. (28 Sept)
SALES ASSISTANT PART TIME to join our Hebden Bridge team, for an average of 10.5 hrs per week, working every Monday and every other Saturday, Sunday, cover shifts as required. Outdoor, travel, customer service, sales experience beneficial.  Benefits: £7.80 ph plus sales bonus scheme, paid annual leave, uniform allowance, generous staff discounts. Please send CV and letter of application by email or drop printed copies in at the store. (26 Sept)
HOUSE TO LET The house has now been taken, so thanks for your help.
RENTED HOUSE WANTED I am a very well behaved and pretty cockapoo looking for a house for me and my two humans in Hebden /surrounding areas. Also have two moggies that I am not keen on Please email (23 Sept)
DOG SITTER I have a 6 month old puppy. I have to be away from home 1 or 2 days a week. Looking for a loving dog friend. If interested give Sue a call on 07532 415917. (20 Sept)
DATA PROTECTION COURSE IN HEBDEN BRIDGE New regulations are coming that will require changes to how you operate. Look at your Data are running a workshop on 5th October at the Town Hall Hebden Bridge.  Find out more here - or email (20 Sept)
SUPPORT WORKERS REQUIRED: CCMS are looking to recruit permanent Support Workers to help care for an 11 year old girl with an Acquired Brain Injury in the Hebden Bridge area. Mornings, evenings and weekends shifts available. £9 per hour weekdays, £10 per hour weekends. Driver preferred. Full training and supervision provided. For more information please contact Dawn at CCMS Tel: 01642 713720. Or go to our website. (19 Sept)

(18 Sept)
CATERING TRAILER FOR SALE Wilkinson, 10ft x 6ft. LPG and 240v. Fully functioning but has only been used as a clean space by a beekeeper, to process honey, and so has been stood in a yard. Needs a bit of cosmetic fettling, otherwise sound. I need the space, and the trailer needs a good home. £2,500. Email Andrew for more details (16 Sept)
SHORT TO MEDIUM TERM RENTAL REQUIRED Hello, I am a 19 year old Australian accompanied by my 19 year old friend. We are basing ourselves in Hebden Bridge and are looking for a short to medium term rental. 07983 535286. Tom Mackay. (15 Sept)
LOOKING FOR FLAT We are looking for shared flat 3 days per week preferably, central Hebden! My son is 14, and I have him from Sunday-Tuesday! This would be permanent throughout the school year! Please email Steph. (15 Sept)
TO LET 2 BED TERRACE, BIRCHCLIFFE AREAThank you,  Hebweb, for putting me in touch with some great applicants. The house is now let.
PIANO, CELLO & MUSIC THEORY LESSONS: Qualified and experienced professional musician and teacher. All ages including adults. Contact Helen by e-mail or on 07745 516234 (13 Sept)
PLACE TO STAY WANTED: I'm looking for a place to call home with perhaps with an extra room I could make into my own lounge. I currently work as a live in dementia carer so I'm away 10 days per month. If possible, I'd like access to a garage/workshop. I'd be open to negotiate doing some painting/ decorating or offer help as part exchange for rent. Catherine 07741 879960 (13 Sept)
METHERA Hebden Bridge Town Hall, Thursday 12th October, 8.00 pm. Methera string quartet has its roots planted firmly in English traditional music. Their national tours and Radio 3 broadcasts have established them as a scintillating live act blazing a trail between folk and chamber music.  Tickets £12 (child £8) from the Town Hall or 07816 445255 or wegottickets.com (10 Sept)
ALCOHOL/GAMBLING If you have concerns about your drinking, gambling, or eating habits, it can help to talk with an experienced professional. Contact Liberty for an appointment. Confidentiality guaranteed. Investment £15 per hour. Telephone 01422 844865 or email. (9 Sept)
FRENCH TEACHER: Qualified and experienced French native teacher. I teach adults from beginners to advanced levels as well as KS3 up to University students. I am friendly, patient and approachable. Reasonable rates.
Tel: 07549 686289 or email (8 Sept)
CREATIVE STUDIO/OFFICE TO RENT
320 Sq Ft creative studio/office to let in the Town Hall. Super fast internet, heating and electricity included, eligible for business rate relief, dog friendly, 6 month initial lease. Available from mid-late Oct. Perfect for a team between 4-8. Full info here, or contact info@ayup.agency (6 Sept)
TO LET: 2 bed house in central Todmorden. Halifax Road near Major Street. Double rooms, gch. 400 pcm deposit required. Please phone 0777 6278811 (2 Sept)
GCSE, KEY STAGE 3 ENGLISH LANGUAGE AND CREATIVE WRITING  (tuition offered in Hebden Bridge by qualified,  experienced and empathic teacher. I am used to working with kids who are both in and out of school to increase confidence and am familiar with the local schools' syllabuses. Last year my students achieved high grades for the new award. Let me help yours. Rates negotiable (£15-25) per hour. Excellent references from recent students. Please contact by text or call 07713 338698.  (1 Sept)
CLEANER AVAILABLE Experienced, reliable and friendly cleaner available for work in homes, businesses and holiday lets. References on request. 12ph. Call 07813 068524 (31 Aug)
GARDENING WITH… Do you want help with gardening tasks? Friendly, experienced and reliable gardener available to work alongside you or independently. Hedges, lawns, weeding, clearance etc. All rubbish removed. Regular or single visits.  Please email  (31 Aug)
DO YOU ENJOY SINGING? The Church of St. Thomas, Heptonstall is looking for singers to join an ad hoc choir that will come together to sing on feast days and special occasions. The Anglican Church offers a rich musical heritage in choral singing. If you can commit to the occasional service and rehearsal, we'd love to hear from you. Contact Sean Montgomery on 07977 437648 or by email (31 Aug)
ROOMS TO LET IN PENNINE FARMHOUSE Fully furnished. Large bedroom with en-suite shower, private sittingroom with wood-burning stove. Own entrance. Shared kitchen and utility. Off-road parking. Suit working person with own car. Rural setting - perfect for outdoor pursuits. Convenient for Hebden, Todmorden, Burnley. Interest in animals a huge advantage as willingness to look after animals/ house-sit from time to time required. £400 per calendar month. No bills. Please email (29 Aug)
DOUBLE ROOM WITH VIEW FOR RENT Double Room for Rent in Family home beginning of September - all bills included. Ref and Bond requested. For Viewing contact via email. (29 Aug)
COOK/CHEF FOR CAFE Cook required, 3-4 days/week, must be flexible, good baker, work under pressure, food hygiene knowledge, experience running a kitchen, quality food. Please email your CV. (27 Aug)
FRENCH CLASSES AND GCSE /A LEVEL TUITION: Join a small, friendly class in Heptonstall. Fridays 11am-12.30am. Level: Intermediate. For further details text or phone me on 07729 101473 (25 Aug)
APPRENTICE VACANCY with Hebden Royd Town Council. An opportunity for young person wanting to start career in Business and Admin. You will be trained to provide efficient and effective clerical/ admin support to the Town Council. More info (25 Aug)
HOUSE OR FLAT REQUIRED TO RENT Single male looking to rent in or near Hebden Bridge. Professional, non-smoker, short or medium term, prefer unfurnished but not essential. Text or call Michael 07710 821393 (24 Aug)
BED AND BREAKFAST £25 A DAY
I have a double bed room available for visitors in middle of Hebden Bridge. It is 7 minutes walk to the station and there are regular trains to Leeds and Manchester. Please contact me by mobile phone 07564 212352 or email (22 Aug)
WINDOW CLEANING: Local reliable Window Cleaners. Covering Hebden Bridge, Cragg Vale and Mytholmroyd. 4 storey capability. Est 5 years. Professional and friendly. Call Dave on 07757 060167 for a free quote. (20 Aug)
2 BEDROOMED HOUSE TO LET Now taken
BEAUTIFUL, SPACIOUS, SUNNY ROOM - now taken
VICTORIAN HOUSE FOR SALE IN TODMORDEN: Recently renovated to high standard. Substantial stone outbuildings, large detached double garage, outbuildings. Ideal for artists/ homeworkers.
Stunning views. Dining room with Esse Iron-heart range. Lounge with Esse multi fuel burner, with logs for 3 years. Kitchen with granite worktops, Induction range master. 2 double bedrooms.
Original flags, cobbles on large driveway and sunny patio area. Parking for 3+ cars. Reached via a private road in quiet location yet close to bus stop for access to Hebden Bridge and Burnley. Offers in region of £340,000. Tel 07876 802204  (7 Aug)
SCHOOL TUITION IN YOUR HOME All subjects taught in your home, at a time that suits you, by a friendly, qualified, CRB/DBS-checked teacher with particular expertise in working with those who need extra support; either as individuals or as part of a small group. Ages 4 to 14. Individual or group rates. Hebden, Todmorden and surrounding areas. Neal 07836-778007 or email (22 July)
FREE TOPSOIL - I've been inundated with responses, so thanks very much. Who knew there was so much demand for soil?! Could you take the ad down please?
Some successful ads
LOOKING FOR A RURAL HOME TO RENT FROM JUNE Please remove found a place through Hebweb. Also charming rural cottage - please remove, I'm moving in.
TWO BED COTTAGE TO LET: Like last time, I've been inundated with replies and now have a lovely couple to move in at the end of May, so would just like to say thank you (1 April)
FOR RENT TODMORDEN I had a good response and have now found a tenant.
HOUSEKEEPER/MEET & GREET PERSON - we have found a candidate. We wish to thank all those that applied .. the response was excellent as was the calibre of the candidates.
FIAT PANDA 4X4 - now sold
MARY POPPINS REQUIRED: now found
STUDIO TO RENT: now taken
HOUSE TO RENT - GREAT VIEWS AND LOCATION: We have successfully found tenants within one day
3 BED VICTORIAN TERRACE TO RENT Now let
DOUBLE MATTRESS Please remove ad. Very pleased with fast sale.
5-A-SIDE FOOTBALL: Great response for the ad for our local sports club, thanks very much!
HOUSE ORGANISER ESPECIALLY FILING - I had so many wonderful responses to my ad for someone to help me re-organize my house post-flood, I wanted to employ everyone! Thank you.
COMPUTER TECHNICIAN "Our small ad has worked very well and is no longer needed"
2 BED HOUSE TO RENT IN CENTRAL HEBDEN - House successfully rented through Hebweb. Fantastic posting wall!
HOUSE TO LET: Now let. "The ad found a new tenant within three days of its insertion so I'm very pleased with that"
2 BED HOUSE TO LET Please could you take down the advert "2 bed house to let" placed on 13th January 2015. We had an excellent response and have recently let the property. Thanks.
1-BED HOUSE TO LET / SELL We immediately had a good response to the ad and very quickly found the right person.
EXPERIENCED SECRETARY /ADMINISTRATOR: we have now successfully recruited. We had a lot of applicants via your website again – thanks very much!

HELP - LOST CAT - Now found
Brian the cat has been found and is home safe. Thanks to hebweb and the lovely people who looked after him. We are so happy
2 BEDROOM HOUSE TO RENT - New tenant sorted very quickly
HOUSE TO LET: "Ad posted Monday, lease to be signed Saturday and tenant moving in Sunday. Thanks HebWeb."
Small Ad: "Ad posted Monday, lease to be signed Saturday and tenant moving in Sunday. Thanks HebWeb."
Small Ad: Great response as always, lots of interest. Sorry to all the people who wanted it but it has now gone.
HOUSE TO LET: "let within 24 hours of ad going up"
CITROEN C5 TURBO DIESEL ESTATE FOR SALE
Could you please now remove my advert for the Citroen C5 Diesel Estate? It has now been successfully sold via your site - thanks for that!
More responses from successful ads.
Older Ad headings
ITALIAN CLASSES IN HEBDEN
SUNNY DOUBLE ROOM:
2 BED HOUSE FOR SALE, MYTHOLMROYD
SPACIOUS DOUBLE ROOM
MISSING CAT
WANTED: PART TIME WORK FOR A STUDENT
DOG WALKING AND PET SERVICES
WANTED: GARAGE OR LOCKUP
TWO RABBITS NEED LOVING FURREVER HOME
MATHS AND SCIENCE TUITION
WANTED – HOUSE OR FLAT TO BUY:
FRIENDLY DOG WALKING SERVICES
FREE HOLIDAY HOME!
PAID INTERN FOR 2016/2017 ACADEMIC YEAR:
MUSICAL DIRECTOR REQUIRED
MEDITATION COURSE FOR CHILDREN AND TEENAGERS
VIDEO EDITING : CLASSES & SERVICES
HOUSES TO LET
TAX RETURNS COMPLETED
2-BED COTTAGE TO RENT
DELIVERY DRIVER REQUIRED
SALES ASSISTANT PART TIME
WANTED: 2-3 BEDROOM COTTAGE HEPTONSTALL
COOP JOB VACANCY
TELESALES TRAINEE
ACCOUNTANT REQUIRED
1 BED FLAT TO LET IN TODMORDEN
GROUND FLOOR FLAT
LOVING HOME NEEDED FOR 3 YEAR OLD BEDLINGTON:
ACCOUNTS, TAX, BOOKKEEPING
DIETITIAN
LOGS
RENOVATIONS:
SHORT TERM ROOM TO RENT IN CAMDEN LOCK LONDON
NEW BISTRO IN HEBDEN BRIDGE
SMALLHOLDING FOR SALE
FIELD MAINTENANCE SERVICES REQUIRED:
HOUSE TO LET IN TODMORDEN:
VOLUNTEER CAR DRIVERS REQUIRED:
HOUSE WITH YARD WANTED IN/AROUND HB
FLAT FOR RENT "Thanks to your ad the flat is now rented to a lovely couple."
HOUSE/FLAT WANTED HEBDEN:
WINDOW CLEANING
NEW PREGNANCY YOGA CLASSES:
JOB VACANCIES:
VALLEY HOME IMPROVEMENTS
HebWeb small ads
NEED A ROOM PAINTED? Experienced painter. good quality work, trade qualified (carpentry).
I also do odd jobs - Cat 07741 879960 (17 Nov)
SINGING WORKSHOP with Becky Owen. 25 November, 10am to 4pm at the Birchcliffe Centre, Hebden Bridge. Tickets £25 or £20 concessions. Lunch available for £3. For further info and booking contact please email (16 Nov)
LARGE SPACIOUS DOUBLE ROOM with lovely view over valley. 8 min walk to HB station. Share house with teenage family friendly dog, piano, fire stove. No smoking. £450 a month inclusive all bills. Ideal for working person. January 2018. 07486 367865 (14 Nov)
SNOW WHITE Family Pantomime at Hebden Bridge Little Theatre on the 29-31 December 2017. Performances at 11am (toddler friendly) and 3pm. Tickets £10 adults and £7 children. Available from Todmorden TIC 01706 818181 and website (11 Nov)

EXPERIENCED CONTENT WRITER, Social Media Marketer, PA/Office Manager seeking work locally. Currently working p/t seeking f/t or additional hours. References available. Please contact for further info 07763 333729 or email (7 Nov)
LOOKING FOR A ROOM IN HEBDEN BRIDGE: Now found
2 BEDROOM HOUSE TO LET Mytholmroyd with open views towards Midgley, close to railway station, gas central heating, nicely presented, available from the beginning of December. Suit professional couple, £525 pcm plus deposit. Tel 07507 711166 (5 Nov)
CATERING FOR CHRISTMAS PARTIES, VEGGIE AND VEGAN SPECIALISTS
Tired of cheap, disappointing set menus for your Christmas parties? This time of the year is all about great food with the people you love so why settle for standard? Small, local chefs from "Thyme for Tiffin" and "Beets and Beans" are teaming up to provide catered party's, as well as a feast of dishes spanning over several courses we provide live music for a magical atmosphere. Please feel free to get in touch with any questions or for more information. Flexible for all budgets. Email or text 07703 109859 (3 Nov)
FOR RENT: 2 BED HOUSE IN TODMORDEN I rented it out straight away to the first person who responded on the evening I submitted the ad!!  Many thanks.
INDIVIDUAL DOG WALKS One to one walks with full hour of exercise for £10, any day, any time. Your dog is our priority. Hillsongdogs are happy, safe and content. Behaviour issues initial assessment free. Telephone 01422 844865 or 07707 678675 or email (29 Oct)
SHOP /OFFICE TO RENT Shop/ office opposite co-op to rent from January 2018. Excellent condition. Never been affected by floods so offers continuity of trade. Ring 07712 656578 for further imformation (26 Oct)
FLAT / HOUSE OR ROOM WANTED for me and my moggy Dexter. Hebden, Todmorden, Sowerby Bridge all considered. I'm a 30 year old professional who has recently got a job in the area. Please email if you have anything suitable. (25 Oct)
2-3 BED HOUSE WANTED Reliable and friendly couple seeking a home in the Hebden Bridge area. Ideally 2 bedrooms. We don't smoke and are pet free! Both in full time employment & available to move in asap. Thank you! 07769 149526 (24 Oct)
SOCIABLE LADY REQUIRES DOUBLE ROOM TO RENT: Reliable lady looking for double room in Hebden Bridge. Must be willing to accept DSS as I am recovering from M.E and am a carer for my brother who has Aspberger's Syndrome. Email: sianmcgill56@gmail.com. (24 Oct)
WIDE BEAM HOUSE BOAT with permanent, private mooring in Hebden Bridge. 2 double bedrooms with separate bathroom.Open plan kitchen includes washing machine and fridge. Garden, sun decking. Fully functioning central heating and a multi-fuel stove. £70,000. Please email (23 Oct)
FUNDRAISE FOR YOUR GROUP, school or organisation. Collecting orders for an established, popular brand of cosmetics and gifts can produce 25% commission: £400 sales equals £100 fundraised. Free booklets provided. Please email for full details. (19 Oct)
DIMPLE X OPTYMIST ELECTRIC STOVE
Amazing realistic flame effect electric stove. For sale @ £200. Ring Kath on 07419 134016 (15 Oct)
TECHNICAL, ADMIN, OPERATIONS SUPPORT CONSULTANT Alternative health college seeks freelancer. Experience in live broadcasting of events, administration within an organization, ICT essential. 26 hours per month home-based plus one weekend a month (20 hours), Manchester. £12.50/hr. See website (12 Oct)
HOUSE WANTED IN HEBDEN BRIDGE: Lovely home wanted within walking distance of Hebden Bridge preferably with a garden. Up to value of £240.000. Older property preferred. Please contact me by email (10 Oct)
BREWERY ASSISTANT We're a rapidly expanding brewery in Hebden Bridge looking for a bright, motivated trainee Brewery Assistant. This is a very varied role! From brewing to cleaning & record keeping. If you're looking for a long term career, have minimum English/Maths GCSE C or above, committed & reliable, proactive, articulate, strong. Pref driving & forklift licence. For full details  please email Joanna (5 Oct)
CARAVAN: Quiet woman seeks tiny patch of land to keep small caravan on - used as occasional 'get away'  for time out within 1 hour walking distance from Hebden Bridge. Please call Jane 07907 864007 (3 Oct)
BEAUTIFUL BARN AVAILABLE TO RENT - 4+ bedrooms. Our newly renovated 4-6 bedroom barn near Pecket Well is available to rent from January until April 2018 - 12 weeks only.  Would suit family looking to move to area. Very large property. Fully furnished inc linen / equipped kitchen. Large garden overlooking fields and moors. Please text, call or email for more info. 07989 538044. £2000 per month includes bills. (3 Oct)
FLAT TO LET One bed flat at 2 Lees Road Excellent condition,gas central heating. Large kitchen and lounge area with log burner, bathroom with bath and shower. Close to Hebden centre. £400/ month plus bond. Tel 07881 583245 (3 Oct)
TURNBULLS EXTERIOR MAINTENANCE Family run business in Calderdale. If it's outside we clean and maintain it! Power washing for slippery steps, driveways, decking areas, walls, drains, gutters. Installation of outside taps. Garden maintenance - grass cutting, weeding, planting, turfing. Exterior maintenance - gutter repair, pointing and repairs. No job too small. Call Jody on 07393 475260 for a free quote. (29 Sept)
JOB WANTED: Enthusiastic 23 y/o. Own transport. Looking for 12-16 hours. Good with people, numbers, admin, qualifications in hospitality, most recently checkout supervisor with large supermarket. Any part-time work considered, flexible. Email for CV/information. (28 Sept)
TEMPORARY ACCOMMODATION REQUIRED from November in Hebden/ Todmorden/ Old Town. Room/flat/ house max £500/£600 pcm, within easy reach of public transport, no smoking, preferably no animals. Please contact Angela Greenwood (28 Sept)
2 BEAUTIFUL CATS NEED HOME ASAP
Could you give a good home to 2 Beautiful cats age 4, sisters who have always lived together? I can give you 2 cat carriers and lots of other things. Call 07815 094103 (26 Sept)
2 BEDROOM TERRACED HOUSE TO RENT Central Hebden Bridge South facing, clean and well maintained, mid terrace back to back house. Available mid November. Unfurnished with washing machine, gas central heating, double glazed and newly decorated. £525pcm deposit required. 07970 132234. (25 Sept)
ROOMS FOR RENT in Todmorden townhouse. Both fully furnished /inclusive of bills. Recently renovated. Room 1-£300pm. Room 2-£350pm. Communal lounge, kitchen, bathroom, outdoor space. Parking opposite. Shared with the landlady +1. Call Charlotte, 07811 539686. (24 Sept)
GREETING THE STRANGER What do we mean by 'welcome' Welcome to my territory? Or you and I are both guests of this space of mutual healing. Meditation, experiential exercises, discussion with Manu Bazzano October 7th. Enquiries by email. (22 Sept)
REFLEXOLOGY
WITH BEL HALE
Fill Yourself with Peace, Find Your Inner Strengths, Face Life's Challenges More Easily.
Mobile:07788 818733
(19 Sept)

EVER THOUGHT OF COACHING? For whatever the reason, you may be at a junction in life. Coaching by qualified and experienced coach may be an option. Interested? For initial chat, call David on 07720 660068 or vist the visit the website (18 Sept)
DOG WALKING AND PET SITTING Dog walking and pet sitting service. Good long walks tailored to each dog's needs. Dogs and cats looked after in your home or ours. Reasonable rates and friendly reliable service. 07594 029912. Reviews here or email (18 Sept)
DOUBLE ROOM(S) TO LET IN TODMORDEN. Housemate required to share my beautiful big victorian family home. South facing garden.5 minutes from centre of todmorden and train station. 2 attic rooms available so possible bedroom and study. Call Asha 07739-431485 (17 Sept)
NEW TO HEBDEN BRIDGE I'm a 27 year old who's new to the area and would love to meet some people. Where's the best coffee? The perfect view? Get in touch if you'd like to meet up! Email Laura (16 Sept)
FRENCH CLASS Thursday evenings 6pm-7.30pm in Heptonstall. Join our small, friendly, improvers' class, Experienced tutor/reasonable rates. Further details: 07729 101473. Plus GCSE / A Level Tuition (References available.) (15 Sept)
GARAGE OR LOCK UP WANTED
Garage or Lock up wanted, to rent, asap. Contact Tina 07856 001916 (13 Sept)
PIANO TUITION
By professional and friendly tutor. All levels/all grades including beginners, warmly welcomed. Trial lesson free. "Helen provides outstanding tuition, her lessons are relaxed and enjoyable" For more info contact 07903 074674 or email (11 Sept)
ARE YOU WHERE YOU WANT TO BE? Want to make changes in your life? Or is change coming to you, maybe through retirement, redundancy, leaving school or college? If you're approaching a transition, or trying to decide where to go next, coaching will help you to think more clearly, explore your options and make better decisions. Contact Anna on 0774 1419486 to find out more. (10 Sept)
GOOD HOME NEEDED FOR 2 BEAUTIFUL CATS. 2 beautiful cats (sisters age 4 one black, one tortoiseshell). Have carry baskets and lots of other things can give you. They have always lived together. Call 07815 094103 (9 Sept)
SPANISH FOR ADULTS Wednesdays at 7pm. Do you want to learn practical language in a fun way as well as discover Hispanic culture? Would you like to communicate meaningfully with like-minded people? Beginners group from 20 September, Birchcliffe Centre, £7.33 per hour. 078211 82997  or email (6 Sept)
NEWBORN AND KIDS PHOTOGRAPHER - Local newborn, kids, and family photographer. First 10 clients receive 50% off any session. Sessions include first48, newborn, cake smash, first year bundle, sibling/ family, among others. Contact me on Facebook or by email (5 Sept)
DOG WALKING, EXERCISING, SHORT TERM BOARDING:.8 acres of land,fantastic walks, kennels for short time boarding, i.e. Away for short breaks or working away purpose built kennels. Reliable,  short notice bookings. Tel  mob 07880 527036 thanks for looking! Gary. (5 Sept)
WANTED: 4+ BEDROOM HOUSE TO RENT for professional couple and child in Hebden Bridge area for 9-12 months. Non-smokers, no pets. Contact 07786 960992 or email (2 Sept)
HEBDEN BRIDGE SCHOOL PLACES AVAILABLE
Our children are happy to come back to school after the holidays! The new school year starts on 7 September. Our excellent teachers are ready to help your child go on an amazing journey to making learning relevant, interconnected and free from coercion. Students get the support they need to prepare them to excel at GCSEs. More details at our website or email. Tel: 07821 189297 (31 Aug)
LEARN ITALIAN IN HEBDEN BRIDGE, starting 26/9/2017. Beginners Weds. 6.15-8.00. Post-beginners Tues. 6.30-8.15. Improvers, Tues. 4.30-6.15. Intermediates, Tues. 2.00-3.45. £10 per class. Supportive classes, with qualified, experienced tutor. Gillian 01706 819789 or email. (29 Aug)
WANTED: HOUSE TO RENT Retired Lady..Hebden Bridge born and bred. I am looking for a 2 Bedroom Property in the Hebden Bridge area. I have a small Dog (Cavi King Charles). Good references available. Honest and Trustworthy. I want to come home to my roots for retirement years. Please email or ring 07377 673883 (27 Aug)
GONG & HANGDRUM SOUND BATH Come and relax blissfully to the beautiful sound vibrations of Gongs played by Gongmaster Kath Reade and the Hangdrums played by the brilliant Kim Metcalfe. Mats, cushions, or chairs provided. Saturday 2nd September 7pm to 8pm in the Yoga Centre, Hangingroyd Lane, Hebden Bridge. £10 on entry. (25 Aug)
WANTED: 3+ BEDROOM HOUSE TO RENT Young couple with three daughters moving to Hebden Bridge are looking for a 3+ bedroom house to rent for 12 months. Clean, kind, and fun. We'll take excellent care of your house. Please email Lauren. (24 Aug)
EXPERIENCED CHEF LOOKING FOR EXTRA WORK I have worked professionally as a chef for ten years, trained at Grand Hotel Brighton and am now trying to start my own business. One or two days a week. Please email for more info. (21 Aug)
ARE YOU MOVING HOME OR OFFICE?
We can supply up to three Luton vans and up to a four man team of movers. We are  fully insured and guarantee a polite, careful, highly efficient service. We can travel to all parts of the UK and customers are insured to travel in the van if required. Call Steve 07724 779299 or see Facebook or website (19 Aug)
HOUSE TO RENT HEBDEN BRIDGE - now taken, thanks to HebWeb
NATURAL BUILDING COURSES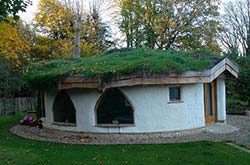 Straw Bale Building and Natural Plasters Courses in Todmorden 15th & 16th September, and 24th & 25th November 2017. Email Clair for more information or to book. See website (15 Aug)
BABY RESCUE HEDGEHOG NEEDS RABBIT RUN, CAN YOU HELP?
Baby hedgehog Frankie has now been donated a lovely house. Thanks to all who replied. Pleased to report he's getting fatter every day.
HOUSE FOR RENT: 2 bedroom unfurnished terrace house for rent. Excellent condition. Fully insulated with economical gas central heating. Easy access for town centre, trains and buses. On street parking. £475 per month. Bond plus refs. Call 07761 066549. (3 Aug)
THE STUDIO AT THE QUILT CABIN:
The Studio: light, airy space to rent in central Hebden Bridge. Fits up to 12 for workshops or business meetings, pop-up shops or art displays. Daily hire includes kitchen and bathroom. Email for information. (1 Aug)
MID TERRACE STONE HOUSE FOR SALE IN MYTHOLMROYD 3 Bedroom house close to facilities in Mytholmroyd. Easy access to train station. Double glazed, gas central heated, open small fire, lounge, dinning room, kitchen and spacious bathroom. £139.999. Please e-mail for further queries (22 July)
MISSING CAT  Pixie has sadly been found dead, as she was struck by a car.  Even at such a difficult time, I'd like to thank you for the power of Hebweb, as without this facility we may well have never reached closure. 

CAMPERVAN FOR SALE - now sold

ROOMS IN HOUSE Now taken: I had a great response
From Steve Farrell, now living in Mysore, India: "As someone who lives abroad, the Hebweb site has always been critical for keeping in touch 'back home' in Hebden. I've just needed to re-advertise my home for rent, so where to turn to? The Hebweb, of course. The Ad was up within minutes and there were 10 enquiries within 24 hours. Superb!"
2 BED BACK TO BACK TO LET - Hi there I have found lovely tenants for my house in less than 24 hours. Amazing! 
WANTED: A ROOM FOR FEBRUARY: Thank you to everyone who responded (too many to reply to personally). I have somewhere now.

Some successful ads
TWO BED HOUSE TO LET: "I took out an ad on 15 August and have had an overwhelming response. It's now been let"
2 BEDROOMED HOUSE TO LET IN TODMORDEN We had a great response and it is now let. Good job and thank you.
PART TIME - FINANCIAL SERVICES ADMINISTRATOR Position now filled. "The ad has been extremely successful with numerous high quality candidates."
NARROWBOAT FOR RENT now let. I had a lot of enquiries from Hebweb, thanks!
MISSING CAT FOUND Bingley has now been found. He was locked in a neighbouring outbuilding. Thanks to everyone who assisted us during our search over the last week.
THANK YOU to all those kind people who enquired about renting my house in Wadsworth.
I am very sorry but it has now been let.
Elevated Victorian Stone Terraced Cottage Please remove my ad with the picture.I have got a tenant. Thanks. Inundated with people requesting information
OFFICE JUNIOR: Would you please remove our advert for an Office Junior as we have now successfully recruited (someone who saw the job on your website!)
TO LET - SPACIOUS 3 BED TERRACED HOUSE: It went up yesterday and I've found a tenant! I'm so pleased, thank you.
2 BED HOUSE TO LET- HEBDEN BRIDGE: Thanks to our add on HebWeb we now have found tenants for our house, thank you - could you amend our advert please as we are still getting lots of enquires
HOUSE TO RENT
"Lots of enquiries and has been successfully let now."
The ad was very effective and I had a new tenant within 24 hrs!
HOUSE FOR RENT: Thanks so much for your service. Found a fantastic tenant in a very short time. Lots of interest
HOUSE TO RENT, HEBDEN BRIDGE, £520 pcm. "We now have a tenant! I was inundated with enquiries, thanks to HebWeb. An excellent service. Will use it again!"
More responses from successful ads
Older Ad headings
SPANISH CLASSES
DOMESTIC SERVICES
2 BED COTTAGE
BED AND BREAKFAST:
WANTED: 2 OR 3 BED HOUSE WITH GARDEN TO RENT.
WINDOW CLEANING
HOUSE FOR SALE
NISSAN MICRA FOR SALE
2 BED. HOUSE FOR SALE
PART TIME POSTION AT BUSY CAFE
TWO BED HOUSE TO LET
CAFE SUPERVISOR
HYPNOTHERAPY
LOOKING FOR HOUSE TO RENT IN HEBDEN:
ATTIC ROOMS AVAILABLE:
LOVELY HOUSE IN ANCIENT VILLAGE IN SOUTHERN SPAIN
SPANIEL IN NEED OF NEW HOME!
HOME WITH GARDEN WANTED
GYM SPACE
FREE DIGITAL EMBROIDERY WORKSHOP
CLEANING SERVICES
ART WORKSHOPS
SILENTNIGHT DOUBLE ORTHO MATTRESS
TO LET: 2 BED-ROOMED DETACHED
SHOP IN HEBDEN BRIDGE TO RENT
WANTED: 2 BEDROOM HOUSE TO RENT
TERRACE HOUSE IN HEBDEN BRIDGE TO RENT
DEER SHED FESTIVAL TICKETS
KINGSIZE MAHOGANY SLEIGH BED
MEDITATION & SPIRITUAL COUNSELLING
ESSAY, DISSERTATION THESIS WRITE UP, EDITING
LEADED WINDOWS
ORIENTAL/PERSIAN RUGS
BEAUTIFUL DOUBLE ROOM - TODMORDEN
WANTED: 2 or 3 BED HOUSE TO RENT
SWAP 2 BED HOUSE IN HEBDEN FOR SIMILAR IN TOTNES
BARRY MANILOW TICKETS:
CLAY PLASTERING COURSE - NATURAL BUILDING
BIKE RACK AND ELECTRIC COOLBOX
2 BED HOUSE TO LET, HEBDEN BRIDGE - now taken
SPANIEL & WESTIE NEEDS NEW HOME:
COTTAGE TO LET
NANNY/BABYSITTER AVAILABLE:
MAN & VAN
ELECTRIC BIKE FOR SALE.
HEALTH AND RELAXING RETREAT FOR BEGINNERS WEEKEND
COMPASSIONATE HEALING MASSAGE