Small Ads
£10 for 4 weeks | £25 for 3 months | ADD YOUR AD | Add photo option | FAQs | HebWeb home page
HebWeb small ads
2 BED HOUSE, HEBDEN BRIDGE Recently renovated two double bed house for rent with large, dry cellar. Dining kitchen and lounge. Unfurnished. 10 mins walk from centre of town, close to Stubbings Wharf. £600pm and deposit. Available from mid-Dec. Email (18 Nov)
STARTING SCHOOL IN SEPT 2019?
Come to one of our open events! Thursday 22nd November 10.00am-11.30am, Monday 3rd December 1.30pm-2.30pm, Thursday 10th January 10.00am-11.30am. Ofsted Good 2017 (16 Nov)
INTERIOR DECORATING, JOINERY AND PLASTERING WORK Eco Deco are a interior decorating company and we manage projects that covers full house renovations including all aspects of decorating joiner and plastering work. We work with other quality local tradesmen See website (14 Nov)
PROPERTY GUARDIAN Do you own a habitable but empty property in the Hebden Bridge / Todmorden area? I am looking for accommodation at a reduced negotiated rate in return for high quality painting & decorating / restoration work. If you see an opportunity please call 07708 130339 or email (12 Nov)
ROOM AVAILABLE - A light, airy space in a quiet street by canal. 3 minute stroll into town. Parking free and WI-FI. £350 p/cm inclusive of bills. Contact Harriet Fletcher on 01442 618317, email, mobile 07976 830923 (9 Nov)
ROOM INSIDE THERAPY As a professional local practice, we have been successfully providing more affordable counselling and psychotherapy for the past 2 years. We are now also open on Saturdays 9 - 4.30pm.  For more info please see website (7 Nov)
DELK FROST BLOCKER WINDSHIELD COVER Brand new cover size 61" x 32" with 2 wing mirror covers and a compact storage bag. 2 available @ £23 each. 07768 111770 (7 Nov)
REFURBISHED ATTIC APARTMENT - Hebden Bridge centre. Spacious 1 bed part-furnished bedroomed attic apartment in Carlton Chambers. Recently redecorated. GCH. Living room, separate kitchen with additional storage, double bedroom, bathroom. £525 pcm. References and bond required. Non-smokers and no pets. Available mid November. Please contact by email or 07796 135824 (4 Nov)
FINANCE MANAGER - PART TIME - An opportunity to join award winning charity, X-PERT Health for a part or fully qualified Accountant, 2 years minimum experience of Sage 50, payroll and Excel. 24 hours per week. Flexible working hours within office hours of 8.30am till 5pm Monday to Friday. £25-£35k pro rata. Based Hebden Bridge. Please contact Helen Knight for a job description. Closing date 9am Wednesday 21st November. (2 Nov)
ATTENTION LOVELY LANDLORDS/ LADIES Hello! Professional, trustworthy, creative couple (30 + 37) from Bristol + Yorkshire with a lovely french bulldog looking for a 2 bedroom cottage to rent in Hebden Bridge from 1st Feb 2019. Just spent a year out after finishing up our veggie cafe in Somerset, now looking to re-locate back to Yorkshire. We can pay 2/3 months rent up front + deposit :-) Email or phone 07383 488417 (28 Oct)
YOUNG LONE PARENT SEEKS CREATIVE CARING SPACE to call home. 29 (f) with joint custody of 3 year old son. Caring, creative, spiritual, PhD student seeking new life in Hebden or surrounding areas. Looking for room /boat /caravan /shed to rent and kind welcoming people. Email (24 Oct)
CEILIDH FUND RAISER FOR TORTURE SURVIVORS Our next fund raiser for STAF (Survivors of Torture Activity Fund) is our annual Ceilidh on 10 November at the Birchcliffe Centre. All welcome - see flyer.
STAFF WANTED - MOYLES TOWNHOUSE - We are looking for two members of staff to work two days a week. Both will be required to do one set weekday and weekend shift each. Duties will include cooking and prepearing breakfast and cleaning and maintenance of the rooms. 7am starts required. Please call in with your CV or drop it into the postbox outside. (22 Oct) 
AMAZING BABY BUNDLE Maxi-cosy priorifix car seat with isofix, Baby Einstein travel cot, Lindam's stairs gate, Baby bjorn baby carrier, Mama's & Papa's wave rocker and play mat/gym, First years mobile high chair, IKEA high chair, Baby bath & wash bowl, Bath support, Snooze shade pram blackout blind, Baby Dan sleep and safe bed guard. £250. From smoke free clean home. Call 07506 692373. Can send photo - collect Todmorden (22 Oct)
FOR RENT, TODMORDEN Please could you remove my ad - I rented it instantly again so thank you!
Do you have a PLACE TO STAY FOR WOMAN AND DOG? (a small one) - She is Yoga teacher, 58, German. House sitting, animal sitting also possible. Contact Eva +49 17733 17133 or email (19 Oct)
PC SOLUTIONS Highest standard painting and decorating. Qualified staff.
Interior and Exterior work. To get a quote please Tel: 07833 144296 (17 Oct)
CABARET HEAVEN with Barbara Nice, Tim Dalling and Balkan Bandits. Sat 10th Nov Hebden Bridge Trades Club 8pm £10/12. Phoenix Nights star Barbara Nice and Old Rope String Band kilted fool Tim Dalling with wild comedy plus dance band Balkan Bandits and hosts. (15 Oct)
SPRING YOGA RETREAT MARCH 2019
Join our annual ashram style retreat in Hebden Bridge with Claire Thomas. Taught in the Satyananda tradition, the weekend includes yoga, pranayama, mantra, meditation, Yoga Nidra and periods of silence. The retreat includes all accommodation, home cooked vegan /veggie food and dinner at Greens on Saturday night. Residential and non-residential spaces, from Friday 15th - Sunday 17th March. See website for info  (10 Oct)
EVENING SEWING WORKSHOPS FOR AUTUMN Evening sewing workshops start on Tuesday 23 October at Word of Mouth. Bring your own project. Machines can be provided. For more info and cost please contact Helen 07513 359164 or email. (7 Oct)
PART TIME WORKSHOP ASSISTANT "This vacancy now filled. Many thanks again – advertising vacancies here seems to work very well for us!"
HELLENIC LANGUAGE Learn modern Greek. Private and group classes available from native Greek speaker teacher. Please contact Terry (Eleftherios) by email (29 Sept)
FEELING OVERWHELMED BY STUFF? I can help declutter and organise any part of your living or work space. I can help you downsize, prepare your house to sell, pack and unpack. I can sensitively support you following a loved one's bereavement or move into residential care. Help with life's paperwork - or just your record collection? I'm non-judgemental and my service is confidential. Call 07966 788342 or email (25 Sept)
FLAT FOR RENT Just let it! Please take the ad down and many thanks
LOOKING FOR HOUSEMATE
Beautiful 2 bed home looking for a second member. I'm a quiet and considerate 26 year old (m) creative who loves making music and dancing, meditating, writing/reading, cooking, nature, marathonning movies. Colourful, respectful individuals preferred. Central Hebden, out of flood risk area (1m from Square), fibre internet, jacuzzi bath/shower, conservatory, and wood floors. Approx £385pcm bills/everything included. Contact me, 07879 021841 or email. (21 Sept)
THE BREATHING SPACE: Friday Yoga Class at the Hebden Therapy Centre 5-6.30pm: explore gentle stretches, breath awareness, mudra and mantra to help you settle mindfully into Friday evening. To book and for further info please contact Helen. Tel:07925 102461 (17 Sept)
REFRESH YOUR HOME! Average sized domestic room walls/ceiling emulsioned and woodwork glossed for £55. Single coat. Paint supplied by you. Front doors undercoated and glossed from £35. Paint supplied by you. Please call: 07890 878 690. (17 Sept)
COTTAGE FOR SALE
Charming well-renovated 2 bedroom cottage. 5 minutess walk to town centre and close to train station. Has courtyard and exterior laundry and storage rooms. Contact Jayne on 0740 077 9007. £160k ono. Photos and information here (13 Sept)
BREWERY ASSISTANT We've filled the position now.
WILDWOOD MASSAGE
Feeling Stressed? Worn Out? Muscles Aching? Experienced Massage Therapist. Evening /Weekend appointments available. 07790 897192. Swedish, Aromatherapy, No Hands Massage, Indian Head Massage, Kansa Vatki Ayurvedic Foot treatments, Ayurvedic Yoga Massage. See website (7 Sept)
WALL MOUNTED PINE UNIT Quick work - I've sold the pine unit! 
2 BED HOUSE TO RENT IN CORNHOLME
HOUSE FOR SALE 2/3 bedroom terrace house, Unity Street, Hebden Bridge. Culdesac, on street parking. Double glazing/roof insulation, gas central heating. Defra wood burner. Excellent condition. £160,000. Call 07761 066549. (24 Aug)
WRITER LOOKING FOR A QUIET ROOM -  just placed an ad yesterday. I have had nice replies and wonder if you could take the ad down now?
FULL-TIME EXPERIENCED COOK Just letting you know that we've now filled this vacancy, thanks to HebWeb!
Some successful ads
CLEANER REQUIRED
- Ad "Overwhelmingly successful."
3 BED TERRACED HOUSE TO LET Please can you remove small ad put on 9th July. 
I had a response within an hour of the ad going live and the first viewer took the house. I had 8 requests to view in 24 hours. Brilliant!
HOUSEKEEPER MEET/GREET DUTIES We have filled the position above. We had an excellent response with 18 applicants making the final selection very difficult.We wish to thank the people that responded and wish them well. We have used the HebWeb site on several occasions over an extended period and we have always had a successful result, and regard it as a most important community resource. Thanks, Calderdale Terraces.
PICK & PACK/ PRODUCTION ASSISTANT - Please could you close the advert? We've been overwhelmed with the response and quality of applicants! Thanks so much!
TO RENT, LATE OCTOBER Thanks again for sending many very nice prospective tenants my way. I'm very pleased to say the house is now let again so would you mind taking down the ad?
More responses from successful ads.
HebWeb small ads
WANT TO RENT: 3/4 BED HOUSE three quiet, tidy and trustworthy freelance creatives in mid-20s, looking to let 3 or 4 bed, part /unfurnished house, Hebden / Mythomroyd / Todmorden areas. Ready to move in 2-4 weeks. Email or text 07429 325555 (17 Nov)
PHOTOGRAPHER AVAILABLE Portraits, family, small businesses, events. Instagram. £50 for a session (typically 1 hour). £250 for a 4 hour event. £500 for a 8 hour event. All digital images included. Please get in touch to discuss further (15 Nov)
WANTED: 2 OR 3 BEDROOM PROPERTY Single Professional, relocating to Hebden Bridge from London. Looking for a quiet place to call home. Ideally 2 or 3 Bedrooms. Can move anytime from 15/11/2018. References can be provided and deposits etc. Email (14 Nov)
LOOKING FOR WORK I'm looking for part time work. I'm quick at learning new things, good with computers, good with a drill/tools and have a clean driving licence and car. Please email or call 07951 093248 (14 Nov)
WEB SOLUTIONS NOT WIX SOLUTIONS I have over 15 years experience of web development and can tailor a web solution for your specific requirements. I am local and you can ring me on 07749 742608 for a chat. Clive Corner - (12 Nov)
TO LET - 2 BED HOUSE TODMORDEN Lovely 2 bed house in Todmorden to let. Central location, GSH, double glazing, 2 double bedrooms, unfurnished. Available from Dec 7th. £395/pcm. Tel: 07851 424876 (9 Nov)
GRACIE JIU-JITSU CERTIFIED TRAINING CENTRE We're an official Gracie Jiu-Jitsu Training Centre. We offer two programmes, Junior Grapplers age 7-15 yrs and Gracie Combatives age 15 and upwards. For more information on the courses and curriculum please visit our website (7 Nov)
2 BED HOUSE TO RENT IN CORNHOLME
Light warm house close to main routes & countryside. GCH plus gas fire. Boiler 4 years old. Fitted kitchen & gas cooker. Electric shower. Small front yard. £410 per month. Unfurnished. Deposit and references required. Please email (7 Nov)
EVER BEEN COACHED? At a professional cross roads, moving on or just wanting put things in some sort of order. I'm a local experienced coach with many years of senior management experience. Feel free to visit my website or email (6 Nov)
HOUSE TO LET Idyllic 2-bed house to let in beautiful Cragg Vale. £550 pcm with £500 deposit. Fully furnished. Available from 17th Nov. Fantastic views and original stone and timber features. Text or phone 07806 613491 (5 Nov)
PENNINE ECO CLEANING: Small, local business using non-toxic, eco-friendly products to clean your home! Weekly and fortnightly spaces available before Christmas. Please email or visit our website for more information. (3 Nov)
PROGRAMMER WANTED
Site-Eye a leading time-lapse filming company with head office in Mytholmroyd is looking for an experienced programmer. Applicants should have a good knowledge of C# and experience developing web applications. Knowledge of SQL Server, Javascript and C or C++ would be an advantage. Please contact Gareth on 07909 968606 or gareth@site-eye.co.uk
3 BED HOUSE TO RENT, HEBDEN BRIDGE Located off Birchcliffe Road, 3 minutes to town, 5 to the train station. Available from early November for short / long term rent. £800 / month plus returnable bond. 4 floors, modern kitchen & bathroom, beautifully decorated. Gas CH & open fire in lounge. Great views over town. To view phone 07483 812205 (28 Oct)
GARDEN CLEARANCE & PATIO CLEANING Garden Overgrown? Let me come and clear it for you and get rid of all the waste! Also Jetwash away slippy Algae from paths, patios etc. Please contact JAK on 07894 165962 For more info. (27 Oct)
SELF EMPLOYED CLEANER NEEDED We're looking for a cleaner who can clean our office and small school based in Ripponden on Wednesday 3.30 - 5.30pm. £10 p/h. There may be opportunity to pick up more hours. Please email (26 Oct)
DOCTOR FOSTER CARPENTER & MAINTENANCE Carpentry & maintenance. Doors, windows, floors, skirting, shelving, Shed repairs, etc. no job to small. Tony on 07491 655560 (22 Oct)
COGNITIVE BEHAVIOUR THERAPY CBT is helpful and effective for a range of problems and difficulties. I have worked within the NHS. I am Hebden based. Please see my website for further details. Contact by email (22 Oct)
Want to set up YOUR OWN BIKE REPAIR BUSINESS? Thanks, we have now found a suitable person through your advert...
ROOM AVAILABLE Light, airy space in recently refurbished house. Quiet street by canal with views. Hebden centre (3 mins} & 10 minute stroll to station. Free wifi. £350 pcm inclusive of bills. Contact Harriet on 01442 618317, 07976 830923 or email (13 Oct)
REGULAR THERAPY OFFER
- £20 per hour. Would you like the opportunity to have weekly or fortnightly therapy? I am offering a special offer for anyone who would like regular therapy - A confidential & experiential space for you to explore anything past, present and future... in the comfortable Therapy Lounge in Hebden Bridge or by Skype. We can talk together, use hypnotherapy, NLP & Gestalt techniques. 07866 656779. See website (9 Oct)
CHILDREN'S DRAMA CLUB 5-11 YEARS Do you have a child aged 5 to 11 who has an interest in drama? Two Shires Drama's Jules Farrar is bringing her skills as a qualified primary school teacher and her experience running after-school drama clubs to Hebden. Wednesdays from 4pm to 5pm, starting Wednesday 31st October. £5 per session, with a first 'taster' session free. Methodist Church, 54 Bridge Lanes, HX7 6AQ. Email Jules (5 Oct)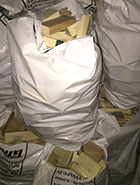 FIREWOOD FOR SALE
Keep extra warm this winter. Kiln dried firewood for sale. Burns hotter and cleaner than logs. Rubble sacks full only £2 per bag. 10 bag minimum.
Pick up or delivery. Call 01422 886700 or email (1 Oct)
DOCTOR FOSTER: Honest friendly carpenter. No job too small. Doors, floors, squeaky boards, squeaky stairs, broken chairs, windows, locks, handles, hinges, skirting, shelf for books, hooks for coats, etc. Free quotes no obligation. Tony on 07491 655560 (27 Sept)
NURSERY PLACES AVAILABLE A home from home stimulating environment with friendly staff. We strive to cater for all individual needs. We are fully committed, very flexible and convientely situated. Call us on 01422 845594. See website. Find us on Facebook! (23 Sept)
TODMORDEN SPANISH MEETUP GROUP - First meeting of a new Meetup group. See Meetup app for details of this Todmorden Practise Spanish Conversation Meetup group. Initial meeting at Kava Todmorden, Oct 2nd 7.30. Or phone 07789 264770 (13 Sept)
HAWAIIAN LOMI LOMI MASSAGE
'A sacred, powerful and transformational bodywork from the islands of Hawaii.' 60 min session £45, 90 min session £65 in Hebden Bridge with Sacred Lotus Therapies. Gift vouchers available. See Website. Gillian Ward 07811 392590 (11 Sept)
GRADE II LISTED COTTAGE FOR SALE - HEBDEN BRIDGE
£190,000, 2 bedroomed stone terraced cottage. Rural location 20 minutes walk from town. Fantastic views over Hebden Bridge. Beautifully transformed by present owner. 595 bus route. Free from flooding. Call Sally, 07799 944843 for more info. (9 Sept)
LOVELY ATTIC ROOM TO RENT Room to rent in Todmorden. Looking for a vegan, male or female, to share with me and my small friendly dog. Central location. New mattress, carpet, wardrobe, freshly painted. Lovely house. Please call Rachael 07708 885034 (7 Sept)
LEARN ITALIAN Morning and evening classes in Hebden Bridge starting on the 11th September. Call Antonella for info 07846 415001 or email (1 Sept)
WAREHOUSE & PICK & PACK OPPORTUNITIES We've now filled the positions.
PICKING & PACKING WAREHOUSE ASSISTANT - We've taken on 2 brilliant staff. Many thanks for helping us again!
3 BED HOUSE TO LET / CENTRAL HEBDEN BRIDGE I'm pleased to report that the house has been rented as a result of the ad

Some successful ads
FREE TOPSOIL - I've been inundated with responses, so thanks very much. Who knew there was so much demand for soil?! Could you take the ad down please?
TWO BED COTTAGE TO LET: Like last time, I've been inundated with replies and now have a lovely couple to move in at the end of May, so would just like to say thank you (1 April)
HOUSEKEEPER/MEET & GREET PERSON - we have found a candidate. We wish to thank all those that applied .. the response was excellent as was the calibre of the candidates.
HOUSE TO RENT - GREAT VIEWS AND LOCATION: We have successfully found tenants within one day
HOUSE ORGANISER ESPECIALLY FILING - I had so many wonderful responses to my ad for someone to help me re-organize my house post-flood, I wanted to employ everyone! Thank you.
2 BED HOUSE TO RENT IN CENTRAL HEBDEN - House successfully rented through Hebweb. Fantastic posting wall!
HOUSE TO LET: Now let. "The ad found a new tenant within three days of its insertion so I'm very pleased with that"
EXPERIENCED SECRETARY /ADMINISTRATOR: we have now successfully recruited. We had a lot of applicants via your website again – thanks very much!

HOUSE TO LET: "let within 24 hours of ad going up"
More responses from successful ads.
HebWeb small ads
CLARINET CHOIR Adult amateur clarinet players wanted for clarinet choir, playing together for own enjoyment rather than public performance. Our musical director is experienced clarinet teacher. We expect players to be Grade 5 and above. Contact Joan 07990 516982 or email (18 Nov)
PICTURE HOUSE VACANCY Hebden Royd Town Council is seeking an experienced duty (shift) manager for the Hebden Bridge Picture House, 10.5 hours per week. Read more. (16 Nov)
HOUSEKEEPER/MARY POPPINS We were so happy with the response and struggled to choose! Many thanks
2/3 BEDROOMED HOUSE IN HEBDEN BRIDGE Spacious. 2 Large bedrooms plus room with views. Garden. Unfurnished. Recently decorated. Some exposed beams /wood floors. 5 minutes town /station. No dogs. Bond/Refs. £585 pcm. Please email (14 Nov)
STUDENT SEEKING PART TIME WORK17 (18 in January) male student looking for evening, weekend or Monday work. I'm pleasant and polite, sensible and practical. O7780 111763. Thank you. (13 Nov)
PA/CARER NEEDED IN TODMORDEN PA/Carer needed minimum 4 hours per week. £9.07 per hour plus mileage. General support, trips out, housework. Must be car owner/driver and dog lover. Telephone 01706 813846 (12 Nov)
LOOKING TO RENT  I am looking to relocate to Todmorden or Hebden Bridge from London and am looking for an unfurnished property to rent from January. I am retired, but also a writer and theatre worker. 07711 910894 or email (11 Nov)
DOMESTIC HELP AVAILABILITY I'm a self employed successful holiday let / home cleaner and have availability for 2 mornings per week. I'd love to hear from you should you need one off clean or regular.  07985 807704 or  or email (9 Nov)
2 BED TERRACED UNFURNISHED HOUSE FOR RENT
Hebden Bridge. Clean and tidy. Two double bedrooms, dining kitchen, living room, bathroom, 2nd toilet and large utility room. GCH and DG. Recently decorated including new carpets throughout. Low maintenance front garden and paved /terraced garden to rear. Off-street parking. 2 mins from station and 10 mins from town centre. Pleasant neighbours. £700 pcm. Available mid-December. Tel: 07717 817224 (7 Nov)
BRIGHT ATTIC ROOM TO RENT
Central Hebden. A bright attic space in a house with a garden. 2 minutes walk into town. I'm looking for a tidy, female lodger, £350pcm, bills included. Please email. (2 Nov)
FIRE SURROUND & GRATE:
Wood fire surround and metal grate. In need of restoration and repair. Free but must be collected (Birchcliffe). Tel 07932 143023 (31 Oct)
DOUBLE ROOM IN LONDON FOR CHRISTMAS Lovely double room in a lovely London house, available for 2 weeks 10-26 December in return for cat-sitting! If you would like to spend some time in London, please email for more details. (29 Oct)
ROOM TO LET IN SPACIOUS HOUSE Sunny double room in Luddendenfoot to share with creative, quiet female (52). Available 1st December. Large kitchen/dining room with wood-burner. Fabulous view. GCH, shared bath / shower. £350 pcm. 07946 357022 or email (29 Oct)
LEAD ON - DOG WALKING SERVICES Walkies! Yeh! Professional Friendly Dog walking and Sitting Services. All walks tailored to meet your dogs needs :-) Night time visits available. Please call Jak on 07894 165962 for an informal chat and more info. (27 Oct)
CLEANING SERVICES  Reliable and flexible cleaning services available. Contact me on 07305 494448 or email (24 Oct)
BUGABOO CAMELEON PRAM
Georgeous Bugaboo Cameleon Pram: Includes carry cot, foot muff, rain cover, maintenance kit & instructions. All original Bugaboo. From smoke free clean home. £250. Call 07506 692373. Collection only - Todmorden (22 Oct)
WANTED TO RENT I am looking to rent a 1 or 2 bedroom flat or house long-term in Hebden Bridge, ideally within 20min walk of the town centre. Locally employed, nonsmoker, no pets. Can afford up to £450pcm, with 6 months paid up front. Please call/text 07543 084317 or email (20 Oct)
ACTING OPPORTUNITY to play part of a midteens male in The Battle of Heptonstall, a Sky Arts funded community play. Position is open to male and female performers (think Maxine Peake, Hamlet). The show will be performed in Feb 2019, with excerpts being filmed by Sky in December and performed in The Barbican in London. A great opportunity for the right candidate. 07795 835846 (18 Oct)
POLARITY THERAPY Free energy medicine by professional health practitioner 20 years experience.  Pain of mind or body or just a  natural altered state. £7.00 for room hire at Hebden Bridge Energy centre. Call Sarah on 07546 578732 (15 Oct)
HAIR AND MAKEUP ARTIST I'm a 33 year old male who has worked on many West End shows as Hair and Makeup Artist. Relocating to Hebden Bridge and I'm looking for advice on part time or full time work. Please email (12 Oct)
CLEANER WANTED Please remove ad - we have had a good response
LEARN TO PLAY GUITAR Acoustic, Electric, Guitar Lessons with experienced teacher/ musician, songwriter, M.A.Music Education, ex.pro musician, DBS checked. Beginners, Advanced, Special needs welcome. Also flute, piano. Email. Tel: 07984 201574. (5 Oct)
FRENCH TEACHER: Qualified and experienced French native teacher. friendly, patient and approachable. KS3, GCSE, A level, Degree. Adults from beginners to advanced levels. Email or Call Samantha 07549 686289 (Samantha) (5 Oct)
2 BEDROOM HOUSE TO LET, HEBDEN: 2 bedroomed House to let in Hebden Bridge. Quiet street, close to centre. Part furnished. No pets or smokers. Bond and refs required. Available end October. Please email (1 Oct)
1-BED FLAT WANTED (SHORT TERM LET) Hello! I live in London, but am in-between places, and in need of a home, in November. I'd love to escape the smog, be closer to family and live in Hebden for the month. Please email. (29 Sept)
WANTED TO BUY in New Year 2019: 3 Bedroomed House with Views! Hebden Bridge, Old Town, Heptonstall, Mytholmroyd, any condition, as can renovate and decorate! Maximum price £130K. Please email details. Many thanks (28 Sept)
BOAT TO RENT - Central Hebden, until approx New Year. Comes with 4 cats and 3 ducks to look after. £250 pcm plus cost of pet food, approx £70 per month. Very warm and cosy. 07920 053505 (24 Sept)
FREE UPRIGHT PIANO Attractive Edwardian piano suitable for a beginner free to anyone who can collect it. Only giving away as children have moved out. Location: Mytholmroyd. Phone or text: 07749 759869 (23 Sept)
2 BED HOUSE TO RENT, TODMORDEN Terraced house avail 4 Oct Short/long term contract £415 pcm + returnable bond 2 lge bedrooms modern kitchen and bathroom GasCH DGlazing 2min walk to shops, 10 to train station. To view 07871 042646 (21 Sept)
GRAPHIC DESIGN SERVICES Friendly and affordable creative graphic design services. Print, digital, branding, logo design, websites, murals, signpainting - No job too big or too small. Visit my website and email with your requirements. (17 Sept)
OFFICE SPACES TO LET All inclusive monthly packages including Broadband Shared kitchen facilities. Heating and lighting included. Close to all amenities of Mytholmroyd. Client meeting reception area. Please email us for more information or to take a viewing. (16 Sept)
ANGELIC REIKI HEALING Sundays, Starting Sept 23rd. Hourly sessions 10am-3pm £40 per session. Buy block of 4 - save £10. Please email if interested payment method: bank transfer /cash. Working hand in hand with the Angelic Kingdom, Blessings, Cathy, Angelic Reiki Master (16 Sept)
VW CALIFORNIA CAMPERVAN FOR SALE
Fabulous 2015 California Beach camper. Two double beds, storage, built-in heating, awning, table & chairs, Bluetooth, alloys, parking sensors. Lots of extras. 40,000 miles, one owner, full VW service history. More details by email (11 Sept)
KNUMA HUDDLE 4IN1 BEDSIDE CRIB REP £219.95 Used for a few months but in perfect condition (smoke/pet free). Can be adjusted to maximum mattress height of 70cm, one of the highest cribs in market. Selling for £130. 07768 111770 (10 Sept)
NEW 36" NORTHFACE ROLLING THUNDER TRAVEL BAG Brand new unused 36" North Face Rolling Thunder Travel Bag. Bought in error for £280. Selling for £200. Location Hebden Bridge. Text or ring 077 666 41103 or email (8 Sept)
HAND MADE KITCHEN FOR SALE Now sold
INDIAN RETREAT TICKET FOR SALE - no longer available
COTTAGE TO LET FROM AUGUST: Just to say that my cottage has now been let. Thanks once again to HebWeb!
2 BEDROOMED TERRACED HOUSE now let
Some successful ads
TWO KITTENS NEED A HOME! It took a little while but our two boys have just been collected to go to an amazing new home. Thank you so much. Good old Hebweb!
ROOMS IN HOUSE Now taken: I had a great response
2 BED BACK TO BACK TO LET - Hi there I have found lovely tenants for my house in less than 24 hours. Amazing! 
WANTED: A ROOM FOR FEBRUARY: Thank you to everyone who responded (too many to reply to personally). I have somewhere now.
TWO BED HOUSE TO LET: "I took out an ad on 15 August and have had an overwhelming response. It's now been let"
NARROWBOAT FOR RENT now let. I had a lot of enquiries from Hebweb, thanks!
WANTED P A / CARER I have had loads of responses to my ad re PA/Carer and I have appointed to this post.
PERIOD COTTAGE TO RENT IN HEBDEN BRIDGE: We have let the cottage now and so you can take the advert off the site. We had a fantastic response - thank you.
CREATIVE SOCIAL MEDIA PERSON PART TIMEWe recently placed an ad with you, the response has been incredible & the quality of applicants
outstanding, the position has now been filled
Elevated Victorian Stone Terraced Cottage Please remove my ad with the picture.I have got a tenant. Thanks. Inundated with people requesting information
TO LET - SPACIOUS 3 BED TERRACED HOUSE: It went up yesterday and I've found a tenant! I'm so pleased, thank you.
More responses from successful ads