Small Ads
£10 for 4 weeks | £25 for 3 months | ADD YOUR AD | Add photo option | FAQs | HebWeb home page
HebWeb small ads
BONJOUR HEBDEN CAT LOVERS
Je m'appelle coco the cat. I'm 10 years old; a feisty, loving cat with lots of personality. I've lived in rural France all my life but now need a new home in the UK. I love being outdoors but also enjoy human contact and I like children. I would prefer to be in a single-cat household. Please email. 14 Aug 2022
WORKSHOP TO RENT: Workshop available approx 30 ft x 40ft fully fitted for woodwork, large bandsaw, 160mm planer, morticer,cut off saw, pillar drill. Water and electric included. £400 month Tel 07528 043239. 12 Aug 2022
TROPIC SKIN CARE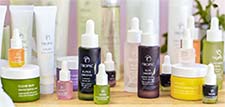 Hello my name's Emma, I'm a Tropic ambassador. The reason I love tropic skin care is that its vegan, organic, ethically sourced, completely carbon neutral. More info - WhatsApp: 07841 485476 or see online shop 11 Aug 2022
TOWN HALL RECEPTION VOLUNTEERS Can you spare 2-3 hours per week? We need volunteers to welcome people, answer the phone, sort the mail and sell walking leaflets. The short shifts are on weekdays 8.45am - 4pm. Email for application form. 8 Aug 2022
SEEKING ROOM TO RENT Large double room sought - preferably ensuite. A quiet home with views and outside space. Mature lady, non smoker loves outdoor life, animals, reading. Max Budget (£380pcm) looking for at least 9 months rental. 07584 949437. 7 Aug 2022
HOUSE TO LET - Now let. "Thanks very much - I had a really good response."
YOGA FOR KIDS 5-11 Indigo Star Yoga Club. £30 per 6 week block or £6 per class. Starting from September, Tuesdays 3.30-4.30 at the Calderdale Yoga Centre, Unit 2 Hangingroyd Lane. Contact Lisa Moreland at 07528 033003 or email. 1 Aug 2022
LOOKING TO RENT... Accommodation for myself and my little dog. Large room or entire home. Sharing possible. I am a freelance arts and events professional. Garden essential. Rent negotiable. Please email. 30 July 2022
HOUSE SHARE: 2 rooms available to rent in Heptonstall, one is £450 and one is very large at £550 all bills included. You'll be sharing with myself, female creative and musician. Available immediately. Email me for details. Thanks. 28 July 2022
SEEKING ROOM TO RENT Hello I am seeking a room to rent in Hebdun. My budget is 450. Please contact me on 07941 015313! I am a self employed musician, I like yoga, hiking, reading and philosophy! 26 July 2022
ARVON LIVE WRITING DAY at Hebden Bridge Town Hall. Arvon's Lumb Bank is running a Live Writing Day with Will Self and Amy Liptrot on Sunday 28th August. More details in the HebWeb What's On section. 22 July 2022
LOOKING TO RENT 1 or 2 bedroom property in Hebden/ Mytholmroyd area within next month or so. 07968 727570 or email Geoff. 18 July 2022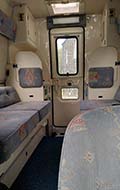 ROMAHOME DUO CAMPERVAN FOR SALE 98,900mls 1.9L 2003. £12,500 Manual; 2 belted seats/ berths; End kitchen; New clutch 2021, new water pump 2022, good condition & good maintenance record. Price reflects no fixed heater. Interested? Phone 07817 545346. 17 July 2022
TODMORDEN RENTAL WANTED Family with two children (9 and 12) looking for a long-term 3-bed rental in the Todmorden (or Hebden?) area. Employed with good references. Please email or message/ call 07415 204645. 15 July 2022
HOLIDAY LET HELP: Reliable person with an eye for detail needed to prepare a holiday let for guests throughout the summer. Competitive salary and training provided for the right person. Car for laundry drop off/pick up prefered. Please call 07702 074345 14 July 2022
BROMPTON FOLDING BIKE WANTED Wanted: Brompton folding bike. If you have one that you want to sell, I would be interested in buying it! Must have gears, and preferably mudguards. I'm in Mytholmroyd, can collect locally. Please email. 9 July 2022
VAN CONVERSION FOR SALE Cabin Style LWB Citroen relay 2011 with 112k miles. Wood burner, Dometic 50l freezer / fridge, Propex LPG heater, LPG stove, Composting toilet, Underslung waste water, Large fresh water, 650 watt solar setup, 200ah deep cycle battery (split charge-able + solar). Can add hookup if needed but I have not needed it due to size of system and split charge. £12,000. 07535 266699 if interested! 5 July 2022
PAINTER AND DECORATOR Experienced and friendly local painter and decorator. Interior and exterior, small and large jobs, reasonable rates and plenty of references. Contact Jess on 07434 951350 for quotes. All work comes with a smile. 1 July 2022
FORD TRANSIT MINIBUS REQUIRED - Registration year:2001-2005. Medium Wheel Base. High Roof. Side Door. Windows all round. Mechanically sound. Rust-free. Long MOT.
Required asap summer work and campervan conversion. £4k or less. Please email. 28 June 2022
HAWORTH HOLIDAY RENTAL 14th - 23rd August. Central Haworth stone cottage with two double bedrooms (sleeps 4 guests). Bohemian home in the centre of literature's heartland Haworth. Free parking. £350 for 10 nights. Email to find out more. 27 June 2022
HEBDEN HOUSE WANTED TO BUY - Cash buyer is looking for Hebden (within a mile or so) house, 2-3 bedrooms with some outdoor space. Please ring 07794 400 212  or email. 25 June 2022
GREEK TUITION - I'd like to learn some basic Greek. If anyone knows of anyone around Halifax, please email. Thank you. 24 June 2022
STUDIO FLAT FOR RENT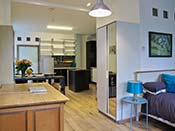 Fantastic studio flat available Aug 1st, single person or couple. Fully furnished and equipped. Part of old mill stable. Entrance with entry phone. Sorry no smokers or pets. £800/month all inclusive. E-mail for info. 21 June 2022
WANTED: FLAT/ HOUSE TO RENT in the Hebden Bridge area. Two or more bedrooms. Furnished or unfurnished. Single man, no pets, don't smoke and am permanently employed. And I can clean up after myself! Budget about £750 pm. Text 07956 160 536. 16 June 2022
CLEANER Reliable cleaner covering Hebden, Mytholmroyd and Sowerby Bridge areas has some 2 to 4 hour slots available. Tuesday, Wednesday and Thursday. £15ph. Ring or text to 07810 170073 12 June 2022
ROOM TO LET EASTWOOD House Share with woman and dog. Room in canalside property between Tod and HB. Communal area, spacious kitchen. On canal side, gardens. parking. WiFi. 5 mins walk - bus stop. £450 all incl 07946 777839 10 June 2022
PA/CARER WANTED BY DISABLED WOMAN Heptonstall from Mid June. Tuesdays, Fridays 4.30-9.30pm £9.71-£10.71 per hour. Female, driver, non smoker, likes outdoors. Personal care, household, gardening, outings, computer etc. 01422 647053. Or email. 6 June 2022
ALCOHOLICS ANONYMOUS Alcoholics Anonymous meeting. Salem Community Centre. Salem Street. Friday night at 8pm. 27 May 2022
10% OFF FLOOR SANDING JOBS FOR THE NEXT 30 DAYS Lagler PST certified floor sanding and finishing services covering Todmorden, Hebden Bridge, Halifax and all surrounding areas. Lagler and Festool machines available to hire as well as Festool extraction. See this website link 26 May 2022
WANTED: HOUSE TO BUY Wanted, 2-3 bedroom house in or close to Hebden Bridge, Heptonstall, Mytholmroyd or Tod with sunny garden. Cash buyer. Please email or text 07415 473565. 24 May 2022
WANTING HOUSE TO BUY Looking for a 3 bedroom house with sunny garden/ outdoor space in Hebden Bridge/ Heptonstall. We have sold our house and will be cash buyers. Please email. 20 May 2022
CHEF AND KITCHEN ASSISTANT Nelsons wine bar have two kitchen positions Experienced chef and a kitchen assistant. Please send your cv or call 01422 847643 or pop and see us Tuesday to Saturday 12 til 6. 16 May 2022
SAM'S ENGINEERING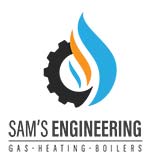 For gas installation, breakdowns and repairs, landlord safety certification. Call Sam on 07427 287578. Gas Safe No. 653662 11 May 2022
WANTED: GARAGE OR PARKING SPACE TO RENT Garage or parking space wanted for safe car storage. Cash paid in advance. Please contact by email in first instance. 7 May 2022
WANTED: SHORT TERM RENTAL: We are a couple plus cat looking for a property to rent from 31st May for about 3 months (whilst we are waiting for our house purchase to complete). Would like 1-2 bed property with parking and wifi. Flexible as to location. Rent up to £700 pcm.  Please email 5 May 2022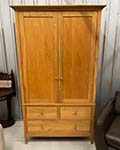 JOHN LEWIS WARDROBE Very good condition.
A bargain at £75 considering the quality. 
Call for more details and photos - 07861 646461.
5 May 2022
PART-TIME BOOK-KEEPER: 9 hrs/week on average. £10.50/ hour. Closing date: 23rd May. Interviews: 27th May. Immediate start. The Town Hall is looking for a part-time book-keeper to join our team, experience essential. For a full job description  please email or visit our website 4 May 2022
CLEANER WANTED At the Birchcliffe Centre, 4.5 hours a week spread roughly evenly between Thursday and Friday, starting at 3.30pm (or a tad later, to suit). During term times. £13.50/hr. Please email 3 May 2022
ACTING/PUBLIC SPEAKING COURSE - Interest in acting? Want to gain confidence in public speaking? Looking to have some fun in a creative, performance based environment?  Please email  to show interest in an intensive 8 week adults acting course. 29 April 2022
ACCORDION Would you like to learn the Accordion? Try something a bit different? Lessons offered by a very experienced and versatile musician/ teacher/ actor in the Calderdale area and beyond. Email or call 07768 344056. 28 April 2022
PROOFREADING SERVICE A certified proofreader and member of the CIEP*, available for work in a wide range of areas, including but not limited to: nonfiction books, newsletters, blogs, menus, flyers, and leaflets. If your interest has been piqued, please get in touch via email to discuss whether I can be of help to you and your project. *Chartered Institute of Editing and Proofreading. 27 April 2022
2 BED FLAT WITH ROOF TERRACE: Hebden Bridge centre, unfurnished 2 double bed flat available immediately. Lovely roof terrace leading off kitchen and living room. £750pcm. Tel 07851 424876 26 April 2022
RECRUITING TEACHER & TA Our mindful, democratic learning community is looking for new staff. 2/3 days a week from September 2022. Are you passionate about helping young people to learn and thrive? Learn more and apply here. 26 April 2022
DANISH LESSONS REQUIRED I need conversational Danish sessions / Lessons. Currently studying online but need practice too. Happy to pay cash or exchange for Violin / Ukulele / Guitar lessons. Contact Andy on 07970 478 239 or email. 26 April 2022
WANTED: LAND TO RENT: 1 to 3 acres, grazing land to rent. Hebden Bridge, Mytholmroyd, Todmorden or surrounding areas. Tel: 07511 039884 25 April 2022
WANTED: FLAT/SMALL HOUSE TO LET HEBDEN BRIDGE/TOD Please could you take my ad down? I've managed to find a place through the ad 
Some successful ads
ROOM TO RENT IN SHARED HOUSE "Thanks for your help, great response as always!"
1 BED COUNTRY COTTAGE TO LET - succesfully let within 3 days of posting

WORKSHOP ASSISTANT REQUIRED Vacancy filled
CLEANER / SUPERVISOR FOR 2 X HOLIDAY LETS Just a note to advise we have filled the position and we are very grateful to all the applicants who took the time to contact us. We wish everyone well and thanks to HebWeb for providing this service to the community.   
2 BED HOUSE TO LET - Now let
ROOMS TO LET We have had many enquiries and have now agreed to let the rooms
WANTED: SUPPORT 'I've had too many answers  and I've got someone starting on Monday so please take the ad out.' 
HOUSE TO RENT IN TODMORDEN Can you please remove my ad for the house at Tod as it's now been let, the response has been amazing
ANTIQUE RUG FOR SALE - now sold
MOBILE HOME TO LET "Lots of response, as usual from Hebweb, and found a great tenant...many thanks, keep up the good work!!"
2 BED HOUSE TO LET 'Our house let very quickly so pleae could you remove the advert for it. Many thanks'

LARGE SPACIOUS ATTIC ROOM Many thanks. The room has been let now. Please could the advert be removed as I am receiving alot of enquiries from people
2 BED TERRACE AVAILABLE - now taken
HOUSE FOR RENT IN HEBDEN BRIDGE 'I put this ad on yesterday and have had an overwhelming response'
SEMI RURAL COTTAGE FOR SALE "offer received within a week of listing on HebWeb. Brilliant, thank you!"

MAZDA BONGO FOR SALE
- Now sold
2 BED HOUSE - "snapped up at the first viewing"
2 BED MID-TERRACE IN CRAGG VALE "The property was let the same day it appeared" on the HebWeb. 
HOUSE TO LET IN TODMORDEN Now let
HOUSE TO LET - The house was let quite quickly - thanks to HebWeb.
BUSINESS I had about 8 replies and have found the right person.
LOVELY 2/3 BED HOUSE FOR RENT - now let
BEAUTIFUL OAK TABLE & 6 WICKER CHAIRS - now sold
2 BED FLAT IN CONVERTED CHAPEL - We were inundated with enquiries from potential tenants. (20 May)
1 BED FLAT LUDDENDEN FOOT "The flat has been let so please take down ad.. Many thanks!! (15 May)
OFFICE/STUDIO ROOM TO LET TODMORDEN "Brilliant as ever, Thank you. Ads fulfilled" (22 May)
2 BED FLAT AT LUDDENDEN FOOT
Now let
2 BEDROOM HOUSE AVAILABLE I've had so many people message about this I can't keep up with replying.
3 BED HOUSE TO LET / CENTRAL HEBDEN BRIDGE I'm pleased to report that the house has been rented as a result of the ad
HOUSE TO LET No longer available(12 Feb)
SHORT TERM SINGLE ROOM AVAILABLE Taken (5 Feb)
MYTHOLMOYD - HOUSE TO LET Now let

FRIENDLY HOUSE SHARE: I advertised my room yesterday and it's gone already
3-BED HOUSE TO RENT
"The advertised house has now been rented thanks to you."
HEBDEN HOUSE TO LET - very successful (the place was let within 4 days)

CLEANER/HOUSEKEEPER REQUIRED We filled the vacancy thanks to the Hebweb, brilliant service.
2 BED FURNISHED HOUSE TO RENT Thank-you. It's now let, great response from Hebweb.
MAZDA BONGO FOR SALE - now sold
2-BED FURNISHED COTTAGE HAWORTH Now let
MISSING CAT "Such a brilliant and immediate response means that he has now been found"
WOMEN'S ELECTRIC BIKE Now sold

2 BED FLAT IN CONVERTED CHAPEL We had loads of interest and have now found great tenants, thanks so much.
2 BED HOUSE, HEBDEN BRIDGE Thank you for another successful ad!
FOR RENT, TODMORDEN Please could you remove my ad - I rented it instantly again so thank you!
FLAT FOR RENT Just let it! Please take the ad down and many thanks

BREWERY ASSISTANT We've filled the position now.

WALL MOUNTED PINE UNIT Quick work - I've sold the pine unit! 
WRITER LOOKING FOR A QUIET ROOM -  just placed an ad yesterday. I have had nice replies and wonder if you could take the ad down now?
FULL-TIME EXPERIENCED COOK Just letting you know that we've now filled this vacancy, thanks to HebWeb!
More responses from successful ads.
HebWeb small ads
OAK RUG LOOM: Handmade oak rug loom on stand with castors. Loom size, 650mm wide x 850mm high. On stand size, 700mm wide x 1330mm high. Ideal for hobby rug maker. This ad costs £15, so would appreciate £15 as goodwill. I made this as a friend from Hebden's birthday present. She's since died and I promised it a good home. Contact Roy on 07982 054454. Photo available. 15 Aug 2022
VW T5 AUTOMATIC SWB CARAVELLE CAMPERVAN - £30,000. Initially registered 2011, 1 previous owner (motability). Professional conversion, fsh, 81,500 miles, MOT june 2023, all weather tyres, split charge leisure battery,  pop top roof, 5 belted seats, rock'n'roll bed, bespoke memory foam topper and sheet, USB sockets, 3 pin plug, internal electric lights, EHU, awning rail, curtains, 3-bike rack, table, fridge, storage.  Contact by email. 12 Aug 2022
VINTAGE CAR SOUGHT FOR FILM - Filmmaker desperately seeking a vintage 1970s car for film project 23 / 24th August 2022 evenings only. Roadworthy, taxed 1970s car needed. Filming Locally. Contact by email. Expenses paid plus credit on film. 11 Aug 2022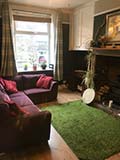 RENT 2 BED FURNISHED HOUSE FOR SEPT-OCT
Furnished bright two bed house to rent for two months only- in September-October. Rent £700pm including bills. Payment in advance ideal. Please email.
9 Aug 2022
DOUBLE ROOM TO RENT IN TODMORDEN Sharing with creative female. Lovely stone cottage, open fire place. Rent includes bills and accounts for the upcoming price hikes in energy bills! Small outside space with some room for growing plants. £530 a month. Please email. 7 Aug 2022
GARDENING and outdoor jobs, Pecket Well, to assist disabled person. £10.55 per hour. Afternoons. Approx 6 to 8 hours per week, less in winter. Beautiful large garden, trees and vegetables. Tel 01422 844914. 6 Aug 2022
HOUSE FOR SALE
Artist home for sale, with so many lovely details, outdoor space with relaxing elevated views over the canal.
Peaceful, creative zone. 2 miles from the town centre.
Call 01422 756001 today! 3 Aug 2022
PERSONAL ASSISTANT for disabled woman, Pecket Well. Domestic, cooking, cleaning, admin, occasional driving. £10.55ph, £12.55 w/end. Hours and days negotiable, approx 6 to 12 hrs per week around lunchtimes. More hours available from March 2023.  01422 844914 for details. 31 July 2022

HEBDEN BRIDGE ARTS SEEKS NEW BOARD MEMBERS: Interested in the arts? Could you be one of our new trustees? Hebden Bridge Arts is recruiting two new board members, volunteering up to 4 hours each month. More info. 27 July 2022
SUPPORT WORKERS - Support workers required to care for a young girl, 2:1 with cerebral palsy living in her own home in Heptonstall. There is a range of shifts available which are days, nights and sleeps. Experience in complex care preferred but not essential. Pay rate from £10.00 to £14.50 per hour. Please contact us via email. 22 July 2022

VACANCY - CLERK TO GOVERNING BODY - The Hebden Bridge Schools Federation is seeking to appoint an experienced, enthusiastic and motivated Clerk to the Governing Body. To begin September 2022. £3500 per annum. More information on our website or Calderdale website. 19 July 2022
LOOKING TO RENT due to house move, couple with son at Uni, 1 dog and 1 cat, 2 Bedroomed house preferably with garden. We are both local and self employed. Anywhere in the Hebden /Todmorden area. Non smokers. Contact Jo on 07811 114161 or email. 16 July 2022
PA/CARER NEEDED Dynamic, energetic person needed for PA/Carer role for a 50 yr old woman in Todmorden with a physical disability. Duties include, dog walking, light housework, companionship, trips out to local area and occasionally beyond but always in Yorkshire. Mileage will be covered, must be car owner/ driver, be a friendly and positive person with a good outlook on life. Inquiries to Abby. 01706 813846. 14 July 2022
ACCOUNTANT/BOOKKEEPER Friendly, personable, creative Accountant moving into the area. Available for any accounting/ bookkeeping work for small businesses. I would love to help any new business start-ups as that's my specialty. Please contact Jeni by phone on 07500 111469. AAT qualified. 20 years experience. 14 July 2022
ACADEMIC BOOKS - Boxes of academic books (many as new ) seek homes. Donations accepted. Subjects include: sociology, ecopsychology, identity & mental health. Images of titles can be emailed. Please email or Tel. 01706-816698. 8 July 2022
TO RENT: 2 bed terrace with small garden. 8 mins walk to town, 12 mins to station. Near Stubbings Wharf pub. 660/pm 07508 827817 to view. 5 July 2022
JOB VACANCIES: Hebden Bridge Town Hall are looking to recruit one or more Duty Officers to join their staff team. More info. 4 July
WORKSHOP ASSISTANT VACANCY: We have a vacancy assisting with a variety of tasks in our sewing workshop where we manufacture bags for the construction industry. No previous experience required, but attention to detail and a methodical approach are needed. A flexible attitude and a team player mentality would be an asset. For more details, please ring 843642 during office hours. 30 June 2022
TO RENT: Now let
ONE MONTH RENTAL Thank you for another successful ad, we now have found a lovely woman to rent our house and look after our cat for a month or so .. brilliant.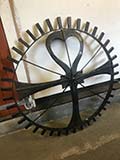 2 YURTS FOR SALE - 1 16ft with stunning black metal crown; 1 16ft plus 3m pod with cool wooden crowns. Unique hand carved poles and beautiful solid wood doors. Wool blankets for insulation thrown in.
07944 863664. 
24 June 2022
GARDEN MAINTENANCE - Grass cutting, Hedge trimming, Weeding, Fencing, Decking/ Fence painting and Flagging. We cover all aspects of gardening. Friendly & Reliable local team. Call or email for a free quote. 07384 315493. 22 June 2022
SEEKING PROPERTY TO RENT Professional couple & well-behaved cat seeking property to rent in/around Hebden Bridge. 2 bed or larger, flexible to start tenancy anytime between July - end September. Please get in touch by email. 21 June 2022
WANTED: PROPERTY TO RENT - Professional couple with small well-behaved dog looking to rent local to Hebden Bridge (furnished or unfurnished). Please call / text 07904 266696. 20 June 2022
HEBDEN BRIDGE CLOTHES SWAP Swap your unwanted clothes, shoes and accessories for new (to you) items at Hebden Town Hall, 11am- 3pm, Sat 16 July. Volunteers needed. See Facebook page - or email 20 June 2022
WANTED: HOUSE TO BUY Buyer ready to move, seeks house with a minimum of 2 bedrooms and garden in Hebden Bridge. Please call or text 07886 349892. 19 June 2022
LOCATION, LOCATION, LOCATION
2.5 bedroomed mill workers, end-terrace cottage for sale, dg, gch, terraced garden and sleep-in shed, quiet, rural setting with short river walk into HB town center, OIRO £300. Please email if interested. 15 June 2022
ROOFING: All roofing work undertaken from small jobs to large! Ridges, Chimneys, valleys and guttering and flat roofing, UPVC facias etc! Done from qualified roofers. 25years. Free quotes! Ring Gerry, P&G Roofline 07929 842617 Or email. Thank you. 10 June 2022
WANTED: HOUSE TO BUY - Looking for a 2+ bedroom house in Hebden to Todmordon area, In no chain & ready to buy. Grew up in the area, wanting to stay local. Please email 7 June 2022
CHILDREN'S YOGA
Children's Yoga to enhance compassion, gratitude, strength, confidence. Saturday mornings from 10.00-10.30 for 5-11 year olds. Beginning 25th June - 16th July Hope Baptist Church Hebden Bridge £20 for 4 sessions 07528 033003 or email. 1 June 2022
PET SITTING While you're away and dog sitting. Keep your pets happy in their familiar surroundings. 07444 087323 28 May 2022
TURKEY HOLIDAY HOME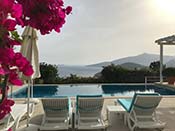 Our beautiful apartment with pool/sea view in Kalkan on Turkey's turquoise coast is available to rent over the Spring Bank holiday and up until June 11th. Dalaman nearest airport. Tel 07721 535011. 25 May 2022
HOME AWAY FOR LOVELY LURCHER!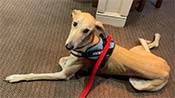 Seeking kind, experienced dog-lover who would love a dog but can't make long-term commitment: we need someone locally who can love our rescue dog as their temporary family member, daytime walks and longer stays. Please email 16 May 2022

IKEA LEATHER SOFA (brown) and chair (cream). Selling cheap as we have no space for it. £60 for the pair.
We are also open to selling individually. Message 07861 646461 for more details or photos. Thanks. 12 May 2022
SPARE ROOM I have a large spare room in Todmorden. Available immediately. Close to centre. Internet and all mod cons. Short or long term. £400 per month inc bills. Please email. 8 May 2022
HOUSE SITTING FOR YOUR PETS while you are away and dog sitting. Keep your pets happy in their familiar surroundings. Contact 07444 087324. 8 May 2022
VICTORIAN HALL STAND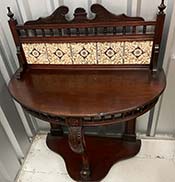 Victorian mahogany and tile hall stand. Very good condition. A bargain at £80 considering the quality and age. Call for more details and photos - 07861 646461. 5 May 2022
IKEA ORANGE VELVET SOFA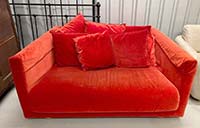 IKEA Orange / Red velvet soda. Very good condition hardly used. Sadly selling as we don't have the space for it. Retails at over £600. Selling for £150. Call or message 07861 646461 for more details. Thanks. 5 May 2022
MUSICAL DIRECTOR NEEDED FOR CALDER VALLEY VOICES (yearly contract) from Sept 2022. This mixed ability community choir meets each term-time Thurs, 7.15-9.30pm, at Hope Chapel, Hebden Bridge. Applicants must be able to lead with enthusiasm & compassion, in dialogue with choir members, developing a new varied repertoire including global songs of peace & freedom. More info here. Apply by 3rd June 2022 by email 3 May 2022
WANTED TO RENT - BUNGALOW OR ACCOMMODATION on one floor. Single man, 61 non-smoker, elderly cat (could be rehomed) less able due to recent illness, needs to return to Calder Valley asap to be near friends and family. Any one-floor accommodation considered. Please email or 07831 142287. 1 May 2022
SEARCHING FOR 2 BED HOUSE Looking for a 2-bed house for myself and a very well-behaved, quiet and lazy pup. Budget up to £800. Please call 07432 690774. 28 April 2022

EXCAVATIONS AND LANDSCAPING
We are a small family run Excavations and groundworks contractor based in the heart of the Calder valley. We specialise in garden alterations, driveways and large Excavations. Feel free to give us a call on 07949 444243 or email for a free quote. 26 April 2022
OFFICE OR ARTISTS STUDIO TO LET - now let
HOUSE FOR SALE HEBDEN BRIDGE: Ad no longer required
CLEANER WANTED We have had several replies and have now found a cleaner
2 BED SHORT TERM LET Ad worked again, home now let so can you please take my ad down
2 BED UNFURNISHED HOUSE FOR RENT - "Thank you. Successfully rented through Hebweb"
Some successful ads
MERCEDES CAMPER "Could you take down the advert please. Another HebWeb success."
ROWING MACHINE - PROFESSIONAL went to the first caller and we got the full asking price.
PART TIME CUSTOMER SERVICE ROLE: Thank you for your help and all the wonderful work HebWeb does.
2 BED COTTAGE TO LET HEBDEN BRIDGE "Had an amazing response to our House to Let ad! Thanks, we have found a lovely tenant"
WORKSHOP ASSISTANT REQUIRED Hebweb has come up with a promising person yet again!
WANTED: A ROOM OF MY OWN I've found a great house in Mytholmroyd and from 1 May, moved in and happy.
WANTED: HOUSE TO RENT HEBDEN BRIDGE: "We put up an advert on 28 March about us seeking a rental property in HB. We have been successful at finding accommodation through Hebweb.""

HOUSE/FLAT WANTED TO RENT "Delighted by the response and now happily accommodated."
2 BED HOUSE TO LET 'Could you take down my ad? I had an overwhelming response. Hebweb is fantastic! Thank you.'
SHORT TERM LET 'Successfully let'
2 BED HOUSE TO RENT
"The house has now let, very quickly as usual. Thanks again for your service"
BAR WORK We have 2, possibly 3 suitable candidates.
ROOM TO RENT, CENTRAL HEBDEN BRIDGE"Good housemate found, quickly as always on your site."
MODERN GREEK - I've had lots of replies to my request for help with Greek.  Could you please take the message down because we don't have room for anyone else.

1-BED HOUSE TO RENT "Please take my small ad down, as I now have sufficient responses. Thank you for your service – it's a great way to reach the local community."
FURNISHED HOUSE "This house is now let, thanks Hebweb"
2 BED MAISONETTE, HEBDEN BRIDGE The property is now let. 
2 BED COTTAGE HAWORTH OLD ROAD The cottage is now let. Thanks once again for a successful advertisement!
COLNE - TIMBER CABIN & GARDEN FOR RENT I now have a tenant. Thank you for your service. (9 June)
HEBDEN BRIDGE:  MINI APARTMENT TO RENT "Brilliant as ever, Thank you. Ads fulfilled" (14 April)
Email received about ad for 2 bed house: "I've had so many people message about this I can't keep up with replying." (5 March)
CLEANER WANTED This position has been filled  thank you 
ONE BEDROOM UNDERDWELLING - now taken
2 BED UNFURNISHED HOUSE FOR RENT Now let
1 BEDROOM HOUSE TO RENT Tenant now found thanks to the HebWeb
HOUSE FOR RENT IN HEBDEN BRIDGE - "Rented thanks to Hebweb"
LOG SPLITTER - now sold
HEBDEN BRIDGE TOWNHOUSE TO LET Found some lovely tenants really quickly, many thanks!

TWO-BED HOUSE TO LET IN MYTHOLMROYD. Once again great success by placing my house to rent on hebweb …. it's now gone so please can you remove it
WAREHOUSE & PICK & PACK OPPORTUNITIES We've now filled the positions.
PICKING & PACKING WAREHOUSE ASSISTANT - We've taken on 2 brilliant staff. Many thanks for helping us again!
3 BED HOUSE TO LET / CENTRAL HEBDEN BRIDGE I'm pleased to report that the house has been rented as a result of the ad

FREE TOPSOIL - I've been inundated with responses, so thanks very much. Who knew there was so much demand for soil?! Could you take the ad down please?
TWO BED COTTAGE TO LET: Like last time, I've been inundated with replies and now have a lovely couple to move in at the end of May, so would just like to say thank you (1 April)
HOUSEKEEPER/MEET & GREET PERSON - we have found a candidate. We wish to thank all those that applied .. the response was excellent as was the calibre of the candidates.
HOUSE TO RENT - GREAT VIEWS AND LOCATION: We have successfully found tenants within one day
HOUSE ORGANISER ESPECIALLY FILING - I had so many wonderful responses to my ad for someone to help me re-organize my house post-flood, I wanted to employ everyone! Thank you.
2 BED HOUSE TO RENT IN CENTRAL HEBDEN - House successfully rented through Hebweb. Fantastic posting wall!
HOUSE TO LET: Now let. "The ad found a new tenant within three days of its insertion so I'm very pleased with that"
EXPERIENCED SECRETARY /ADMINISTRATOR: we have now successfully recruited. We had a lot of applicants via your website again – thanks very much!

HOUSE TO LET: "let within 24 hours of ad going up"
More responses from successful ads.
HebWeb small ads
FREE HOUSEHOLD GOODS Free Hotpoint washer. Tall larder fridge. Very good condition. Also large cream leather sofa. Possibly more furniture. All free! Collection from inside my home. Close to HB centre. Please email. 12 Aug 2022
LOOKING FOR FLAT/HOUSE TO RENT Landlord is selling so looking for a 1-2 bed flat/ house in Hebden. Single, reliable professional, non-smoker. Budget £650 (if 2 bed). Outside space/ potential for future cat preferable but not deal breaker. Please email. 10 Aug 2022
SEEKING TO RENT Looking for a pet friendly 2 bed apartment or house in Hebden or Tod for my partner and I. Budget 750, needed before October. Please email. Thank you! 7 Aug 2022
LOOKING FOR HOUSE TO RENT I'm planning to relocate to HB/Mytholmroyd/ Heptonstall or nearby in October. Looking for a pet-friendly, two-bed house preferably with garden. Budget £700pm. Quirkiness a plus. Please email. 7 Aug 2022
LOOKING FOR ROOM TO RENT Hello! Seeking room in Hebden Bridge/ Todmorden/ Mytholmroyd from mid-August/ early-September, near train if possible. Currently studying MA in peace, conflict and development. Sociable, tidy, easy going. Enjoy nature, reading, cricket. 07557 402204 or email. 5 Aug 2022
TUITION Extra tuition needed before new term? I have 30yrs teaching in primary and additional needs. Dyslexia trained. SENCO for many years. Child centred and friendly. Curriculum designed for the needs of child. Please email. 2 Aug 2022

CATS NEEDING HOMES I'm very reluctantly having to rehome my four much-loved cats, end of September due to getting a job abroad. Three girls and a boy, all around the age of 10, all neutered and healthy, and very friendly and cuddly. Not used to dogs or traffic. Two need to go together to a child free home, the other two would be fine with children. Please email. 31 July 2022

SECURE DOG PARK - Have a reactive or anxious dog or just nowhere safe to exercise them? Our 2 acre park has lots to occupy them, agility equipment/ snuffle areas /space to run. Book a session via LeadsAway.co.uk.
23 July 2022
ASSISTANT MANAGER, SMALL HOTEL - Town centre Hebden Bridge. Boutique B&B looking for Assistant Manager. Responsibilities include managing reservations, breakfast, housekeeping, managing a team, ordering and more. Training given. Above minimum wage. Some weekend shifts. Contact Mark on 07961 296897. 17 July 2022
FREE: OAK GATELEG LEG TABLE SOS - Lovely people have just taken my beautiful table and I know they will restore it and love it. The oak continues its journey...Thank you Hebweb
LOOKING TO RENT: Two full time employed professionals with a daughter looking to rent a 4 bed house in the Hebden Bridge area to be closer to family - looking to move August/ September. No pets and non smokers. Budget £1,200 pcm. Please email at mpatey96@gmail.com with any details. Thanks so much! 10 July 2022
PAINTING & DECORATING SERVICES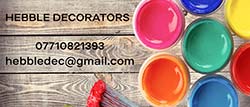 I am meticulous, tidy and diligent always striving to offer the best possible result whatever your project. A former architect, I also offer design advice & ideas if required. Call Michael on 07710 821393 or email. 8 July 2022
HEBDEN BRIDGE QUAKER MEETING Hebden Bridge Quakers meet at Royd Square Centre, Bond St. HX7 7DE every Sunday at 10.30am. All welcome. Our meetings are grounded in silence and stillness. Quakers are committed to working for equality and peace. Email for more infoor 07933 150534 or see website 1 July 2022
LOOKING TO RENT: Local professional looking for room / flat / house to rent by 1st August, closer to Hebden the better - Budget negotiable, got references. 07988 812597. 27 June 2022
WANTED: 3+ BED HOUSE TO RENT: Looking for a 3+ bed house to rent for professional couple and 2 year old daughter. Non smokers and no pets. Max budget £1100 pm. Please email. 26 June 2022
WANTED: 3+ BEDROOM HOUSE TO BUY - Hi there, I'm looking to buy a 3+ bedroom house in the Hebden/Todmorden area. Max budget £325k. Please email. Thank you. 24 June 2022
THE WIZARD IN THE HILLS
Bespoke, high-performance websites that you can update yourself. Prices start at just £300. See website. Contact me via email. 22 June 2022
WANTED: 3+ BED HOUSE WITH LAND Seeking to purchase a rural 3+ bedroom property with minimum 3 acres of land within proximity of Hebden Bridge (ideally within 3 miles). Charlestown, Cragg vale, Heptonstall, Slack all of particular interest. Outbuildings would be a bonus. Looking to return to the motherland with children in tow. Please get in touch if you would like a quick, private sale without estate agent fees. Contact Sean. 20 June 2022
LOCK HOUSE TODMORDEN -
Our 3 Bed, 3 Bath, 2 living areas and recently renovated 1700sq feet Lock House in Todmorden is going on Rightmove from 5th July. If you would like more pictures and information before, please email. 18 June 2022
PERMANENT MAKEUP & MICROBLADING Permanent Makeup specialist with 10 years experience, offering all services for £150 each from a lovely room in Sowerby. Testimonials and gallery of work on FB page. Email Chloe for details. 13 June 2022
2 BED HOUSE TO LET: House successfully let
CRAFTY WOMEN'S BOOKCLUB - Starts July 17th, 11-12. Read books (fiction and non-fiction) relating to arts/ crafts/ textiles/ design. More information: www.queenofmyneedle.com. Friendly group, all arty souls welcome :-) 8 June 2022
JACK OR JILL OF ALL TRADES WANTED - Jack or Jill of all trades needed to help make my Hebden back-to-back an eco-house. Skills: plumbing, electrics, minor partition walls, shower, toilet, removing gas CH system, rads etc (gas capped already) tiling, ventilation, fixing infrared panel heaters to ceilings, painting, making good. Insulation and windows by contractors separately. Email with CV, skills, successful jobs, references, your daily / hourly charge.1 June 2022
WORKERS' MATE Workers' mate for hire. Experience in carpentry, welding, gardening and much more. Any job that needs an extra pair of hands, give Dave a call on 07861857763. No job too big or too small. Available on short notice. 26 May 2022
SEEKING TWO BEDROOMED PROPERTY TO RENT Canine behaviourist and her pocket Pointer (female rescue) looking to return to to Hebden Bridge and her Yorkshire birthplace. Excellent references. Please email. 24 May 2022
LOVELY PINK VELVET LOVE SEAT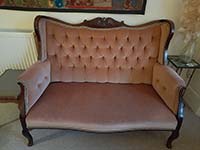 Purchased in Whitby for £350. Moving house so must sell. Asking £150 o.n.o. Please ring 07528 033003. 21 May 2022

GORGEOUS 2 BED FLAT - Central Hebden Bridge, large 2 bedroom flat over 2 floors with lovely South facing roof terrace. £750pcm and unfurnished.
Available immediately. Tel: 07852 424876 or 07766 066336 18 May 2022
THULE ROOF-TOP BOX MOTION 600
Silver Thule roof-top box with keys, very good condition. £150. Phone 07980 847818 13 May 2022
WANTED: CHAIR OR CO-CHAIRS for Hebden Bridge Arts, working with local communities and organisations and professional artists to create and present art, in all its forms. More info
WANTED: 1-2 BED FURNISHED PROPERTY TO RENT Started new job in Leeds and looking for a new home; I've fallen in love with Hebden Bridge/ Calder Valley! 30, non-smoker, quiet, no pets and £750-£1K budget. Please email. 7 May 2022
GEORGIAN CHEST OF DRAWERS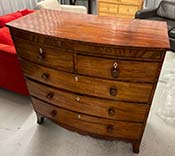 Beautiful Georgian walnut chest of drawers. Very good condition and kept well despite its age. Looking for £200 - bargain!! Message or call for more details - 07861 646461. 5 May 2022
CBT THERAPIST qualified and accredited CBT Therapist offering face to face or online sessions. Also an EMDR practitioner. I can help with a variety of different issues such as Anxiety, Depression, OCD, Panic. Contact number at 07950 136325 or email. 5 May 2022
WANTED TO RENT: a room in Hebden Bridge/Heptonstall area, house share/spare room. Please email or 07784-288744. (3 May)
HAIRCUTS AT HOME Reasonably priced haircuts for adults and children in the comfort of your own home or garden, working with your hair to get what you want (hopefully!) Please email to discuss. 29 April 2022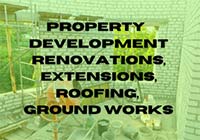 FUERZA DEVELOPMENT
We are a building company with over 30 years of experience in this field. We specialise in home extensions new build developments we also do repair work, roofing and ground works. Please feel free for a free no obligation quote. You can contact us on our website, our email address or mobile 07470 547116. 27 April 2022
EXPERIENCED FEMALE CARER AND ACUPUNCTURIST Available to work in the Todmorden and Hebden Bridge area, able to provide support at home for people of all ages including children. If interested please contact me on 07395 467 351 Thank you 20 April 2022
COGNITIVE BEHAVIOUR THERAPIST - E-mail me to book a free telephone consultation if you need help with anxiety, low mood, OCD or if you just want a happier life. Please see our website 20 April 2022
TELESCOPE TUITION WANTED I have a sky-watcher telescope and would appreciate tuition on how to use it and to check I've set it correctly. I'm in Colden. Would love to hear from you if you can help. Please email or 07747 684018 18 April 2022
WANTED: SMALL HOUSE TO RENT Todmorden/ Hebden Bridge/ surrounding areas. Quiet, tidy and respectful older female seeks affordable long term home to rent in quiet area. No pets. Non-smoker. Can pay up to £450 per month. Please e-mail. 12 April 2022
Some successful ads
2 BED HOUSE FOR RENT HEBDEN BRIDGE - "Another successful letting. Thank you."
GARDENING WORK OFFERED "Thank you so much! I've had lots of responses to my ad. Could you take it down now please?"
WORKSHOP ASSISTANT REQUIRED "Our vacancy for a Workshop Assistant is now filled. Many thanks for your assistance yet again!"
1 BEDROOM TOWN CENTRE FLAT FOR RENT We've had several enquiries and have now found a new Tenant.
HOUSE TO LET Now taken. "Thanks very much for your help in finding a tenant."
SEWING MACHINIST VACANCY "Now filled. Many thanks to HebWeb small ads again."
VW CADDY MAXI FOR SALE Now sold

TRANSPORTER T5 FOR SALE NEW MOT Now sold

VW NEW BEETLE FOR SALE "HebWeb ads magic at it again! Please can you take the VW Beetle ad down."
NISSAN ELGRAND 7 SEAT FOR SALE Successful sale to someone who will enjoy using the van. Excellent result from Hebweb. 
2-3 BEDROOM HOUSE WANTED TO RENT "We have now found a home.  Thank you for a fantastic service. "
CHEAP AND CHEERFUL ATTIC ROOM TO LET 'Happy to say room taken. Thanks'
COSY DOUBLE ROOM AVAILABLE TO SUBLET - Now taken
1 DOUBLE BEDROOMED APARTMENT: Successfully let.  The Hebweb has been fantastic as usual. 
WORKSHOP/STUDIO FOR RENT "Workshop successfully let via hebweb"
1 BEDROOM COTTAGE FOR SALE - MYTHOLMROYD I have accepted an offer from the perfect buyer who saw the advert on your site. (17 Aug)

2 BED UNFURNISHED HOUSE FOR RENT "House was rented almost right away through Hebweb, a great resource. Thanks a lot." 
2 BEDROOM HOUSE FOR RENT - Now taken
ONE BEDROOM HOUSE TO RENT IN HEBDEN - Tenant now found.
GENTS BIKE - "it sold within hours!"
3 BED HOUSE TO RENT - my home has a tenant, that was quick! Please can you take the Ad down.
4 BED HOUSE HEBDEN BRIDGE - now let. I had several enquiries and found some good new tenants.
2 BEDROOMED HOUSE FOR RENT House rented and deposit paid in less than 24 hours!!! Thank you Hebweb (13 June)
2 BED HOUSE TO RENT IN HEBDEN We would like to thank everyone for such a great response. We have now let the property (22 May)
ONLINE YARD SALE (VARIOUS ITEMS) Now sold
HAND MADE KITCHEN FOR SALE Now sold
INDIAN RETREAT TICKET FOR SALE - no longer available
COTTAGE TO LET FROM AUGUST: Just to say that my cottage has now been let. Thanks once again to HebWeb!
TWO KITTENS NEED A HOME! It took a little while but our two boys have just been collected to go to an amazing new home. Thank you so much. Good old Hebweb!
ROOMS IN HOUSE Now taken: I had a great response
2 BED BACK TO BACK TO LET - Hi there I have found lovely tenants for my house in less than 24 hours. Amazing! 
WANTED: A ROOM FOR FEBRUARY: Thank you to everyone who responded (too many to reply to personally). I have somewhere now.
TWO BED HOUSE TO LET: "I took out an ad on 15 August and have had an overwhelming response. It's now been let"
NARROWBOAT FOR RENT now let. I had a lot of enquiries from Hebweb, thanks!
WANTED P A / CARER I have had loads of responses to my ad re PA/Carer and I have appointed to this post.
PERIOD COTTAGE TO RENT IN HEBDEN BRIDGE: We have let the cottage now and so you can take the advert off the site. We had a fantastic response - thank you.
CREATIVE SOCIAL MEDIA PERSON PART TIMEWe recently placed an ad with you, the response has been incredible & the quality of applicants
outstanding, the position has now been filled
Elevated Victorian Stone Terraced Cottage Please remove my ad with the picture.I have got a tenant. Thanks. Inundated with people requesting information
TO LET - SPACIOUS 3 BED TERRACED HOUSE: It went up yesterday and I've found a tenant! I'm so pleased, thank you.
HOUSEKEEPER MEET/GREET DUTIES We have filled the position above. We had an excellent response with 18 applicants making the final selection very difficult.We wish to thank the people that responded and wish them well. We have used the HebWeb site on several occasions over an extended period and we have always had a successful result, and regard it as a most important community resource. Thanks, Calderdale Terraces.
CLEANER REQUIRED
- Ad "Overwhelmingly successful."
3 BED TERRACED HOUSE TO LET Please can you remove small ad put on 9th July. 
I had a response within an hour of the ad going live and the first viewer took the house. I had 8 requests to view in 24 hours. Brilliant!
PICK & PACK/ PRODUCTION ASSISTANT - Please could you close the advert? We've been overwhelmed with the response and quality of applicants! Thanks so much!
TO RENT, LATE OCTOBER Thanks again for sending many very nice prospective tenants my way. I'm very pleased to say the house is now let again so would you mind taking down the ad?
More responses from successful ads