Squeezing out the hits at the Trades
Monday, 20 April 2009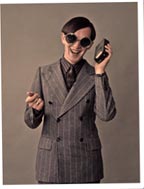 Songwriting genius Chris Difford makes a long awaited return visit to the Trades Club on Thursday April 23rd performing Squeeze classics and songs from his critically acclaimed new album.
Double Ivor Novello winner Chris was responsible for co-writing Squeeze gems like Up the Junction, Tempted and Cool for Cats which are still among the best pop songs of the 1980s.
Since then he has been in a reformed Squeeze before releasing his second solo album 'The Last Temptation of Chris' which Mojo magazine described as 'Difford back on peak form.' Chris has lost none of his lyrical bite with new ditties like Fat as a Fiddle which is an anthem for all middle aged men struggling with beer guts.
As support Chris is bring the hotly tipped Ella Edmondson who is not only a talented singer songwriter but the daughter of comedy gods Ade Edmondson and Jennifer Saunders.
Not only is dad Ade her manager he also set up his own Label Monsoon - named after Jennifer's character in Ab Fab - to release Ella's debut album 'Hold Your Horses' which has been warmly received by the critics.
Friday April 24th sees the queen of British Blues Emily Druce bring her band The Why and Wherefores to the club for the first time.
Emily's incredible voice is backed up subtle Ry Cooderish grooves from dynamic guitarist Steve Jones and a bizarre mix of sousaphonea, occasional didge and some very funky drumming.

The Why and Wherefores have toured widely playing the famous Dingwalls venue in London as well as appearances at the Ullapool Guitar Festival and the Meetmann Blues festival in Germany.
Cabaret Heaven finish the weekend off with a flourish on Saturday April 25th as Topping and Butch bring their review 'Take it up the octave' packed with topical political satire and comic musicianship of the highest order. The leather clad comics were once described by the Daily Mail as 'Twisted' but had the last laugh with four sell out seasons at the Edinburgh Festival winning a bucketful of awards and the Scotsman said they were 'cabaret at its absolute best'.
Support comes from the exotic Madam Laycock and her Dabeno Pleasures and this wild band of Gypsy performers will take the audience on a fantastic journey before hosts Peggy and Bernard seek game contestants for a game show that wouldn't be allowed on telly.
"It's always a pleasure to welcome genuine legends to the club and Chris Difford definitely falls into that category having written some of the best pop songs of all time which he is performing on this tour of intimate venues like ours" Trades Club spokesperson Paul Clarke told the Hebden Bridge Web.
"It's been a while since we had a top flight Blues band at the club but the Whys and the Wherefores are the best of British with Emily Druce confirming her position as the queen of that scene.
"I know Cabaret Heaven have been after Topping and Butch for years and in the present volatile economic climate their hilarious take on recent events will be just the tonic we need in these desperate times."
Tickets for Chris Difford (£10), The Why and Wherefores (£7.50) and Cabaret Heaven (£10) at on 01422845265 or boxoffice@tradesclub.org.

---
Listen now
---
Previously on Hebweb
Southern Tenant Folk Union at the Trades
Becks and The Bullets back at the Trades
It's Ho-Hoedown Time at the Trades
Australia's Emily Barker plays the Trades
St Patrick's Day Shenanigans at The Trades

We try to make sure that the Hebden Bridge Web news is correct,
but if you are aware of any errors or omissions, please
If you have comments on Hebweb news please make
a contribution to our
© Hebden Bridge Web