Cheers! Arts Festival Ale on the Pumps
Monday, 7 June 2010
Audiences at Hebden Bridge Arts Festival will be refreshed this year by its very own locally brewed beer. Produced by local specialists Little Valley Brewery, Festivale will appear in Hebden Bridge pubs, bars and venues from this weekend.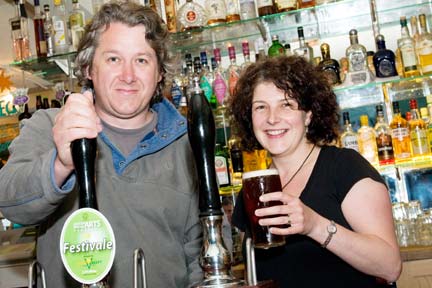 Photo: Sarah Mason
Arts Festival Coordinator, Rebecca Yorke, said "We trialled a special beer last year and wanted to get other pubs and venues involved. The Festival brings many visitors to the town, and we try and ensure that the local economy benefits in as many ways as possible. We're really pleased that so many establishments have signed up to sell our special ale and hope it will bring extra trade to all involved."
Hole in t'Wall proprietor Justin Pringle said: "As a Festival venue, it makes perfect sense for us to sell a locally produced beer to celebrate the Festival fortnight."
The organically produced 3.8% bitter has its own pump clip specially designed by graphic artist Jerome Dineen and is set to appear annually each Festival. Rebecca continued: "We're hoping for real summer weather this year, and lots of opportunity to sip Festivale sitting in the sun."
Festivale will be available at Hole in t'Wall, Moyles, The Fox & Goose, Stubbing Wharf, Trades Club, Hebden Bridge Picture House, The White Lion (Heptonstall), Mytholmroyd Working Men's Club and Hebden Bridge Little Theatre from June 11 until the end of the Festival, which runs from June 26 to July 11.
Contact hbfestival@gmail.com for more information.
The 2010 Festival runs from June 26 to July 11. For more information visit www.hbaf.co.uk, or pick up a brochure around Hebden Bridge over the weekend.
---