Nick Harper hits the peaks at the Trades
Monday, 4 May 2009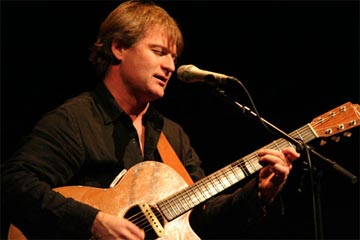 Trail blazing singer songwriter Nick Harper plays the Trades Club on Saturday May 9th as he prepares to set a world record for playing the highest ever gig on the top of Mount Kilimanjaro.

Nick works with the cancer charity Love Hope Strength Foundation so to raise money for them he has already played high altitude gigs on Mount Everest and the lost Inca city at Macchu Pichu. But Nick has set himself a much tougher target to play a gig at the top of Africa's highest mountain which was recently conquered by a team of Comic Relief celebrities.

But before he sets off on his expedition Nick plays his annual gig at the Trades promising his usual energetic guitar thrashing show packed with songs that feature his powerful lyrics tackling politics, emotional turmoil, family and friends.

The weekend kicks off with the keenly fought Trades Quiz on Thursday May 7th as teams of eggheads tackle the infamous music round before scoffing meat or veggie curries at half time to stimulate the grey matter.

On Friday May 8th the club has hooked up with quirky indie label Eli Records to showcase two of their bands. Eli Records is run by Notsensibles guitarist Stephen Hartley who specialises in vinyl only releases complete with homemade hand printed sleeves and artwork.

The ever-reliable Vincent Black Lightning headline the night bringing their own unique brand of indie punk rockabilly promoting their debut album 'Songs From the Underbelly' which is out next week on Eli. Support comes from labelmates Super Johnny K and the Bang Bangs specialising in instrumental surf tunes that will appeal to Quentin Tarantino fans.

Local singer Mabel Blue fresh from a three-month trip to Cambodia also plays a short set of her beguiling songs which recently won her top prize at a Trades acoustic night.

"Nick Harper is a perennial favourite at the club who always delivers a blistering set and we can only wish him the very best as he tackles Mount Kilimanjaro in his quest to set a world record to raise money to fight cancer," Trades Club Spokesperson Paul Clarke told the Hebden Bridge Web.

"Vincent Black Lightning throw in a amazing mix of styles in an incendiary live show and as Eli Records specialise in old school vinyl releases their DJS are promising that if anyone brings down their old 7 inch singles then they will play them."

Tickets for the quiz (£4), Vincent Black Lightning (£4) and Nick Harper (£10) are available form the club at 01422 845265 or boxoffice@tradesclub.info.
---
Listen now
Super Johnny K and the Bang Bangs
---
Previously on Hebweb
May Day weekend at the Trades Club
Peter Kay rocks the Trades Club
Squeezing out the hits at the Trades
Southern Tenant Folk Union at the Trades
Becks and The Bullets back at the Trades
It's Ho-Hoedown Time at the Trades
Australia's Emily Barker plays the Trades
St Patrick's Day Shenanigans at The Trades

We try to make sure that the Hebden Bridge Web news is correct,
but if you are aware of any errors or omissions, please
If you have comments on Hebweb news please make
a contribution to our
© Hebden Bridge Web