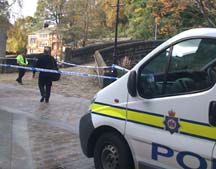 Body found in river by Packhorse Bridge. The body of a local woman, possibly in her 30s, was found this morning around 9am. Parts of Bridge Gate and the bridge are currently sealed off. - 12 noon, 27th Oct Update: the body was pulled out of the river by Bill Deakin of Silly Billy's.
Radio Four comes to Hebden Bridge - to debate nuclear power. Participants sought.
Calderdale Friends of the Earth are urging people to send an email message to Chris McCafferty MP now asking her to support the Climate Change Bill amendments in Tuesday's vote. More info - 24th Oct Update: The Guardian announces that the Government has conceded to the FOE lobby to include aviation emissions (27th Oct)
Garden Street car park - short stay proposals before Calderdale Cabinet - see news - now updated with Parking Wizard response
| | |
| --- | --- |
| | Countryfile - John Craven was out and about around Hebden Bridge this week to record an edition of Countryfile for BBC1, Sunday 19th October. |
Hebden Bridge: " the great unwashed" - see news
Important Railway Passenger Survey - with an online option - 14th Oct
Upper Valley Forum meetings - see events
HBOS Jobs - Gordon Brown offers to meet our MP, Chris McCafferty about worries over job losses. - 9th Oct
GARDEN STREET - Calderdale Council's Director of Regeneration & Development Ian Thompson, responsible for all aspects of the Garden Street development process inside the Council, attended Hebden Royd Town Council on Wednesday, 8th to answer questions from Town Councillors about issues to do with the area. - 8th Oct
KERBSIDE - talks with SITA didn't go well but are set to continue. Paul Brannigan of Kerbside says no decision will be made without real consultation with the community, via a public meeting. - 7th Oct
Archive - updated to include home pages from 2003
KERBSIDE - on the day that senior executives of Sita UK are flown into Manchester Airport for a summit with representatives of Kerbside, Hebden Bridge campaigner Barbara Green is urging people to write letters to Hazel Blears, Secretary of State for Communities and Local Government. See Forum - 2nd Oct
GARDEN STREET - plans thrown out
Hebweb scoop! Well over 300 people travelled to Halifax on a rainy Monday evening and listened for 3 hours while the Garden Street development was debated. The Planning Committee threw out the plans by a vote of five to two. Read report - 29th Sept. - see also Forum discussion of the planning process in the light of Garden Street
"The Battle of Hebden Bridge" - article in Independent on Sunday - 28th Sept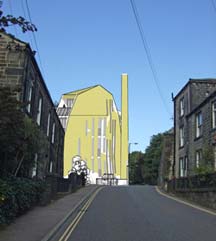 The Keighley Road at Commercial Street with artist's drawing of the Garden Street development - click photo to enlarge - 25th Sept
GARDEN STREET: Action group call on the Planning Committee to reject officers' report, citing factual inaccuracies, misquotations and, above all, lack of balance. Read more - 23rd Sept

Hebden Bridge Trail on your iPod, with audio narration by local actor, Rob Garrett. See our audio-video section or the Hebden Bridge History Walks page - 19th Sept.
Time to mow the roof new eco-building course
- 19th Sept
GARDEN STREET - headline in Yorkshire Post: "Death threats and Nazi insults: The 'wonky skyscrapers' of Hebden Bridge" - see article 18th Sept.
Councils unite on Kerbside - all parish and town councils of the upper valley meet together for the first time - 12th Sept.
Town Hall Team seek help - the group seeking to transform the Town Hall have formed Hebden Bridge Community Association, and are lookiing for a Membership Secretary - 8th Sept.
GARDEN STREET PUBLIC MEETING
Over 250 people attended the lively meeting at Riverside Junior School Tuesday evening, 2nd Sept. Read Hebweb report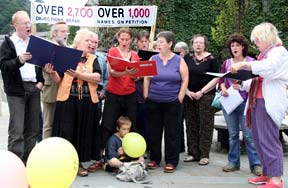 Local choir members entertain those queueing up to make their objections in the square - 30 Aug
The Parking Wizard's sorcery created extra parking spaces - just like that! See details, more photos and video. - 24 Aug
See also Forum response to David Fletcher and Hebweb Feature on our coverage of Garden Street over the past few years. Comment online
Hebden Bridge Gap Year Student
Caught up in Armed Struggle
"Having just been evacuated in the aftermath of 3 bomb attacks on our town community we (the voluntary team) are reeling from the shock of the violence" - full story - 19 Aug
Latest photos and message from Ian Coates' trip round the world on a Honda - Guatamala and El Salvador - see Hebweb feature -

20 Aug
Bhopal challenge ride - in November Hebden Bridge's John Appleby will be taking part in a sponsored cycle challenge in India to raise money for the Bhopal Medical Appeal

- 14 Aug
Hebden Royd and District Swimming Pool Association - questions still unanswered, once again being asked. See discussion thread - 25th Oct
The Seamy Side of Town - Hebweb discussion. Inspector Chris Norbury joins the debate, and reveals actions he and his colleagues have already taken. 23rd Oct
Bradford Interchange closes for 10 days - news
| | |
| --- | --- |
| | Station Road closure: all day Sunday, 26th October - for resurfacing of road and car park. This car needs to be moved. More info and larger photo |
Hebden Bridge student Jemima Foxtrot stars in a powerful new BBC radio play about racism and poetry in the 21st century - see news - 19th Oct
Hebden Bridge student elected to Youth Parliament as MYP - 17th Oct
HB Partnership's celebration of community and activist groups showed what a truly remarkable town we live in - Read more - 8th Oct
Ted Hughes Festival - opens on 22nd October when Andrew Motion will present the Young Poets Award at the Ted Hughes Theatre in Mytholmroyd.
| | |
| --- | --- |
| 2010 will mark the 500th anniversary of the Packhorse Bridge. Click here to see projects planned or already underway | |
Permaculture and Transition Towns - on Sunday, 5th October at the Trades - see events
Small Ads - houses, flat, apartment, rooms and cottage to rent, Maths tuition, learn to draw, car for sale and much more
New station car park
works starts Monday 6th October

PACK HORSE BRIDGE: NO PARKING! (Updated) - Calderdale Council have confirmed to the Hebweb plans to paint yellow lines on part of the old bridge. More info - 25th Sept
Free Radicals - next session on 28th September - see events for full details
Coffee Station wins award - Third Prize in the Best Station Retail Outlet, at the National Community Rail Awards held in Plymouth on Friday night (22 Sept).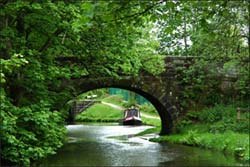 Looking critically at the Rochdale Canal,
our "linear park" - more info 18th Sept.
Nearly 4 months after Under the Bridge was first posted on the Hebden Bridge Web, the Courier reports that "drugs film shocks town" - see our radio and video section for the video, click here for Courier report - 15th Sept.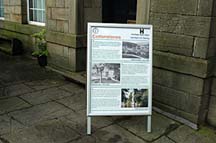 Listed buildings were open to the public and information boards were scattered around town, as part of Heritage Day in Hebden Bridge - 13th Sept.
Hebden Bridge artists commissioned to create installations for Slow Art Trail opening in the Yorkshire Dales this month - more info -

12th Sept.
The West Yorkshire Forget Me Not Trust's Children's Hospice Day on Thursday 25th September at the old fire station - see events for more info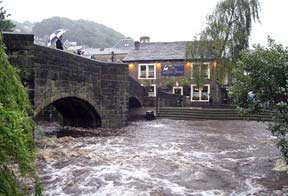 Above: the pack horse bridge over the Hebden Water on Friday, 5th September. (Photo: Jason Elliott). On Saturday, floods at Walsden delayed trains - bus replacement to Rochdale. 6th Sept.
Eastwood Festival cancelled - planned for Sunday 7th September 2008 -the site is waterlogged and more rain forecast for
Sunday
HebWeb News - see over a hundred pages of news items (mostly with photos) and dozens of shorter items from this year's news of Hebden Bridge. See also our archive section for previous home pages, older news and forum messages. Please help the Hebweb by supporting our advertisers.
HB History Group - winter dates now online
- see events
Next Area Forum for the Upper Valley to be held at Birchcliffe Centre - added 2nd Sept.
Asbestos, now banned in the EU, kills up to 4,000 people a year in the UK alone. This week's New Statesman reveals how the industry hid the truth for decades and why the death toll will certainly continue to rise." - Full article - see also Hebweb feature
Blackshawhead Village Fete - Saturday August 30 2008 - cancelled due to waterlogged field
Guardian on Hebden Bridge: "There probably isn't a more Guardian-y place in the universe. The arty class started coming here in the late 60s, attracted to its then ludicrously cheap stone mills and millhouses. Now you can't move for louche lesbians, academics, journalists, tortoiseshell spectacles and jazz musicians with questionable haircuts. Even the local brass band is so cool it plays ska." - 23 Aug
Tory candidate opposes wind farm - 23 Aug

BT phone boxes under threat - 20 Aug

Latest play from Hebden Bridge's Square Peg Productions, reviewed (with photos) by Geoff Tansey

- 17 Aug
Boarding at a Pecket Well farm, Peter Kelly taught at Calder High from 1958 to 1961, and has sent the Hebden Bridge Web some of his memories. Read more on our History pages - 9 Aug
Time starts again - Carlton clock is working once more - for the moment. The picture to the right was taken at 2pm on 13th August. Update, time now out of sync again, but Hebden Royd to fund automatic system.

- 19 Aug