MAY ELECTIONS - Tory blow for Labour - no Conservative candidate for Calder Ward! More info and discussion about elections for Calderdale, and the four yearly election of Hebden Royd Town Council, and local parish councils - updated 6th April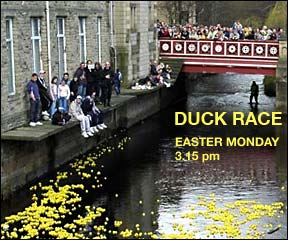 Racial abuse in our "Jekyll and Hyde" town? - See discussion on Living in Hebden Bridge - 6 April
MP welcomes asbestos proposals
More info - 21 Mar
3045 Group's third appeal against refusal of planning permission for 10 "eco houses" on open space land to the rear of Linden Mill has been thrown out. More info - 20 Mar
Controversial plans for Colden Valley -

See also

and
Extensive support for campaign to protect the Colden Valley, as deadline for objections approaches - more info - 20 Mar
Proposed changes to Calder Holmes Park - more info, images and questionnaire - 15 Mar
Leftwing Labour leadership candidate John McDonnell addressed a packed public meeting at the Stubbing Wharfe - more info

- 17 Mar
VIGIL: as part of nationwide protest against Trident, centre of Hebden Bridge. Click image to enlarge. - 15 Mar
Hebden Bridge MP Chris McCafferty to stand down at next election. One of the most marginal constituencies will need a new Labour candidate. More - 8 Mar
FESTIVAL - meeting for those who'd like to help - more info - added 2 Mar
Hebden Bridge Citizens' Advice Bureau may close - more info - 2 Mar
Charity Auction leads Independent's Green Goddess to Hebden Bridge - more info - 2 Mar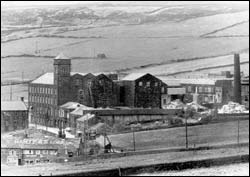 Remembering the ACRE MILL
tragedy on Action Mesothelioma Day
More info and video - 26 Feb
See Planning Watch for proposed illuminated advertising on bus shelters, draining of Pecket Well Mill Pond, Lee Mill Road plans, and more - 26 Feb
Linden Mill "Eco Houses" - Inspector reserves decision. Articles in Independent and Yorkshire Post - more info - 22 Feb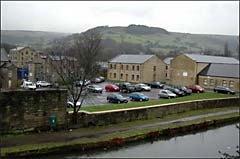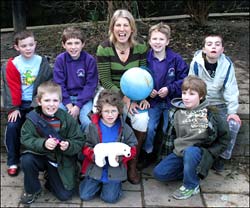 Above: Clever kids are teaching the grown-ups a thing or two in Hebden Bridge. Calderdale Climate Challenge's schools advisor, Heather Morgan is touring the Calderdale area visiting primary schools. More info- 15 Feb
Houses over the River - Mango and co's appeal against refusal of plans: public inquiry on 29th March. See planning watch for info and photos - 12 Feb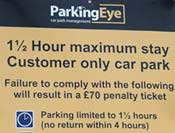 Parking: They're clamping at the Hebden Bridge co-op, and they're clamping at the Mytholmroyd Health Centre - see Hebweb Forum - 9 Feb
Calderdale reject plans for proposed apartments on former health centre site in Mytholmroyd - see Forum - 8 Feb
Residents gather signatures for a petition and to raise awareness about the appeal inspector's public inquiry about the land behind Linden Mill on February 20th at Halifax Town Hall. See previous Hebweb news and discussion - 27 Jan
FLOOD SIRENS - 9 am. The Environment Agency issued flood warnings for Hebden Bridge and Mytholmroyd this morning - 18 Jan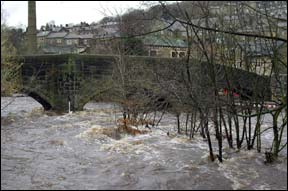 Hebden Water at 9.45 Thurs, 18 Jan
See short video clip
SWIMMING POOL SITE update - 12 Jan
DISAPPOINTING GCSE RESULTS
for Calder High: see secondary results for local schools
- 11 Jan
Large development on Victoria Road gets go ahead - see Planning Watch and news item from November 2005 for drawing and more info. 8 Jan
Small ads recent ads include cleaning service; guitar, stove, house, paraglider and furniture for sale.
GOOD FRIDAY PACE EGG PLAY
See photos - and audio/video
+ new HEBWEB FEATURE on the play,
its history with photos, old and recent.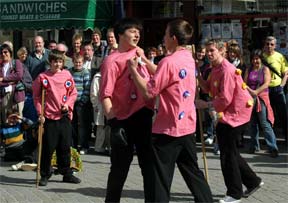 ---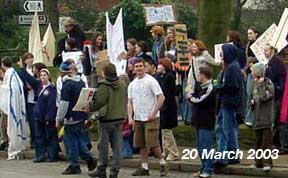 Anniversary of Iraq War: above, 4 years ago Calder High students walked out and protested on the streets of Hebden Bridge - news and comment from 2003
FESTIVAL: Hebdenroyd Town Council grants
£6,000 for star-studded programme - more info - added 15 Mar
FILM about former textile mills: call for interviewees - read more - 14 Mar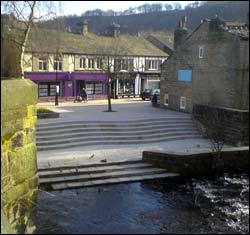 The wavy steps are
now finished and open
Clamping Petition for patients objecting to the clamping at Grange Dene Medical Centre can be downloaded here - more info on Mytholmroyd Net, Hebweb Forum and Hebweb News - 10 Mar
Lives remembered: Eric Williams who died on 1st March in a car crash in France - 3 Mar
Festival Open Gardens - calling all gardeners - more info - 23 Feb
Bus routes: Services cut and prices up but Metro underspends its budget by £1m. Labour asks why.

- 20 Feb
Walkers Day is a great success
- 18 Feb
See also: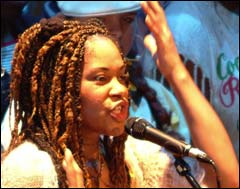 ARTS FESTIVAL wins cash boost for freedom celebration - more info - 5 Feb
The future of broadband: could Hebden Bridge adopt "fibre to home" technology? More info - 11 Feb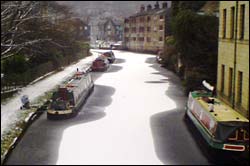 Light snow falls on the frozen canal - 8 Feb
Berringden Brow audio: Stories of Love and Misunderstanding - nine alsations, two hearings and a star witness. Go to the Hebweb radio section to listen to the latest excerpt or subscribe to the Berringden Brow podcast - 5 Feb
Hebweb Forum John Morrison visits to have his say on "Local Spam".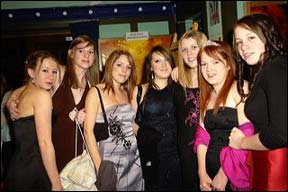 Casino Royale at the Picture House
more photos (from Mike Barratt) - 27 Jan
Festival Open Studios - Local artists invited to open their doors - read more - 22 Jan
Information sought on Helen of Four Gates, a silent film made at Hardcastle Crags in 1920 - see forum - 21 Jan
Should Red Squirrels be
returned to the Crags?

12 January
Discussion Forum: read recent threads
THE HEBDEN BRIDGE STEREOTYPE
Is the image of Hebden Bridge as a town of "hippies wearing hand-knitted jumpers, eating wholefood and smoking roll-ups" now outdated? Penny Wainwright writing in the January edition of Yorkshire Life seems to think so. 1st January 2007, updated 18 Jan
Recently updated sections of the Hebweb:
Useful sites; local websites; maps