JAZZ CLUB
Thursday, 7 January 2010
A brand new monthly, jazz venue starts this January at The Trades Club.
HX7 will feature top quality contemporary jazz from some of the best regional, national and international musicians. The club will also encourage new projects and establish a platform for new and up-and-coming performers.
HX7 will normally happen on the 3rd Thursday of each month, with performances starting at 8.30pm (doors open 8.00). Live music will generally finish around 11, although naturally the club's DJs will continue to play the best jazz sounds around until the small hours. Tickets for performances will generally be around £10 / (£7 concessions and Trades Club members), rising to a maximum of £12 / £10 for some artists.
The Trades Club in Holme Street, Hebden Bridge, is a great venue for jazz, with a surprisingly intimate atmosphere given its 160+ capacity. The well appointed bar has some of the best real ales around and all drinks are at very respectable prices. (n.b. there is currently no disabled access to the venue).
Grand Opening of HX7 Jazz Club
Rod Mason's Elements
Rod Mason: Saxes, percussion
Richard Hammond: bass
Richard Wetherill: piano/keyboards
Dave Walsh: drums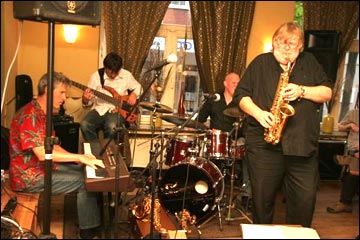 The great thing about The Elements' compelling array of music is that it covers pretty much the entire spectrum of contemporary jazz. Not only that, they rock! The perfect opener for the great new venture that is HX7.
…This band is something else, believe me. 'Elements' is described as Fusion Jazz, though what exactly it is fused with I lack the appropriate vocabulary to describe. With Richard Wetherall on keys; Richard Hammond on bass; and Dave Walsh at the kitchen sink, this band is pulling up trees everywhere I tell you. Four top-class jazz musicians playing at what must surely be near the summit of their powers. Sensational!

Bradford Jazz Club
The Hebden Bridge Trades Club
Holme Street, Hebden Bridge, HX7 8EE
Adv tickets from 01422 845265 and www.tradesclub.info
Thursday January 28
8.30pm (doors open 8pm)
Ends midnight (band finishes around 11pm)
£10.00 (full) £7.00 (concession)
For more information about the HX7 Jazz Club and also more about the forthcoming gigs, go to www.hx7jazz.com or contact Dave Nelson (01422 843315).