Dread Dub at the Trades
11 January 2010
Dub legends Dreadzone bring their legendary sound system to the Trades on Friday January 15th spinning grooves that will lift and inspire the soul.
The sound system show features former Big Audio Dynamite member Greg Dread and Dreadzone singer MC Spee who claim to reinventing dub for the 21st Century. Their explosive sets are full of low-end breaks, shaking beats, rolling basslines and Dreadzone exclusives.
The Dreads sum it up best themselves pledging that the essence of their music is freedom from repetition as proved by their series of sell out shows at the club over the years.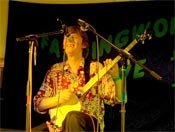 The weekend kicks off with the first Steve Tilston Trades Roots night of the year on Thursday January 14th featuring folk polymath Pete Coe. Pete's extensive CV includes stints as a singer, songwriter, melodeon, banjo and dulcimer player, bandleader, dance caller, folk club organiser, sallow-faced wit and record label owner.
Between all those jobs Pete still found time to knock out a series of popular folk records including the sublime 'Mean Old Scene' and any punters turning up can expect him to get his clogs on for a spot of traditional dancing. The Trades have joined together with Steve Tilston to promote this as a Folk Against Fascism gig.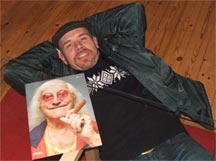 Trades regular Mik Artistik closes a high quality weekend on Saturday 16th January with his usual surreal mix of punk, funk and comedy.
Mik's caustic songs can give the impression he's just escaped from a sanatorium and has inadvertently crashed the stage. Even the highly unpredictable comic genius Johnny Vegas described Mik as 'the Mad Professor of Comedy.'
Dreadzone has always been hugely popular at the Trades and a new promoter is putting on their legendary sound system so I would definitely recommend getting a ticket early as this one will sell out, says Trades Club spokesperson Paul Clarke. He continues:
Mik Artistik is a definite one off with his Jimmy Saville fixation and crazy songs, but he is also a quality live performer with a top notch band backing his ramblings.

I'm amazed that with his busy life Peter Coe has found time to fit us in but he's a top notch singer-songwriter who is a natural fit for our first Folk Against Fascism gig.
More info from 01422845265 or e-mail.