Climber Arthur Dolphin remembered in new book
Tuesday, 12 January 2010
Memories of Dolphin:
The life of a climber remembered
by Tom Greenwood
Hebden Bridge author, Tom Greenwood, launches his book "Memories of Dolphin" at the Trades Club on Saturday 16th January at 3pm.
Arthur Dolphin, originator of some of the finest climbs in Yorkshire and the Lake District, is a legend among climbers and was the greatest climber of his generation.
The collected memories of those who knew him best are published here for the first time.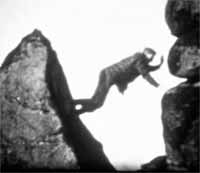 A short film on DVD of Dolphin in action is also included with the book. This grainy, black and white film is remarkable in showing Dolphin leaping up rocks with no ropes or equipment; something we just don't see anymore.
Arthur Dolphin was born in 1925 and grew up in Baildon north of the city of Bradford and on the fringe of the moors of West Yorkshire. Still in his early teens Arthur began to try the hardest climbs on his local gritstone outcrops of llkley and especially Almscliff. In 1939 at the age of fourteen, Arthur and one of his school friends travelled by bicycle and train to the Lake District where they ascended two of the hardest climbs of the time on Dow Crag near Coniston.
Sadly Arthur Dolphin died while still in his late 20s in an accident in 1953.