Arts group HEADS to close, but Handmade Parade goes on
Wednesday, 13 January 2010
Community arts organisation HEADS will close in February but one of its most celebrated events, the Hebden Bridge Handmade Parade, will go on.
The HEADS' Board of trustees has taken the decision to wind up the organisation due to difficulties securing funding.
But the date of 26 June has been set for the parade to continue in the summer, and will be produced by a new bespoke not-for-profit organisation called the Handmade Parade, in partnership with Thingumajig Theatre and the Hebden Bridge Arts Festival.
Chair of HEADS, Lee Comer said:
I would like to thank the staff and Board for their commitment, dedication and creativity, and wish them well with their new ventures. I would also like to thank, all of the participants, volunteers and the local community who have helped to make our projects so successful, and our funders, in particular the Arts Council of England, Yorkshire, Hebden Royd Town Council and the Community Foundation for Calderdale for their support over the years.

I am pleased that the Handmade Parade is continuing and I wish the project every success in the future.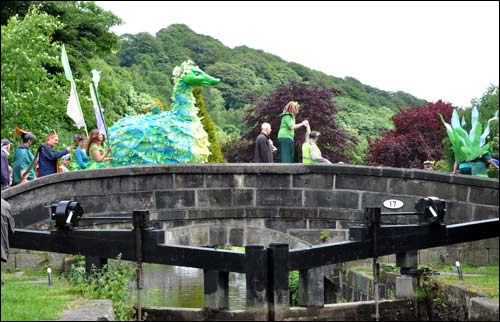 Handmade Parade 2009
Co-founded in 1999 by painter and poet John Lyons and writer Jean Rees, the Hourglass Educational Arts Development Services (HEADS) was set up as a charity to advance the education of the public, including children, in the arts of painting, drawing, sculpture, other visual art forms, performance and creative writing.
Regular exhibitions and weekly art classes run by John Lyons at HEADS' premises, the Hourglass Studio Gallery, flourished. The organisation also started taking art workshops out into the community and this became a key part of the work.
During the early years, highlights included the Saturday Children's Art Club, life drawing classes, exhibitions by sculptor Adrian Moakes and Spanish painter Claudio Capellini, and Drawing on the Earth, a large community art project.
In 2005 it was decided to scale down HEADS' work due to the departure of John and Jean, and concentrate on community arts projects only. From here, arts projects manager Jude Wadley and operations and finance manager Mel Rix took up the reins and successfully delivered a range of projects including dance, music, photography, poetry, video, visual arts, textiles and sculpture projects as part of the Drawing on Water and Drawing in Air programmes.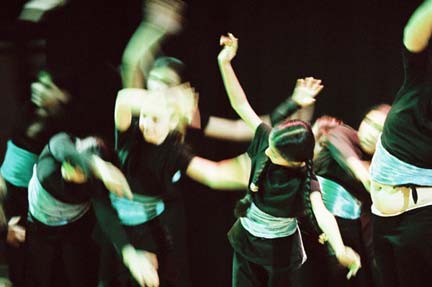 Drawing on Water dance performance at Square Chapel Dec '05
From a textile project with users of Age Concern, to the Dreamflags project with Hebden Bridge community groups and individuals, HEADS always created opportunities for individuals to develop their creative skills through practical involvement in a wide range of activities, helping people to develop their potential within an exciting and supportive learning environment.
Jude Wadley said:
Since my involvement with HEADS in 2005, we've delivered many amazing projects and worked with hundreds of participants of different ages, social and cultural backgrounds in Calderdale. We always aimed to raise confidence and self esteem through positive artistic experiences and gave people the opportunity to work with high calibre artists and present their work in a professional way.

I am particularly proud of the opportunities we created for individuals to perform and exhibit their work in showcases we presented at Square Chapel Centre for the Arts, as for many of these participants, it was the first time they had performed in a theatre. I'd like to thank all the artists, volunteers, groups and participants who have worked with HEADS over the last five years and hope to work with them again in my capacity as freelance artist and arts coordinator.
Dreamflags in Hebden Bridge July '06
During the past two years HEADS has worked in partnership with Thingumajig Theatre to deliver the two highly successful Handmade Parades. Hundreds of people, aged from one month to 95 years, danced through the streets carrying and wearing fantastic parade art which they had made at pre-event workshops organised by HEADS and Thingumajig Theatre.
Mel Rix of HEADS said:
The closure of HEADS is tinged with sadness but I am thrilled that the Handmade Parade will continue to grow and evolve. Anyone wanting to get involved as a participant, volunteer or sign up to the mailing list should go to www.hebdenbridgeparade.org

I would like to thank Northlight Art Studios for being a great landlord, and I am also delighted that Northlight is providing quality creative education at the Back Door Project. The programme offers something for everyone, including art for the terrified, creative textiles, kids' classes and an introduction to ceramics. Further details are available at Northlights Studio. Jude, our administration assistant Sarah Phillips, and myself wish both organisations the very best of luck!