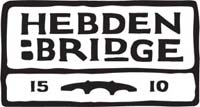 We want your words
They can be comic, moving, surprising, quirky, biographical, romantic, poetic — just keep it to 500 words
If you want to find out how Hebden Bridge links with Maori beliefs, why breakfasting on the bridge is good for depression or read a Tudor time traveller's letter, then 500 Words is the place to go.
Launched as part of the year-long celebration to mark the 500th anniversary of the packhorse bridge in the centre of town, the 500 Words project isn't just about reading other people's writing.
"We're inviting people to send in 500 words about our town," says Chris Ratcliffe of Pennine Pens and the Heb Web, which are sponsoring the www.fivehundredwords.co.uk site. "We are looking for all types of writing – comic, emotional, whatever Hebden Bridge says to you. It might be an anecdote, a recollection, a moving moment or just your general feelings about our quirky town."
But, of course, it must be 500 words exactly. At this early stage, there are just 15 pages of 500 words, but it's hoped that by the end of the year there could be 500 pieces of writing on the site.
Here's one extract, from Graham Barker:
The old bridge kept me from cracking up. I got into the habit of breakfasting first on bacon butties and mugs of tea at Barker's Restaurant, overlooking Bridge Gate. For my second course I would sit on the river wall, relax and swallow whole the bridge and all its centuries. I'd wonder how generations of brassed off, weary blokes like me coped with a three steps forward, two steps back existence. I concluded that they just got on with it, even though many of them had far worse to deal with than would ever come my way. And for an investment of about 15 minutes each morning, it did the job. It blew away all the dark stuff and fired me up for the rest of the day.

And another from Lynn Breeze: If you are a night person you can walk very late through the empty streets, when the town is beautiful and still, and down the wavy steps, to follow the river path. One night, there were two old (too old) people who were seen smiling and kissing on the 500-year-old bridge. One of them was me.
If you'd like to add your words to the project, simply e-mail your piece to Pennine Pens.
The calendar for the HB500 celebrations is already taking shape with special happenings and regular favourites that have added a bridge theme to their own repertoire. An official, civic celebration of the bridge is set for June 19.
A full programme is to be launched soon and there's still chance to suggest other events or to get involved. Contact Jason Boom, Neighbourhood Manager, at the council offices on St George's Street or call 842181.
Details of all HB500 projects, and the events calendar, can be found at www.hebden500.co.uk.