Ted Hughes Portrait donated to Calderdale
A portrait of Ted Hughes, by the artist Reginald Gray, will go on display for the first time as part of a new temporary exhibition, due to open at Heptonstall Museum in April.
Irish born Reginald Gray, who has lived much of his life in France, became part of the School of London which was led by artists Francis Bacon and Lucian Freud.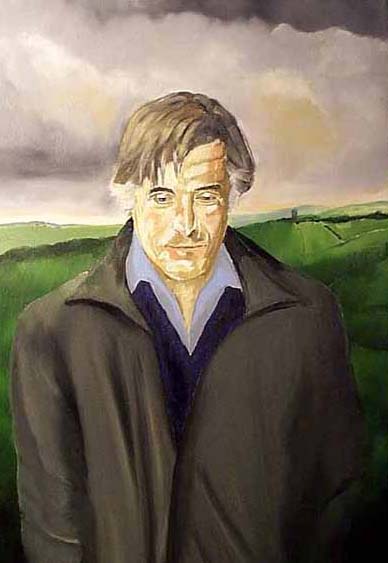 The portrait is an important addition to the museum's collection and shows the former poet laureate against a backdrop of the Calder Valley, the landscape in which he grew up.
That this outstanding work of art will now be exhibited in the Calder Valley is largely due to the friendship which has developed between the artist and Frances Robinson of the Mytholmroyd Net. Following email correspondence between Reginald Gray and Frances Robinson, Reginald originally offered the painting to Mytholmroyd in 2007 to be housed in the then planned for Ted Hughes Centre at the old Station building, which never came to fruition. The Mytholmroyd Net says it is therefore delighted to learn that the portrait will be seen locally at the Heptonstall Museum in April coinciding with the year 2010 marking 80 years since Hughes' birth.
The exhibition looks at the influence of the Calder Valley landscape on the poet and his work, and is being produced in partnership with the Elmet Trust. The timing is particularly significant as 2010 marks 80 years since Hughes' birth.
Reginald Gray is known as one of today's important portrait painters. He was born in Dublin in 1930 and has painted a number of well known artists, poets and musicians including Francis Bacon, Samuel Beckett, Tracey Emin, Helena Bonham Carter and Juliette Binoche. The portrait was painted in the artist's studio at Kings Cross, London, and this will be the first time it has been on display in public. Mr Gray is a great admirer of Ted Hughes' poetry and said the portrait was partly inspired by the poem Your Paris in Hughes' Birthday Letters, published in 1998.
He said: My homage is a very small return for all the pleasure that Ted Hughes has given to me, and I'm very pleased it will be coming back to the area that inspired his poems.
Councillor Ian Cooper, the Council's Cabinet member for Safer and Stronger Communities, said:
We are delighted that this portrait of Ted Hughes has been donated to our museums service, and it's wonderful that it will be coming back to Calderdale and will be on display to the public for the first time.