Bishop of Wakefield to unveil sculpture in new Mytholmroyd Square
Update: see report and video on the Mytholmroyd Net
The new centre piece for St Michael's Square, Mytholmroyd, is to be unveiled this weekend by the Bishop of Wakefield.
Sculptor Nicolas Moreton's 'Eye and the Needle' is the culmination of a year long process that has seen local people involved in the selection of both the artist and design of the finished art work.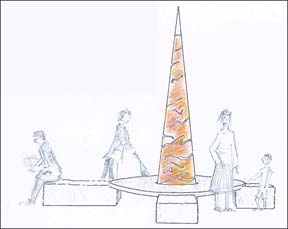 The sculpture, funded by Yorkshire Forward and Calderdale Council, is being installed in the pedestrian area of the Square, near to the river Calder, and is intended to form a spiritual heart for Mytholmroyd.
Vicar of Mytholmroyd and chair of Upper Calder Valley Renaissance, Canon James Allison says:
"Nicolas has created a work that functions both as a sculptural focal point but also a place of social inclusion for sitting around, trading from or even performances to occur."
Nicolas' elegant design was chosen following consultation with the local community in the summer. Four words, chosen by local people, have also been carved onto the granite benches that support the ta ble structure, and a line of Ted Hughes poetry has been incorporated.
Nicolas describes the sculpture as consisting of two main elements referencing local trade and the church, one a horizontal plane of pure granite, the other a vertical axis made from cor-ten steel.
Nicolas says: "By generating people's interest and input into the sculpture and seeing how the square has already been taken to the community's heart, I am sure that the creation and implementation of this public space will be a huge success"
Calderdale Council's Portfolio Holder for Economy and the Environment, Amanda Byrne says:
"Mytholmroyd can be proud of its new centre piece, which provides the finishing touch to the new Square. The Council is grateful for the support of Yorkshire Forward, and to our community partners, Royd Regeneration and St Michael's Church, for their valued contributions to the project."