Near derelict shops on Market Street

About seven years ago CMBC was asked by a local resident, Gwen Goddard to take action regarding the three empty and unsightly shops on Market Street in the centre of our town. The point was made that attracting people to Hebden Bridge plays a big part in the local economy and to have such an eyesore in the main shopping street was no help.
After a couple of months without a reply that Gwen wrote again, this time addressing her letter to the Chief Executive with a copy of her previous complaint. The reply to this said there could be an enforcement order on the premises but the council was disinclined to go down that route.
A few months ago Gwen wrote again. Once more there was a long delay in anyone replying but when one was received it spelled out possible procedures but the underlying message was that nothing would be done.
The correspondence was passed to Cllr Janet Battye, through the Hebden Bridge Partnership, who challenged the relevant officer but got little response. She is now pressing for action to be taken using money from a government initiative.
Meanwhile, there is a petition in The Bookcase regarding these shops. Gwen Goddard has told the Hebden Bridge Web, "If you care about the appearance of Market Street it would be helpful to have a few more hundred signatures appealing for these shops to be cleaned up, repaired and brought back into retail or charitable use."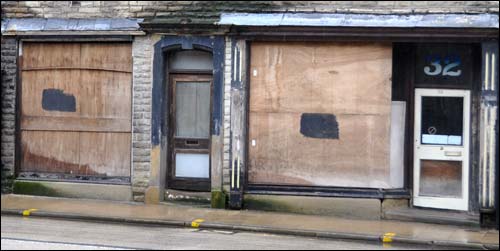 See also