Let's not walk away.
Let's walk together
Saturday, 6 March 2010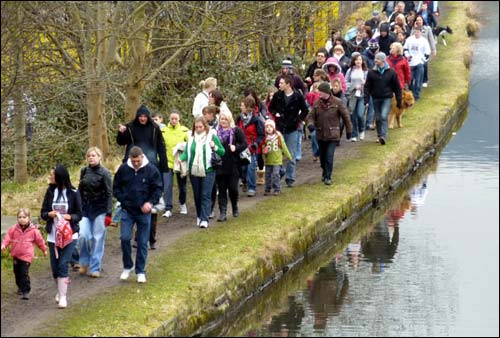 Hundreds walked through Mytholmroyd, Luddenden and Hebden Bridge today on a fundraising walk in the memory of Liam and Sam Jones, and the other young lives that Hebden Bridge has lost in recent years. The walk started at Burnley Road, Mytholmroyd playing fields at 11am and was a family friendly funrun/ walk ending in Hebden Bridge.
The number of deaths in recent years prompted the walk and was an attempt to come together as a community and walk together with the theme of not 'Shedding our tears and walking away' but to 'Wipe our tears and walk together'.
Belinda Jones has previously told the Hebden Bridge Web:
"The death of both my brothers has prompted me to take positive action in addressing some of the problems the young people of Hebden Bridge and surrounding areas face whilst growing up," said Belinda.
"The idea to hold a charity walking event, stemmed from the release of the controversial film 'Shed Your Tears and Walk Away' in which Liam is featured. My hope is that it will bring our community together, raise some money and demonstrate to other young people who are struggling with addiction that they are supported, not judged, by their friends and neighbours"
Each adult had to pay a registration fee of £7.50 and the money raised will go to Branching Out, a confidential alcohol and drug service for Young People in Calderdale aged 10–21yrs. Branching Out offers a flexible, holistic service to young people with a wide range of interventions, providing honest and accurate advice and information and supporting young people to achieve their goals. Interventions include one to one support, counselling, complementary therapies, diversionary activities, clinical treatment, advocacy and signposting. We have a worker based in each locality across Calderdale and can see young people at their convenience.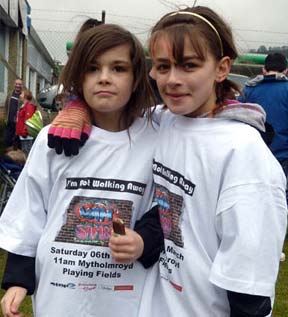 Walkers noted that not a single Hebden Royd Town councillor and only two Calderdale councillors were able to find time for this impressive local expression of community.
Many thanks to Jason Elliott for the photos