Help decide the theme for this year's Handmade Parade
The theme of this year's Hebden Bridge Handmade Parade will be decided at an open community consultation meeting to which everyone is invited.
Organisers are asking people to bring their ideas and enthusiasm to the meeting, which will be held in the upstairs room at Hope Baptist Church in Hebden Bridge next Wednesday March 24 at 7pm.
A new 'not for profit' community interest company has been set up to concentrate on developing the Handmade Parade and the series of open workshops, masterclasses and outreach sessions that lead up to it.
This year's parade will take place on Saturday, June 26 at 2pm – the first day of the Hebden Bridge Arts Festival.
The community-generated parade, led by local artists, celebrates the creativity, variety and uniqueness of Hebden Bridge.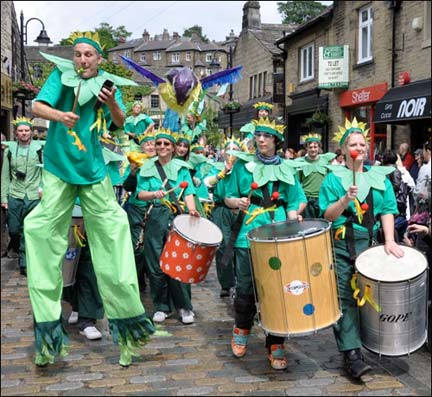 The previous two parades, with themes of a Deluge of Delights and the Glorious Garden Party, proved hugely successful with hundreds of people from all sections of the community taking part and thousands more lining the parade route to see the stunning giant puppets, animatronics and parade art.
Andrew Kim, Artistic Director of the Handmade Parade, said: "The Handmade Parade is a community-wide event which celebrates this place at this time. Come to the meeting and share your ideas for this year's theme. What's on your mind? What are you proud of? What are your dreams for Hebden? What would YOU like to see dancing down Bridgegate this June?"
Funding is now being sought for this year's parade, which the organisers are hoping will take a longer route around the town and finish with a spectacular pageant in Calder Holmes Park.
The open workshops and classes will be held from the June 5 to 24 to allow as many people as possible to get involved in creating art for the parade and in learning skills such as stiltwalking and music-making.
For more details about the parade, go to www.hebdenbridgeparade.org