Spring Clean Up
update: Monday, 22 March 2010
Despite the return of terrible weather many community groups turned out this weekend to take part in Hebden Royd Town Councils annual Spring Clean.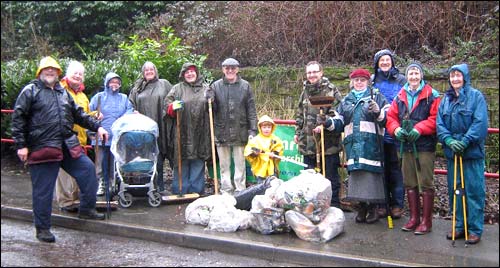 Targeting areas close to where their members live and work they each removed accumulated rubbish from grass verges, hedges, waste land, canals, rivers and sports fields. Calder Valley Search & Rescue removed a skip full of shopping trolleys, car tyres and traffic signs from the Black Pit area of the River Calder in Hebden Bridge despite rising water levels with the Station Partnerships at both Hebden and Mytholmroyd removing well over 40 sacks of rubbish between them.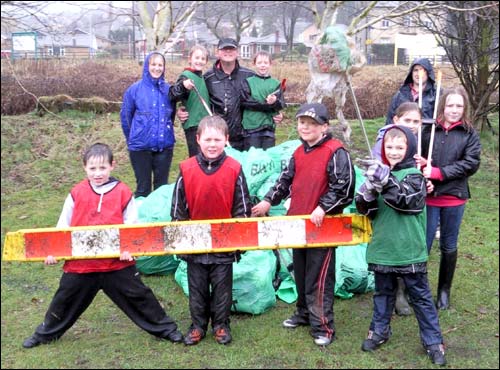 Cragg Vale Community Association cleared the road that leads to Withens Reservoir and the car park next to it. 6 bags of rubbish and a number of car tyres were also removed with Mytholmroyd Scouts also accounting for tyres as they filled a skip with rubbish from the centre of Mytholmroyd.
Most impressively Hebden Bridge Scorpions under 8's football team cleared 30 bags from Brearley Fields, Mytholmroyd. Consisting mainly of plastic bottles discarded by players some of the players were unable to understand why people left their rubbish at the field.
Jake Blackhurst, 7 said "I don't leave my old bottles here. Why can't they take it home with them. It's horrible!"
"I'd like to say a big thanks you to all that helped at the weekend" said Jason Boom, Neighbourhood Manager for Hebden Royd Town Council. "The turnout has again been great. Dodnaze, Windsor Road and Scout Road have all had residents out and about making their environment cleaner, greener and safer with Fairfield and Mytholm Close residents planning for next week this will make it out biggest Spring Clean so far.
"Calderdale MBC Environmental Health Department has supported us this year and with those additional resources we have made a real difference to Hebden Royd."
Spring Clean Up
Wednesday, 17 March 2010
Nutclough Woods: Saturday 20th March, 10.30-4
Clean up, fundraising and activity day.
The Delph Allotments, Windsor Road, Saturday 20th March, 11-2pm
Open Day and Spring Clean, soup, tea, coffee and biscuits, veggie sausages.
Planting potatos on community plot. Children's seed planting activity
Mill Pond and Delph - Sunday, 21st March 2pm
These cleanups are sponsored by Hebden Royd Town Council who also provide skips at the following locations:
Skip Locations
Friday 19th March
13.00 Dodnaze Estate, Hebden Bridge Usual location, at side of Community Centre
Saturday 20th March
am Mytholmroyd Community Centre Close to car park entrance
am Eaves Estate, Hebden Bridge Usual location, near recreation area.
am Banksfield Estate, Mytholmroyd - usual location, just off Mount Pleasant Drive.
am Windsor Road, Hebden Bridge Usual Location, close to bottom of road.
am Holme Street, Hebden Bridge close to slope that accesses Calder Holmes Park
am Nest Estate, Mytholmroyd Communal Grass Area next to foot path that leads to Paddy Bridge.
pm Dodnaze Estate, Hebden Bridge Replace Friday Skip.
am mini skip Hebden Vale Centre Car Park off Stubbing Holme Road.
Saturday 27th March
am Mytholm Close/Adelaide St Top of street, right hand side.
am Fairfield, Hebden Bridge Car park off Neale Street.