DON'T MISS THE FESTIVAL BUS!
HEBDEN BRIDGE ARTS FESTIVAL is calling for artists to get on board their own Routemaster Fringe.
The Festival has acquired an old London Routemaster bus all fitted out ready for performances. Performance poets, singer-songwriters, visual artists, puppeteers, live artists, magicians and workshop leaders will find a unique space that lends itself to all kinds of imaginative uses.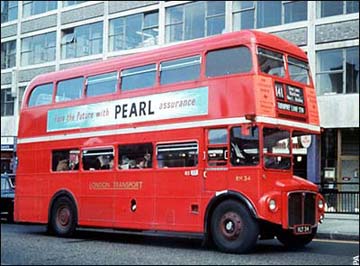 Festival Programmer, Stephen May said: "This is a space dedicated to local artists who want to try out something new in an unusual location. I'm sure Hebden Bridge and Mytholmroyd artists will be inspired to create exciting work that makes full use of the intriguing ambience of a doubledecker bus."
The specially refurbished vehicle has a capacity of 16 and the Festival intends to run a regular series of hour-long shows during the two week event which begins on June 26.
Stephen said: "We'll be producing a special 'bus timetable' as part of this year's programme and we've already had a lot of interest from creative artists intrigued by the possibilities of performing in this most unlikely of venues."
The theme of this year's festival is a celebration of the 500 years since the founding of Hebden Bridge as a major route over the Pennines, and the use of a London bus as a venue makes explicit the role of art of all kinds as a vehicle for emotional transportation from one state of mind to another. Using a London bus also reflects Hebden's well established history as a place that attracts long-term residents from places well outside the Calder Valley.
As Stephen puts it:"As an unrepentant Essex boy I'll certainly be getting a little misty-eyed and emotional when this particular venue opens for business."
The Routemaster Fringe project is supported by Arts Council England, Yorkshire. Each 'bus ticket' will cost no more than £5 with performers keeping the majority of the money. £1 per ticket sold will go to the festival towards administration.
Anyone with a show they think might be suitable for the bus should contact Rebecca Yorke or leave a message on the Festival answer machine at 01422 842684. Deadline for submissions is May 1.
Organisers are also looking for businesses who wish to advertise along the side of the bus, which will be parked in central Hebden Bridge during the Festival, June 26 to July 11. Anyone interested should contact Rebecca Yorke at the above email or phone number.