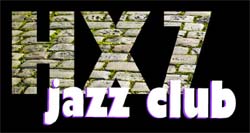 Saxophone Summit Sextet
Friday, 9 April 2010
Trades Club, 15th April
April's edition of the HX7 Jazz Club will be something of an international affair on Thursday April 15 when it welcomes The Saxophone Summit Sextet: a transatlantic supergroup featuring some of the best saxophonists in the world, including Nigel Hitchcock (a special treat as he rarely tours in the UK these days), Alex Garnett, and top New York tenor player, Joel Frahm.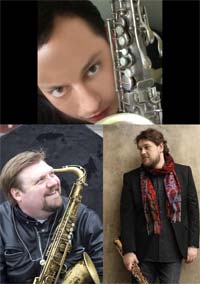 Nigel Hitchcock is one of the most revered UK jazz musicians on the world jazz scene today. A highly gifted and conceptual player with blistering technique, a photographic memory, and perfect pitch, he comfortably plays any genre of music and has enjoyed "first call" status in both the jazz and session scenes since the age of 16. He's played with the cream of the British scene, and is arguably the most recorded jazz musician in the UK.
Joel Frahm is currently regarded as perhaps the most exciting and prominent voices on tenor saxophone in the world. His flawless technique and engaging improvisations have ensured he has been much in demand on the New York Jazz scene for over twenty years. He has had long standing musical relationships with Matt Wilson, David Berkman, Maynard Ferguson, The Village Vanguard Jazz Orchestra, Larry Goldings, Jane Monheit, and Brad Mehldau to name but a few.
Alex Garnett has been among the leading sax men in Europe for nearly two decades, his playing being instantly recognisable by its dark and husky sound. A versatile and studied musician, he has enjoyed success as a jazz artist and a session, studio and commercial saxophonist, having racked up countless recording credits along the way. He is a regular in many of Europe's leading big bands, and many times the tenor of choice for American musicians as a sideman when touring in Europe.
Saxophone Summit is an exciting collaborative project led by U.S. bassist Michael Janisch, which also features the young and much in demand Ross Stanley on piano, and one of the UK's leading jazz drummers, Steve Brown. It's a super-swinging rock-solid contemporary outfit full of surprises and fireworks, and the most superb musicianship, all unerringly and entertainingly delivered with style and a sense of fun. The band plays tribute to all the great sax teams over the years from the States and the UK such as Sonny Rollins/Sonny Stitt and Tubby Hayes/Ronnie Scott. They've sold out at London's Pizza Express and Ronnie Scott's, and other jazz venues throughout the country.
"The HX7 Jazz Club is doing rather well", commented organiser Dave Nelson. "We had more than 80 in the club for each of the first two gigs then well over 100 for Bach ReLoaded last month. The UK and international artists appearing over the next few months are of a calibre that reflects that growth: perhaps none more so than Saxophone Summit who would be considered top-flight anywhere in the world. It'll be an amazing night!"
HX7 Jazz is held at the Trades Club in Holme Street, Hebden Bridge, and is normally on the 3rd Thursday in the month.
Future bookings include Sarah Ellen Hughes with Dave O'Higgins (May 20), the Sam Crockatt Quartet (June 10) and the Eduardo Niebla Quartet (July 8).
More information is available at the HX7 Jazz Club website. Doors open at 8pm with a live music starting at 8.30, and the headline band starting at 9. As an added bonus the venue provides excellent value curries from early evening.
Phone the Trades Club on 845265 to book a meal or ring to book advance tickets which are £12, and £9 for concessions and members.